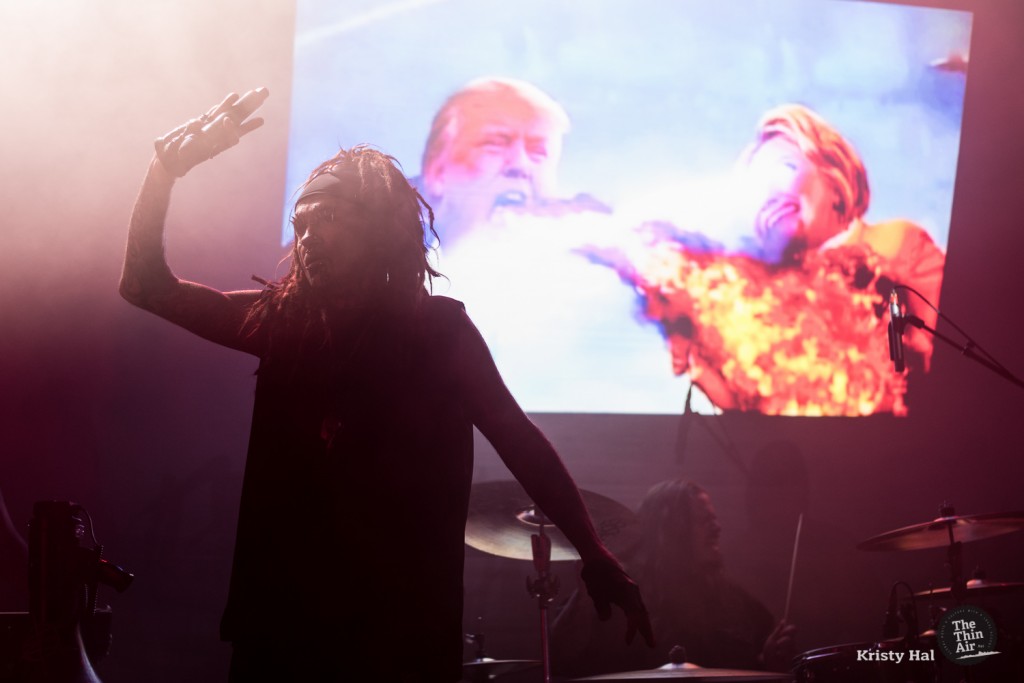 In case you had any doubt in your mind, witches are indeed real and they can cast powerful spells as Chelsea Wolfe proved on Tuesday evening.
As the 34-year-old Californian takes to the Tivoli's stage, she seems awkward, or even a little clumsy at first. As she walks to the front of the stage, with the lights still up, she gives a small wave and smile to the audience. She seems more shy than one might have imagined.
Then, the lights go down and that shyness is devoured by the waves of noise that follow.
As the pulsing terror that is 'Carrion Flowers' fills the venue, Wolfe leads the crowd into a near hypnotic state. No need for high octane stage antics here, Wolfe need only slowly lurch back and forth to have the audience completely fixated.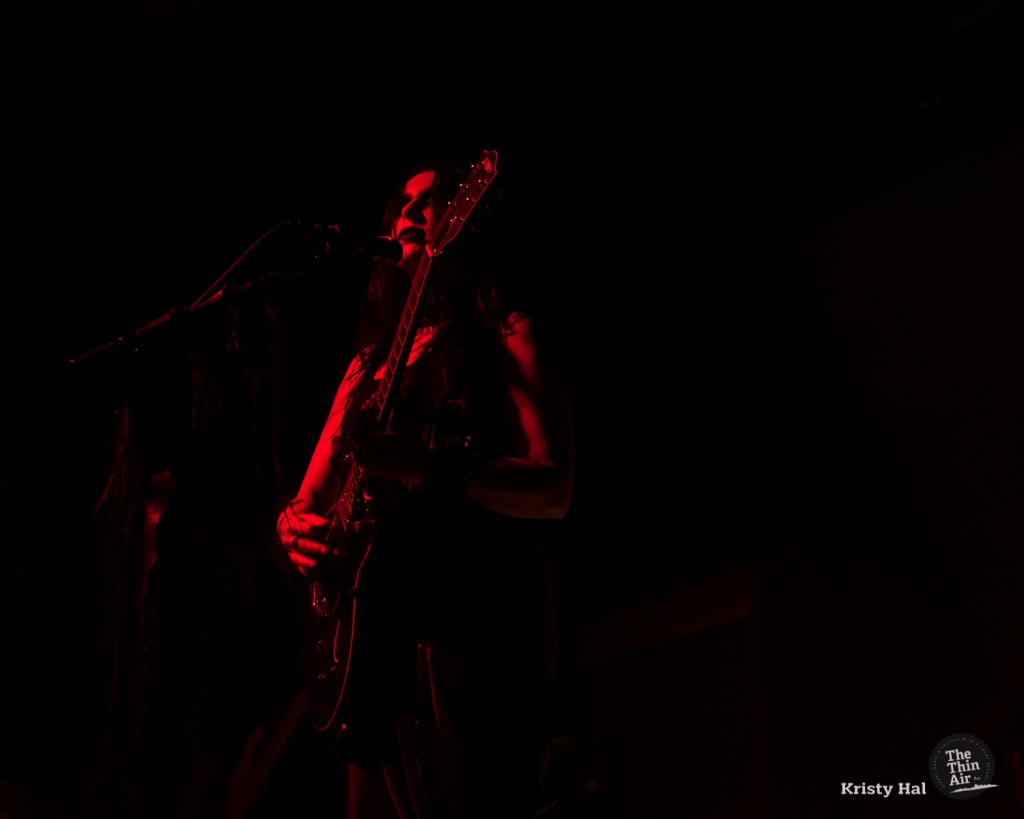 It soon becomes clear to all present that Wolfe is something special. The juxtaposition between her droning, sludge-drenched riffs and her crystalline vocals is as unique as it is gorgeous.
While Wolfe proves herself to be a formidable front woman, the set would be incomplete without the team of highly skilled musicians she has brought with her. Drummer Jess Gowrie makes no attempt to hide her talents particularly on the track '16 Psyche', a song full of sharp unexpected pauses during which she can be seen grinning to herself with delight. Bassist Ben Chisholm's growled vocals on the track 'Vex' also prove to be a treat, providing an impressive imitation of Aaron Turner's vocals found on the recorded version.
The set is an onslaught on the ears, but a beautifully balanced one at that. At no point does any element of the music overpower the rest, even at the sets most chaotic moments. A truly impressive feat in a live setting. Wolfe brings the set to a close with what is perhaps her most vocally-challenging track, 'Scrape'. An impressive finish to say the very least. As the artist bends and stretches herself like a demented serpent, it's difficult to imagine how she is hitting every falsetto note without straining or faltering, not even slightly.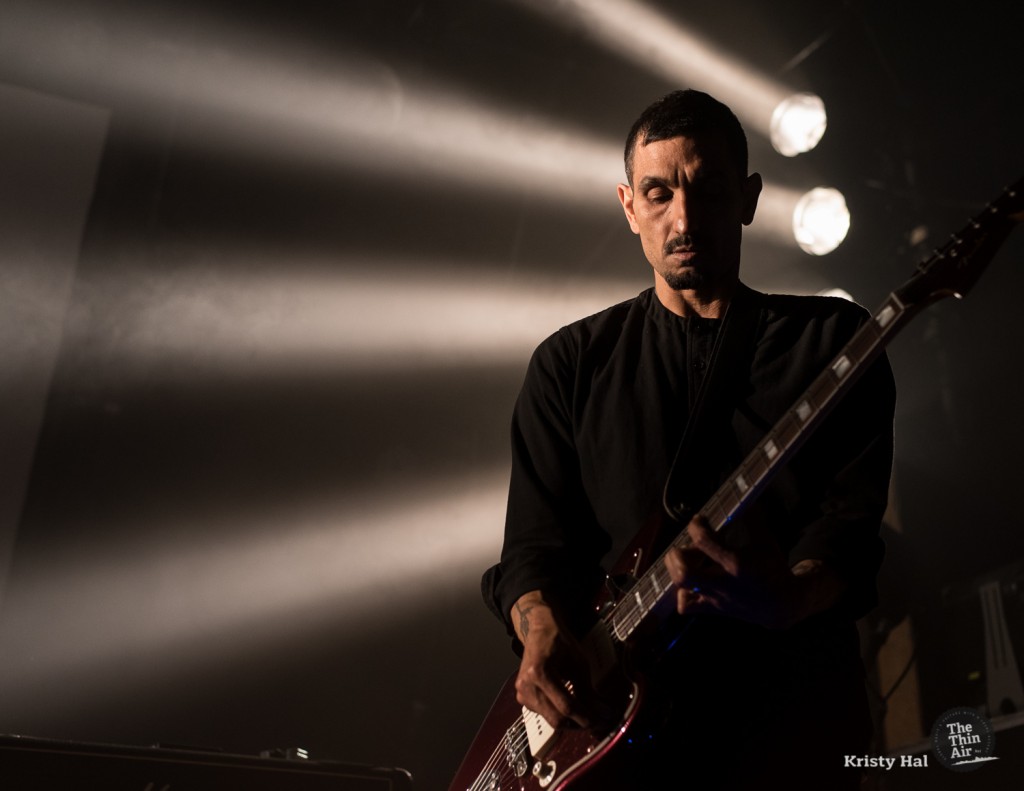 There is a hum of excitement during the interval. It's been over half a decade since American-Cuban musician Al Jourgensen has been to Dublin with Ministry and the crowd seem more than aware of this. The crowd is primarily big burly dudes covered head to toe in leather, tattoos and piercings of varying severity. Your typical intimidating macho metal crowd, but the atmosphere is friendly, almost jubilant.Everywhere you walk you can hear a jangling of chains and talk of needing a few more pints. One guy mentions that DJ Swamp signed a burrito bag for his girlfriend earlier on and at one point, Al Jourgensen can be seen outside the venue having a pre-gig beer, but his privacy is respected. While all this is happening, two large inflatable chickens resembling Donald Trump are set up on stage, as well as a mic stand bearing a skull and a music stand with a folder on it.
The show begins with only DJ Swamp on stage, hiding quite calmly behind a pair of shades with built in screens. 'I Know Words', the instrumental intro to the bands most recent release Amerikkkant blares out from the PA whilst psychedelic visuals of President Trump and The Statue of Liberty blind the audience. One by one, members of the band take to the stage, donning Guy Fawkes masks and bandanas. It's clear that the bad have gone big on production for the show, except perhaps for the sound, which is surprisingly shoddy, if not a bit harsh at times.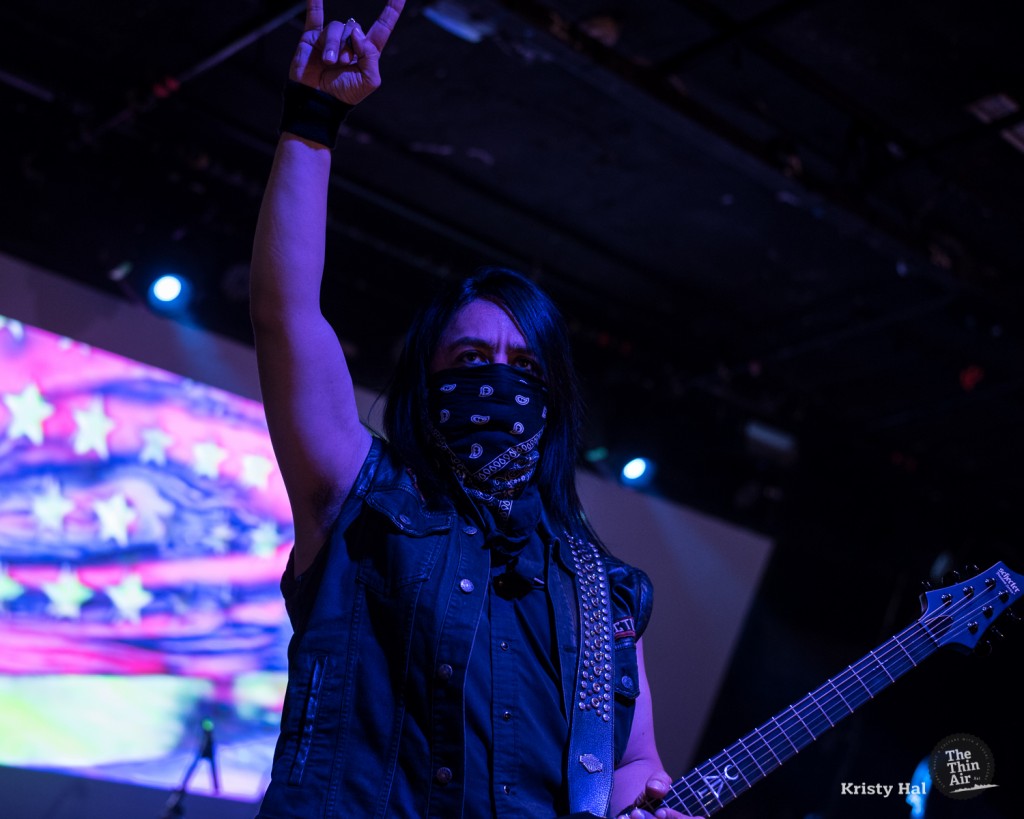 Jourgensen finally joins the band on stage in the second track of the set, 'Twilight Zone' and it seems everyone is delighted to hear that Uncle Al's voice is just as gravelly and distinctly aggressive as it's always been. Even if it is a bit sad to see him reading lyrics from the aforementioned music stand, his delivery of the lyrics and general on-stage attitude redeems him. Jourgensen seems determined to cause havoc throughout the show, primarily through the abuse of the onstage inflatable props. In almost every song he gives his poultry buddies a box at the very least, sending the PA hanging from the ceiling swinging back and forth. Stage crew don't seem to impressed, but before they can stop him, Jourgensen has sent one of the poor birds flying into the centre of a circle pit to be blended into Trump nuggets.
The crowd loves it and undeniably, everyone seems to be having a great time. However, there does seem to be something missing. One can only guess as to exactly what this 'something' is. Maybe it's the slight cheesiness of the show's production. Maybe it's the music stand. Maybe it's the lack of classics included in the set, with the majority of tracks coming from the group's latest release, but can you really blame the band for wanting to perform their latest work? Surely it's only natural. Despite this, the set is still a blazer, with some highlights including visuals of William S. Burroughs during 'Just One Fix', the war cries coming from the crowd during fan favourite 'Thieves' and Jorgensen's commentary on international immigration policies just before 'Rio Grande Blood'.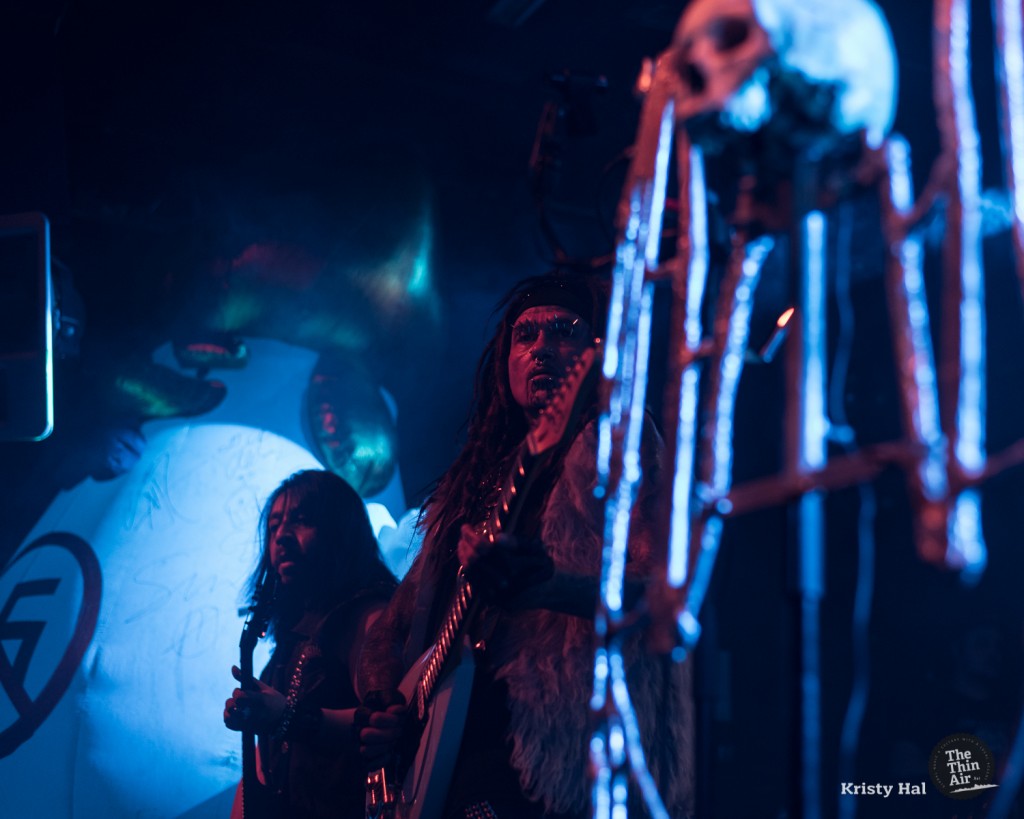 The band finish the show with the title track of their breakthrough album Psalm 69, with visuals from the tracks music video, as well as other things that are too crude to discuss here. Overall, the show is exactly what can be expected of Ministry. Noisy, raucous and classically tongue-in-cheek. Jack Rudden
Photos by Kristy Hal