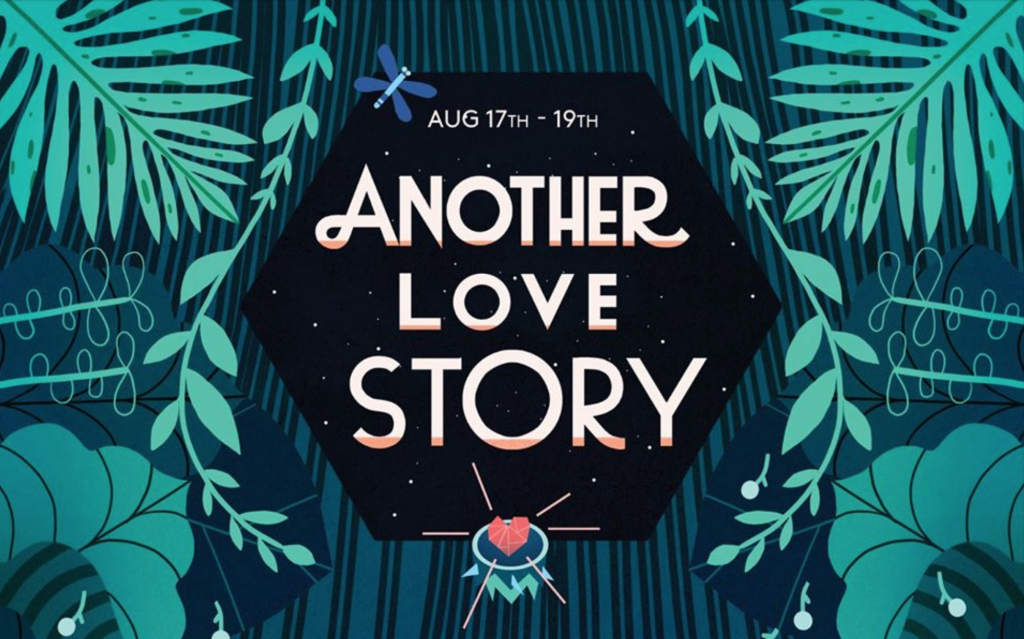 An intimate festival of approximately two hundred attendees, Another Love Story is based in a family home set in quaint country surrounds of Killyon Manor. A mixture of live music, art installations and talks were enjoyed across various makeshift venues on the lawn as well as inside the house, namely in both cosy front rooms and the spacious ballroom. Now in its fourth year, Another Love Story affirmed its position as Ireland's finest festival.
The interplay between bands from Dublin and Cork, namely, of musicians spotted multiple times performing with different acts over the three days, demonstrated both the connectivity of the Irish music scene as well as the wealth of talent thriving, presently. With O Emperor and Tandem Felix returning to the festival circuit coupled with several emerging acts such as Pillow Queens, ROE and Dowry, 2018 is an incredibly exciting year for Irish music.
FRIDAY
Opening the festival, Dublin based producer and musician Davy Kehoe captivated withn outstanding array of arrangements spanning sinister and spectral tones which co-existed with soothing sonics. Drawing predominantly from Short Passing Game, his exceptional release from last year, as he played with a three piece band that amplified the addictive melodies, Kehoe's performative style was mesmirizing and would be one that many attendees would, undoubtedly not forgot anytime soon. The atmosphere created by Kehoe and co on stage ignited a spark that would continue to flare for the rest of the weekend.
In contrast, Brigid Mae Power delivered a gorgeous set comprised with songs from her sumptuous folk record The Two Worlds,  as well as a beautiful cover of Fred Neil's 'Dolphins'. Despite losing her "prime finger-picking nail", Power had the audience, seated cross-legged on the wooden floor of The Ballroom, enthralled by her vocals and highly emotive compositions.
Another artist that utterly enraptured their audience on Friday night was Éna Brennan, Ireland's hardest working musician in 2018. Her on social media activity would make even the most productive and industrious individual feel like they're slacking. Her overwhelming gigging schedule juggled with other projects has made Brennan a prominent name as an extremely talented composer and performer. Performing as Dowry which had, until recently, been a solo project expanded for the occasion to a five piece band which amplified Dowry's intricate looped string arrangements, layered with Brennan's distinct vocal style. A cover of Angel Olsen's 'Unfucktheworld' is followed with 'Ophelia', a song inspired by the snow that shut down the country in March. To conclude, Brennan introduced 'In É', her debut single, by saying that it has been "It has been a dream to play this song with a full band." Three minutes in, and the gradual layering of strings is punctuated by bouyant bass and drums. The climax commanded the seated crowd to rise to their feet, presenting Dowry with a much deserved standing ovation.
SATURDAY
Early risers refuelled with rasher sandwiches and gourmet coffee as they settled into the second day with an acoustic set from Maria Kelly. Her meek vocals and pared back melodies of recent release 'Dark Places' softly permeated the field in the midday haze.
Elsewhere, Niall McCormack and Ruan Van Vliet spoke to arts journalist and founder of Young Hearts Run Free, Siobhan Kane about their respective careers. The conversation, steered by the crossover of them working as both musicians and designers, covered their process, career breaks (McCormack worked as a designer for NME whilst Van Vliet illustrated an anthology of well known Irish characters entitled, D'You Remember Yer Man, authored by Bobby Aherne) and the explosion of gig posters in the early 2000s. The trio made for an extremely interesting and inspiring insight into the relationship between music and art which remained at the fore throughout the weekend.
The first helping of live music to shake a hip was facilitated by the exciting Dublin band, Postcard Versions. A slight reconfiguration in their line-up saw members (and special guest Davy Kehoe, who added excellent harmonica riffs to the arrangements) adopt new roles for their forty-five minute set in The Ballroom. Their gleaming melodies and infectious guitar licks had the crowd dancing to their debut single 'Sunday Mornings With Nate', and other catchy songs 'Beautiful Gentlemen' and 'Bitter Lentils'.
From new acts to established cornerstones of Irish music, O Emperor played a perfect mix of old and new material. The quintet began with a track entitled 'Japan', from their forthcoming third album, with an elongated instrumental groove that progressively expanded and picked up pace to launch into 'Trash Club' from their 2015 EP Lizard, from which they included 'Bogue' and 'The Sky Is Your Oyster'. New releases, 'Make It Rain' (performed in a quicker time signature) 'New Fish Tank' were joyously received by the audience. As you looked around the tent all that could be seen was several extremely satisfied expressions. O Emperor's catchy arrangements and combination of chill-psych and stomping indie-rock served a reminder of why they were so popular on the foot of their previous records and why, today, they're as exciting and integral to the Irish music scene. Towards the end of their set, a man in the crowd gave the band a warm, zealous applause. "I hope you write music reviews", Paul Savage responded. "I don't but you're absolutely brilliant", a sentiment shared by the crowd.
Other evening highlights from Saturday's schedule included Glasshouse Ensemble who performed Sufjan Stevens' beloved 2005 album, Illinois. Complete with a full stage of strings, keys, percussion and the familiar face of Michael Broderick of Spies (another Dublin band on the return this year) on vocal duties. Broderick's voice, full of emotion and boasting a gorgeous range, perfectly captured the vulnerability Stevens' lyrics. As predicted, the opening bars of 'Chicago' resonated throughout the packed tent and the crowd, revelling in nostalgia, sang along, not missing a single word.
Later on, Pillow Queens, one of the festival's highly anticipated acts pleased audience members huddled tightly together to stay dry from the mild showers in the Further Afield tent. Their set was lively and well received by the crowd, particularly when they dedicated a song to World Cup champion, Olivier Giroud.
The threat of Storm Ornesto was avoided in the The Ballroom where Laurent John covered Solange, whilst others congregated in The Front Room for the Young Hearts Run Free Folk Club. This featured songs from Spook of the Thirteenth Lock who sang six rebel songs, filmmaker and music video director extraordinaire Bob Gallagher was accompanied by David Tapley of Tandem Felix and Postcard Version's Paddy Ormond for a stunning rendition of Radiohead's 'Nude'. Ye Vagabond's Brían MacGloin, Stephen Tiernan (of Participant) and O Emperor's Phil Christie all shared songs that held the attention of the audience over a period of two hours.
The evening was completed with DJs, Pete Toomey and Darragh O'Halloran, spinning classic tunes on vinyl, the highlight being the inclusion of Todd Rundgren's glorious 1972 hit, 'I Saw The Light.' A striking but welcomed contrast to what that room had facilitated moments prior during The Folk Club.
SUNDAY
One of the most hypnotic performances of the weekend came from The Bonk, Phil Christie's amalgamation of 60s garage-psych with loose song forms, allowing for improvisation. The early afternoon of the final day saw pale complexions and sedate statures instantly come to life as the band dove into lively arrangements led by gleaming organ lines and bewitching guitar licks from Phil O'Gorman. The band played slightly extended and expanded versions of songs featured on their album The Bonk Seems To Be A Verb, released at the tailend of 2017. Having seen The Bonk live a few times now, it's safe to say that they're one of the best and most impressive live bands around.
An act capable of following and maintaining the wonderment of The Bonk was Tandem Felix reduced down to David Tapley and Éna Brennan for their performance. The revered Dublin band re-emerged after a brief break following their Comma EP from 2015. Tapley's abounding wit was prevalent in both his rapport with the audience and throughout his endearing lyrics. Playing a set of entirely new material from the highly anticipated debut album, the dynamic between Brennan and Tapley – violin and guitar – is extremely charming and affecting. Certainly, this introduction to the next chapter in Tandem Felix's trajectory is a thrilling one.
Leaving Killyon Manor after a weekend of sublime music and wonderful ease, there's no reservation to claim that Another Love Story 2018 was the most enjoyable and fun festival experience that this reviewer has had. It doesn't feel too early to already be looking forward to next year. Zara Hedderman