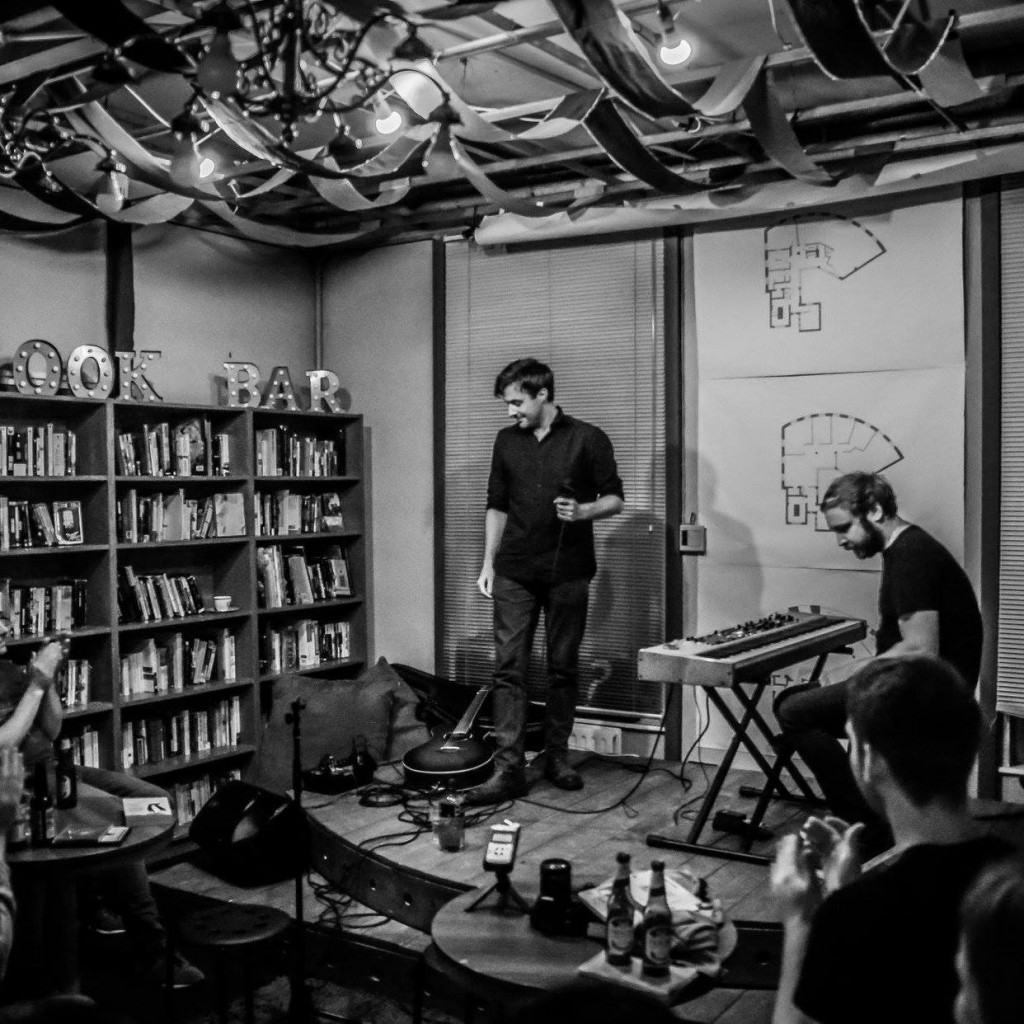 Tucked away in a side-street of bustling Belfast City is Accidental Theatre, a relatively-fangled DIY space that plays hosts to a cavalcade of events, both illustrious and wonderfully unassuming.
Sitting somewhere in between the two is 20:20, a monthly charity songwriter night that takes over the venue's upstairs – and singularly cosy – book bar. Giving rise to a whole new kind of "intimate" gig experience, the night takes place on the second Wednesday of every month and – full testament to its stripped-back, yet carefully-curated M.O. – delivers something special, time and time again.
Ahead of its next outing on October 10th (full info below and event page here), we speak to Rory Nellis, Belfast songsmith extraordinaire and 20:20 founder, about fostering local talent, the importance of giving back and what the bright future of the series holds.
Hi Rory. Tell us about the origins of 20:20. Where did the idea for the night first come?
I had the idea in my head for a few years to do some sort of regular charity event and I thought I'd tie it in with my love for intimate venues and lovely quiet gigs.
Belfast – and the country generally – has no shortage of gig nights, but there's something to be said about regular nights in intimate settings. But why did you choose Accidental Theatre as the venue?
I asked for suggestions online when I was starting and it was suggested by a few people. As soon as I saw the Book Bar I knew it was the right place. It's effectively a library that sells beer so everyone instinctively knows to be quiet.


For one reason or another, a lot of people need a fair bit of convincing to leave the house and hit up a local gig. What does 20:20 offer that warrants curious listeners venturing into town on a cold Autumn night?
Small listening crowd, a couple of drinks and short 20 minute sets of great music to allow for some good chat time in between acts. Try it. You'll love it.
You've had some great line-ups thus far. Has any stood out? If so, which and why?
Sounds like a cop out but I've genuinely enjoyed everyone so far. I really enjoyed seeing Steven Butler play because his tunes are great and it had been a few years since I'd seen him.
Tell us about what we can expect from the next outing.
We have Owen Lamont, Sam Wickens and Úna Clarkin on the 10th of October so I think you can expect great tunes by fantastic songwriters. I've been delighted so far that everyone I've asked has been up for it.
All proceeds from the night go to a great cause (WaterAid). Was this always your intention, and why this particular charity?
Yeah I give my £2 a month to them and have done for a few years. I really admire what they do.


You're also releasing your next single, 'The Fear', at the Accidental Theatre in November. It's a great bill. What's in store?
Yeah, I love the venue so I thought I'd go for it. It'll be a full-band show. That gig will be in the big room downstairs but I'm hoping for a similar chilled vibe. I have support from Sonja Sleator and Our Krypton Son. I'm a huge fan of their songwriting so I'm looking forward to it.
Looking forward towards the rest of the end and into next, what are your plans for 20:20?
In an ideal world I'd pack the place (30 people) once a month and we'd all have a grand old time listening to some music, buying some random books, having a beer and having a nice chat. Fingers crossed.
Keep up to track with all things 20:20 here