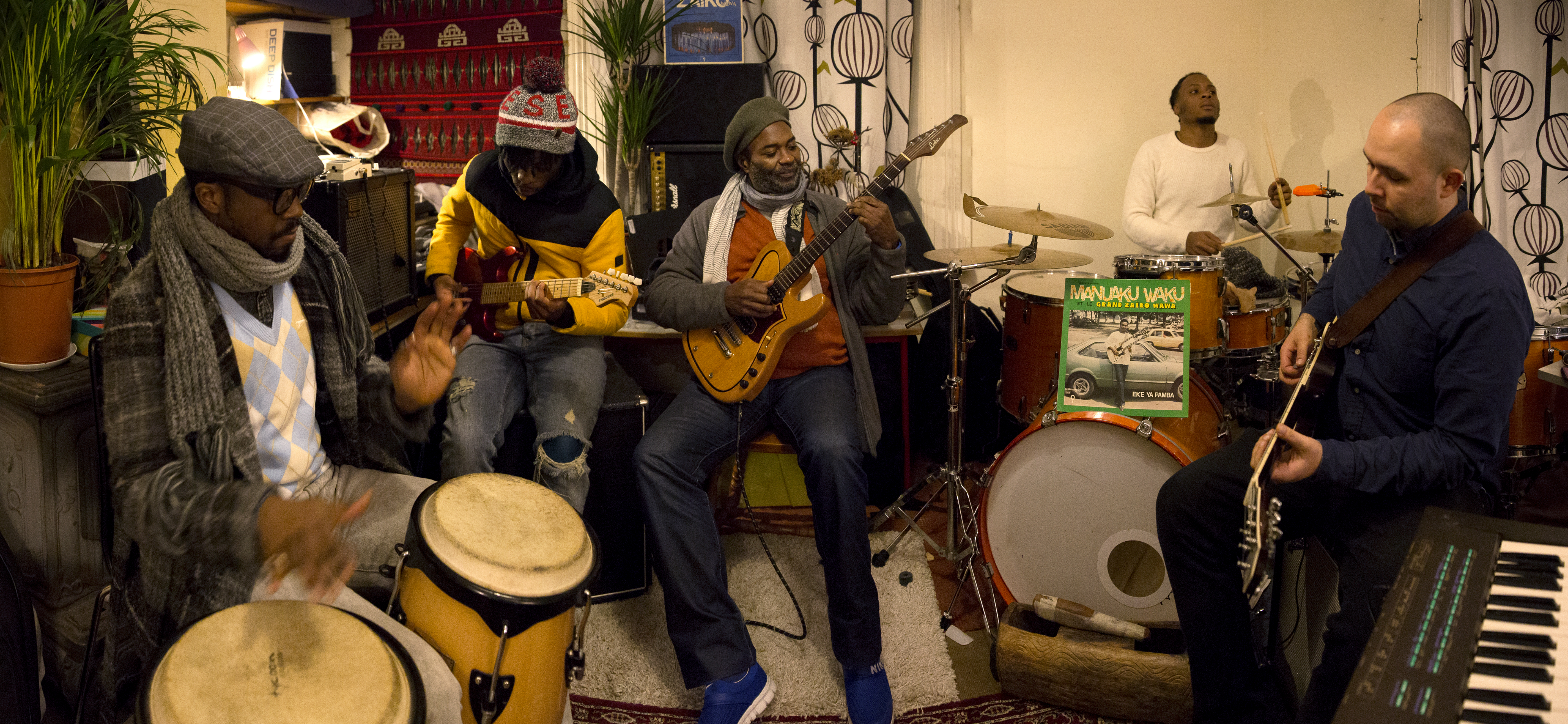 More than any other group in Ireland, Elikya bleed history.
Founded in Limerick in 2001 as a community choir of sorts, Elikya's primary objective was to promote "multicultural diversity and integration through the sharing and promotion of Congolese music and culture".
Over the years, the group became a home for a coterie of legends in Congolese music. Drummer Trocadero — a child prodigy who started his career with the famous Congolese singer and bandleader Johnny Bokelo Isenge — joined them early on but it was 2017 when the group's profile rose significantly. The iconoclastic Pepe Felly Manuaku, founder of the seminal group ZAIKO LANGA LANGA, joined Elikya as musical director.
An early Congolese innovator, a guitar impresario who had played at the famous Rumble in the Jungle boxing match between George Foreman and Muhammad Ali and for various heads of state, Manuaku was regrettably forced to watch from afar as African scenes and western tastemakers co-opted his life's work without credit. Exasperated, he moved to Europe where he worked as a bus driver for almost 30 years. On St. Patrick's Day in 2017 he decided to return to music after meeting Elikya for a tribute concert.
"Elikya's only wish is to share the music, culture and innovation of Congo with the world," Elikya's artistic director Sean Montgomery Dietz told the Thin Air, "in the hopes that they might have a little more time for the hardships Congolese people are facing."
Congolese music — until many Africans began wrangling their own recording studios and radio stations, in turn popularising their native music —  was originally the most popular music in Africa between the '30s and '50s. It became the educational epicentre of musicianship on the continent: budding artists were sent to the Congo to learn instruments and conventional wisdom suggested that the region was where African music lived and breathed.
Modern Congolese music, as we know it today, grew out the influence of Cuban music brought by Belgian missionaries in the '30s. Journalists have covered the scene fitfully, omitting important details and transformative bandleaders, according to Dietz. He calls it "raw, unadulterated dance music" — and Elikya's members are proud to be torchbearers for the oft-forgotten sound.
Elikya — comprised of Paddy Tunga (drums), Stumii (bass), Trocadero (conga), Pepe Felly Manuaku (solo guitar), Sean Montgomery Dietz (accompaniment guitar), Eric Kalombo (vocals, keyboards, percussion) and Cele Assani (backing vocals) — is slated to release its first project, Mise à jour, this summer on Hipdrop Records.
It represents the first of three projects recorded in the groups unofficial spiritual home, Studio Ekala, run by Elikya members Eric Kalombo and Sean Montgomery Dietz in Co. Clare.
Although Mise à Jour traverses folkloric melodies and striking, age-old jittery rhythms, it packs a modern dynamism: there's an exploration of the Kasai region found in opening track 'Zamba' (written during a trip to Mooghaun woods in Clare), while 'Présence' delivers the kind of relentlessly fun, gluey seben that enraptured provincial Africa venues in the '70s and '80s.
"A lot of people think in Congolese music that the subject matter is really happy go lucky," Dietz said, "but they talk about amazingly heavy things. Heartbreak, betrayal, loss of loved ones, depression, jealousy, the problems of the worlds, what does it mean to be human, why are we here?" Colin Gannon
Photo by Moira Reilly

Pepe Felly Manuaka and Elikya play the Woweembeem Weekender at Bello Bar in Dublin on Saturday, March 30.