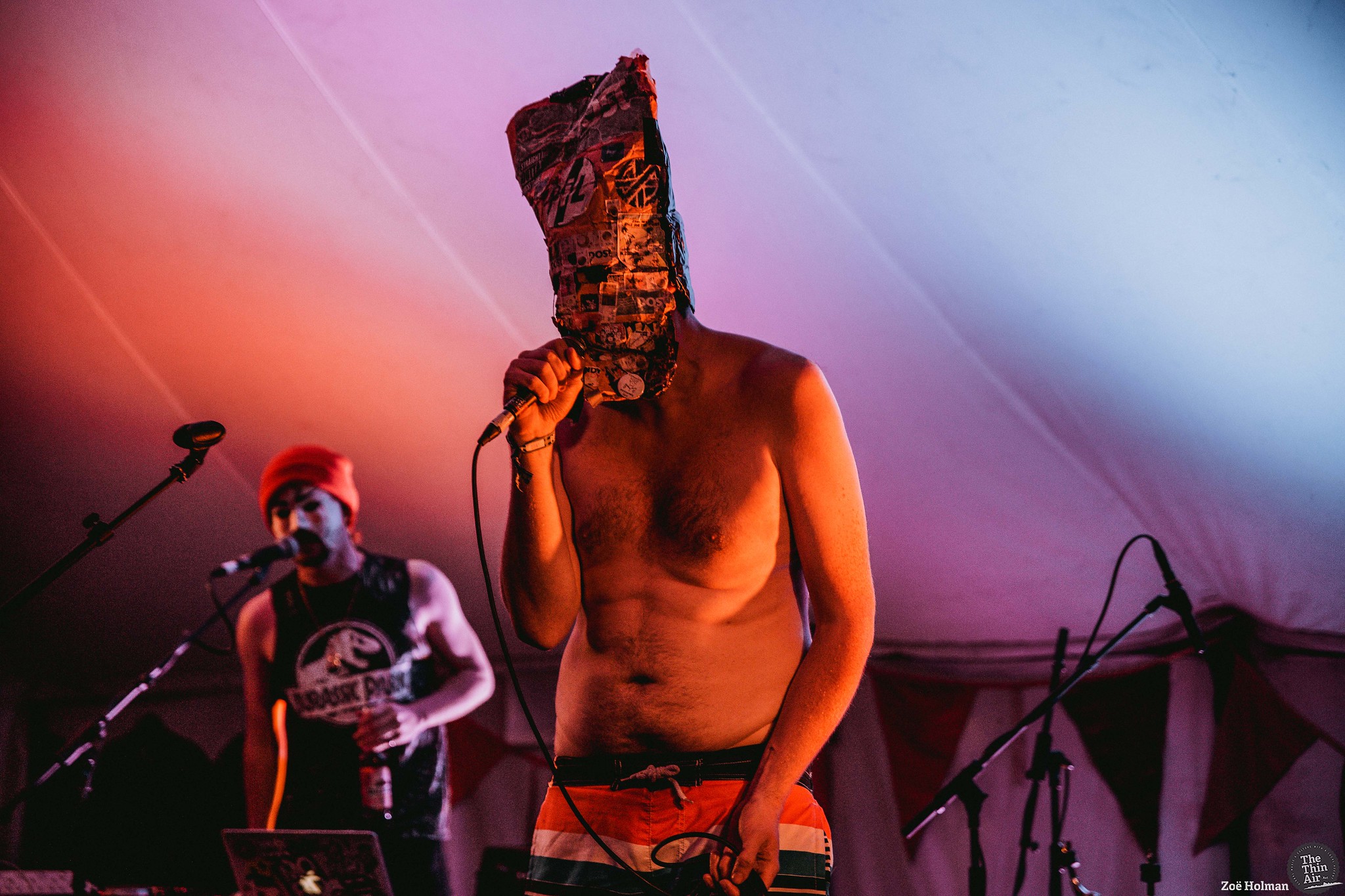 It's early Saturday morning and the first few fragile souls have emerged from their tents to grab those precious few start of the day necessities: water, a greasy sandwich and a cup of tea. At the same time, there are a few not so fragile souls that have yet to sleep stood in a circle listening to Ennio Morricone's soundtrack to 'The Good, The Bad and The Ugly'. The classic 'morning after' feeling of festival season looms over the campsites of Body and Soul.
For those that have managed to pull themselves together in the early hours of the day there are numerous activities available. For the more active lot there is yoga, for those in need of serotonin there is comedy and for those that wish to relax (or maybe learn a thing or two) there are numerous talks on smaller stages. One of the most notable amongst these talks is one hosted by influencer and sustainable fashion advocate Keelin Moncrieff (below). Over the course of an hour, Moncrieff discusses the importance of sustainable fashion and the responsibilities of influencers in the sustainability movement. With a panel consisting of Molly Parsons, Jump the hedges and Tara Stewart (all of whom have shown support for the movement) the talk is not only of great importance but also fantastically entertaining.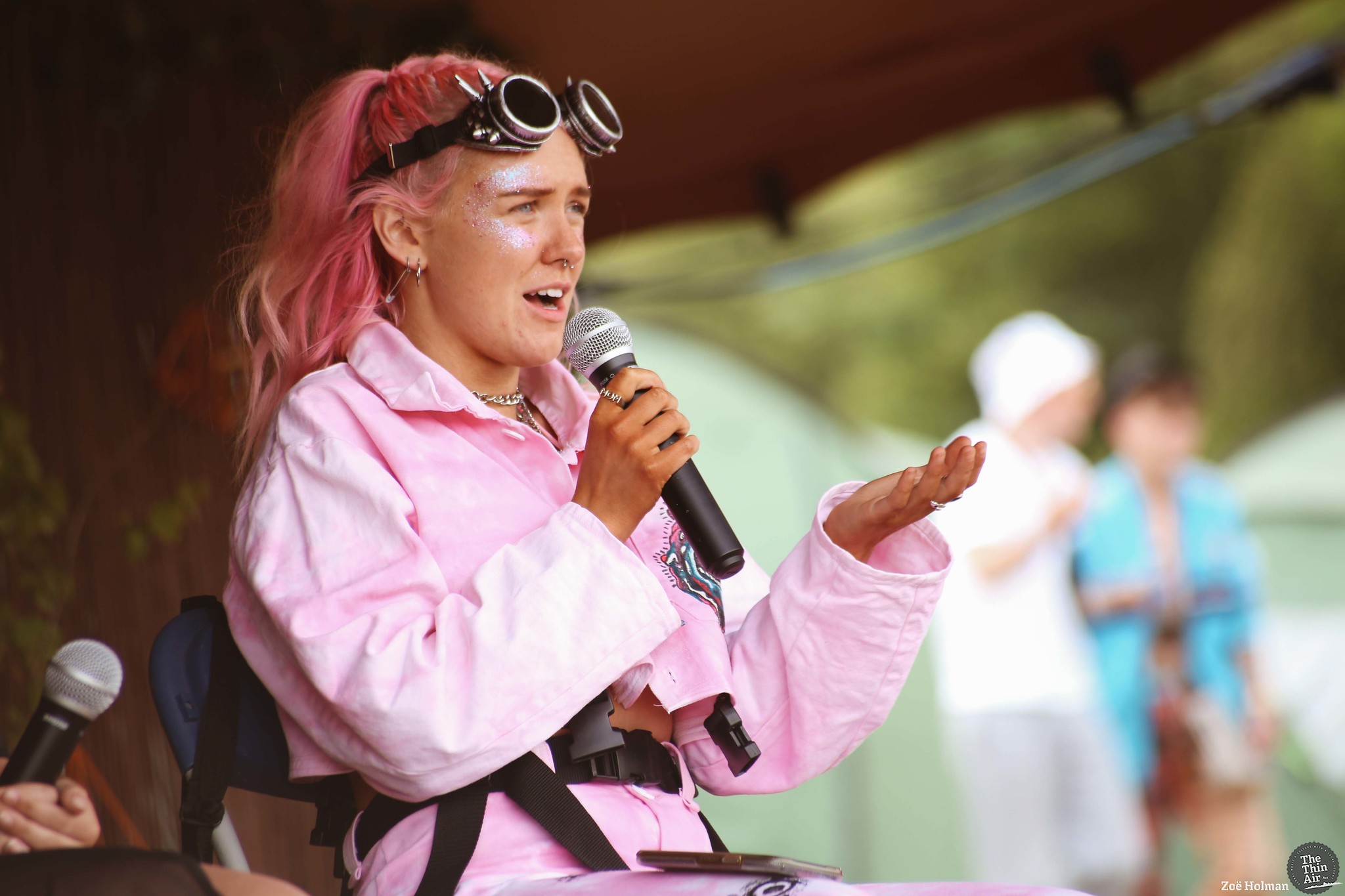 Just minutes away, at the Reckless In Love stage a rainbow splashed mob has gathered for drag aerobics led by DJ Glamo and drag queen Bunny O'Hare (below). To say that the whole affair is lovely would be but an understatement. There is sheer ecstasy in the air as songs by Madonna, Cindi Lauper and ABBA fill the main arena. Bunny's quick wit is the driving force of the show, with a favourite quip being: "For those of you under the age of 25, ABBA were sent by Jesus Christ to make the 70's worthwhile".
At about six o'clock, the Pride parade runs through the festival. As the massive crowd holds a gigantic rainbow flag between them the love in the air becomes near palpable. Whistles are blown, cowbells are whacked and a wonderful time is had by all that best witness to the parade.
Meanwhile, down on the main stage, three-piece Wyvern Lingo (below) are about to take to the stage, but not before a short poem by spoken word artist Stephen James Smith. Representing Focus Ireland, Smith reads a poem addressing the issue of rampant homelessness throughout the country. Smith seems emotionally fragile by the end of this powerful piece, but he is met with rapturous applause from the crowd that have gathered. Smith then proceeds to introduce Wyvern Lingo.  Over the last few years this group of musicians have established themselves as something of a national treasure and rightfully so. It's near impossible to fault their performance. Their grooves are tight, their harmonies tighter and their presence is purely electric.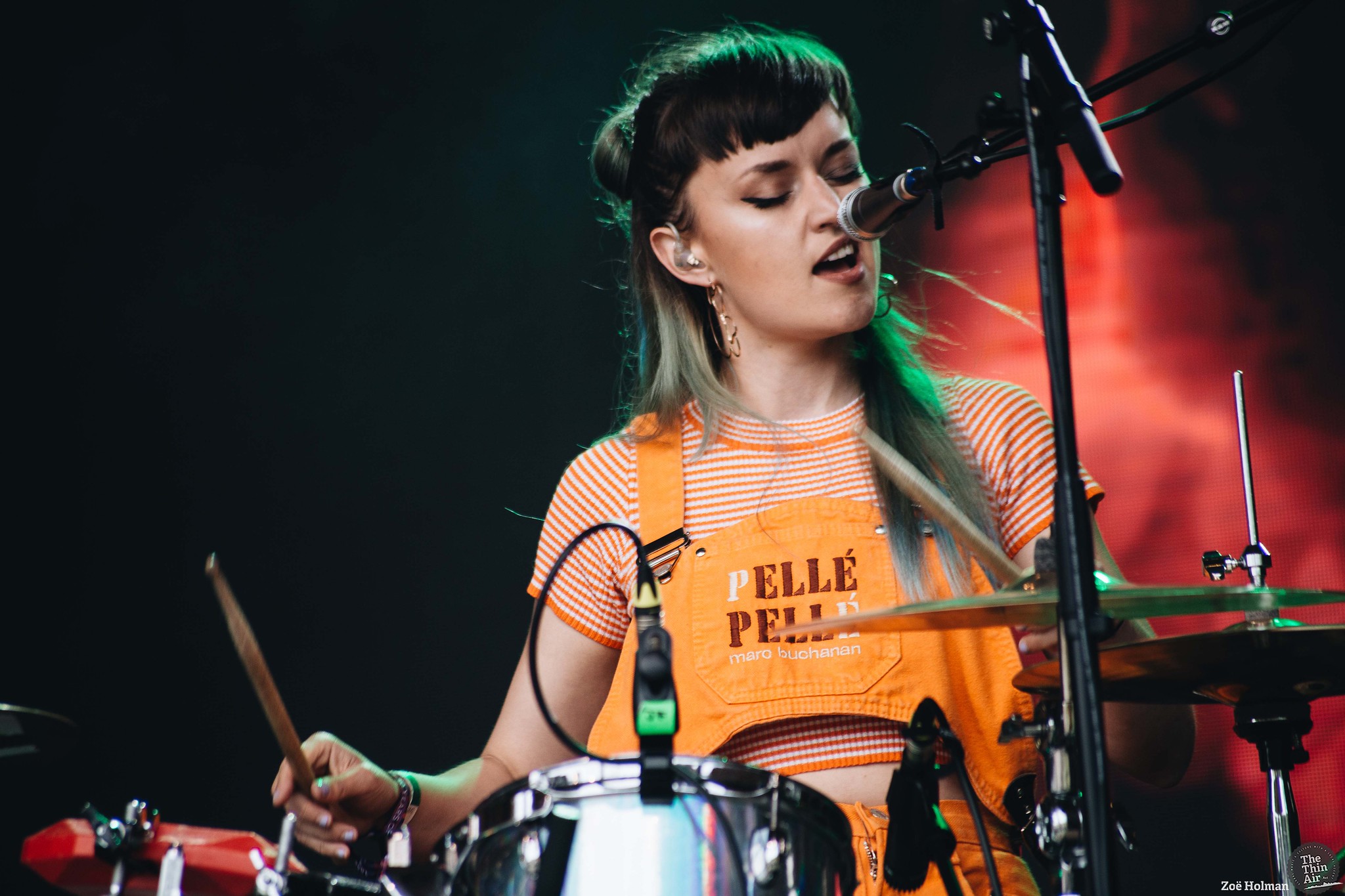 In the Woodlands, another one of Ireland's most prominent female performers is wowing a modest crowd: Molly Sterling (below). Combining elements of folk, trip-hop and at times post-rock, Sterling's sound is lush and ethereal, ushering her audience into a state of tranquility. Her skills as a pianist and a vocalist shine bright and prove her to be a phenomenal performer.
Then disaster strikes at the Midnight Circus tent. Experimental act Meltybrains? are set to take to the stage just before seven o'clock, but due to a flight cancellation and last-minute rearrangements, drummer Michael Quinn is not yet at the festival (it is later discovered that this flight cancellation may have been due to a potential terror threat in Stansted). However, once Quinn arrives, the band plow on through their set. Their audience is characteristically cultish, with members donning the band's signature white masks and singing along to the heavily manipulated vocals of Donnacha O'Malley and Ben McKenna. There are a few moments where Quinn falters slightly, but you have to cut him some slack: the guy just got in from Frankfurt.
For the next while, many people longer around the Hennessey bar in the main arena, where a peculiar thing can be noticed. From the Hennessey bar you can hear the DJs on the Reckless In Love stage as well as the acts playing the Midnight Circus tent. It's almost a sensory overload, with it being difficult to distinguish between the amalgamation of pride bangers, hip hop classics and electronic experimentalism. Perhaps this was an oversight by festival planners, but it can't be said for certain.
Back at the Woodlands Stage, Kerry-born Folk hero Junior Brother (below) is serenading a devout crowd with his unique take on Irish trad. It's quirky, comical and at times tragic. As always, Junior Brother's set is an intimate little delight to behold.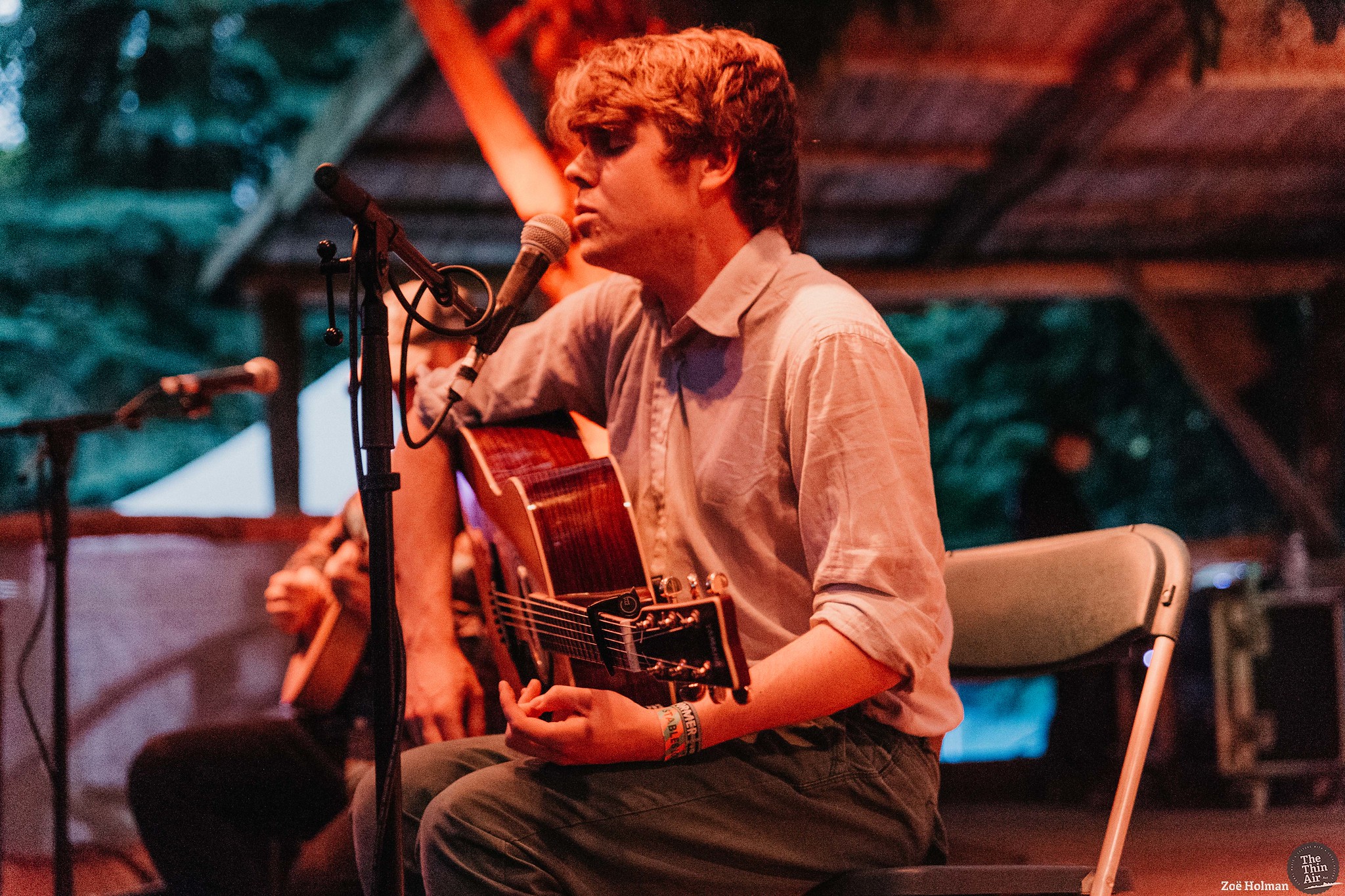 Secondary headliners Sleaford Mods (below) take to the main stage aa darkness begins to envelop the festival. Known for their stripped back and subversive live shows, the UK duo do not disappoint with their bizarrely intense performance. Many audience members don't know what to make of the group, but their performance is equal parts visceral and quirky. They're most certainly a peculiar act with a very particular following, but my god: they are a fantastical blend of punk and UK garage.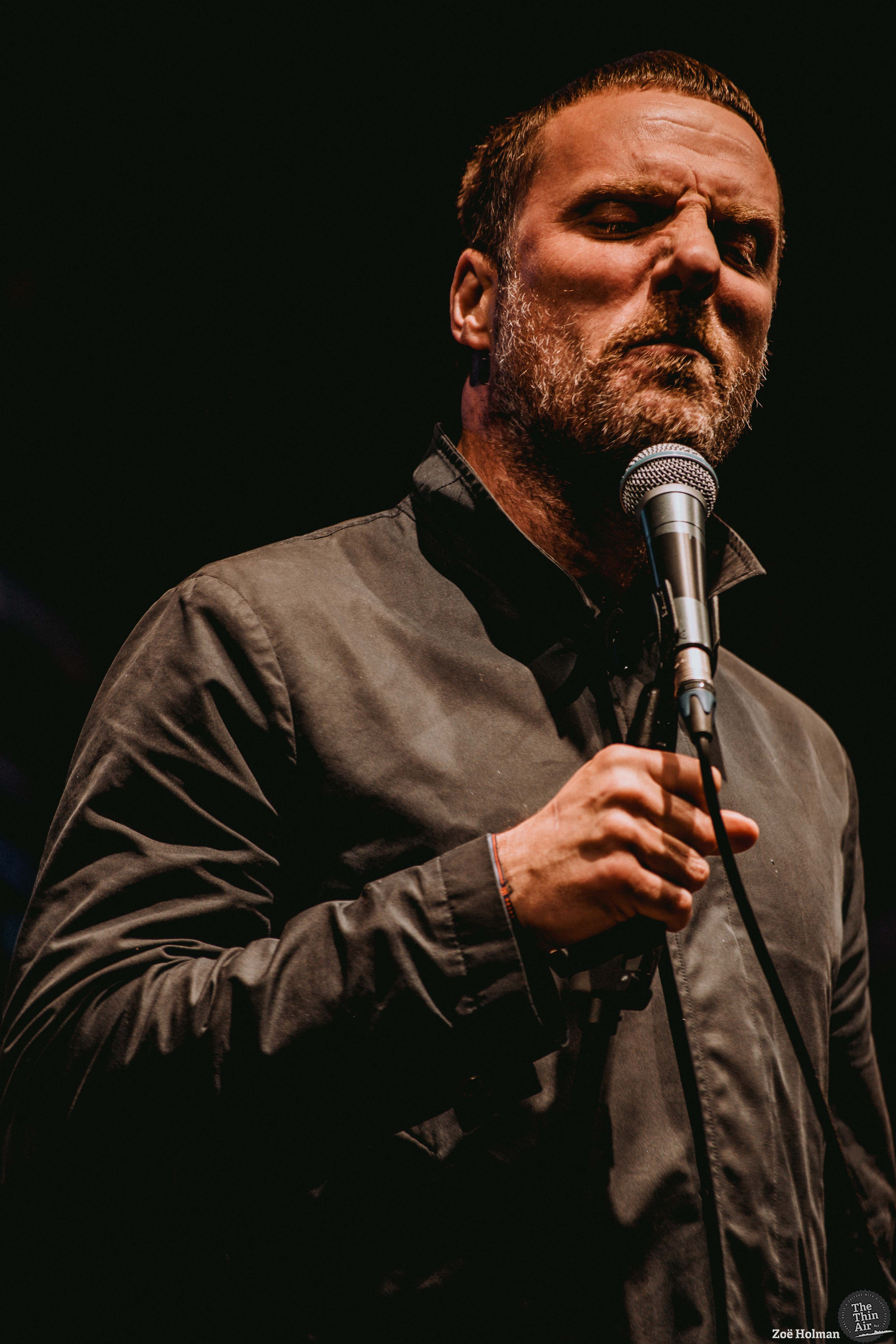 On the subject of punk, one of Ireland's own underground garage punk gems is tearing up the Orchard Lounge stage: three-piece Extravision (below). They're exact sound is hard to pin down, at times drifting into the waters of post-punk and at others floating into the realms of 80s hardcore. The best example of this is perhaps their track "Repeat It", which incorporates floor tom driven drums reminiscent of Joy Division and winding guitar riffs similar to Black Flag. Although there might be work to be done in the love production department, Extravision deliver an enjoyable and danceable punk sound.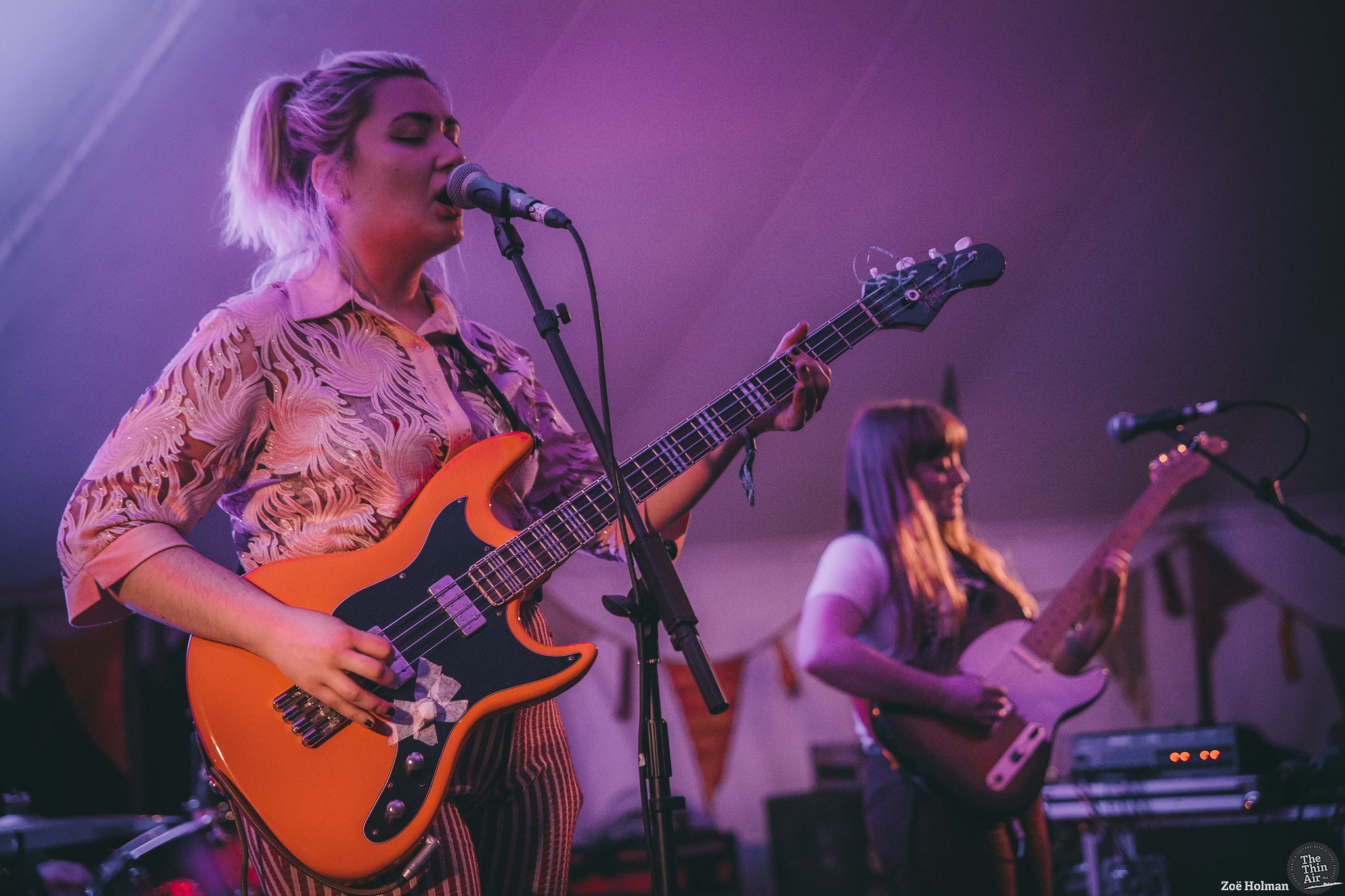 Following straight after is Limerick's strangest renegade and his motley crew of oddballs: Post Punk Lodge and The Technohippies. Clad in a postage bag mask and a dangerously low riding set of Irish flag print swimming shorts, Post Punk Podge (top, below) is a vicious oddball of a man that delivers vocals like Jello Biafra over thunderous and bizarre electronic beats. An undeniably visceral and overall insane act, Post Punk Podge is as insane as he has ever been.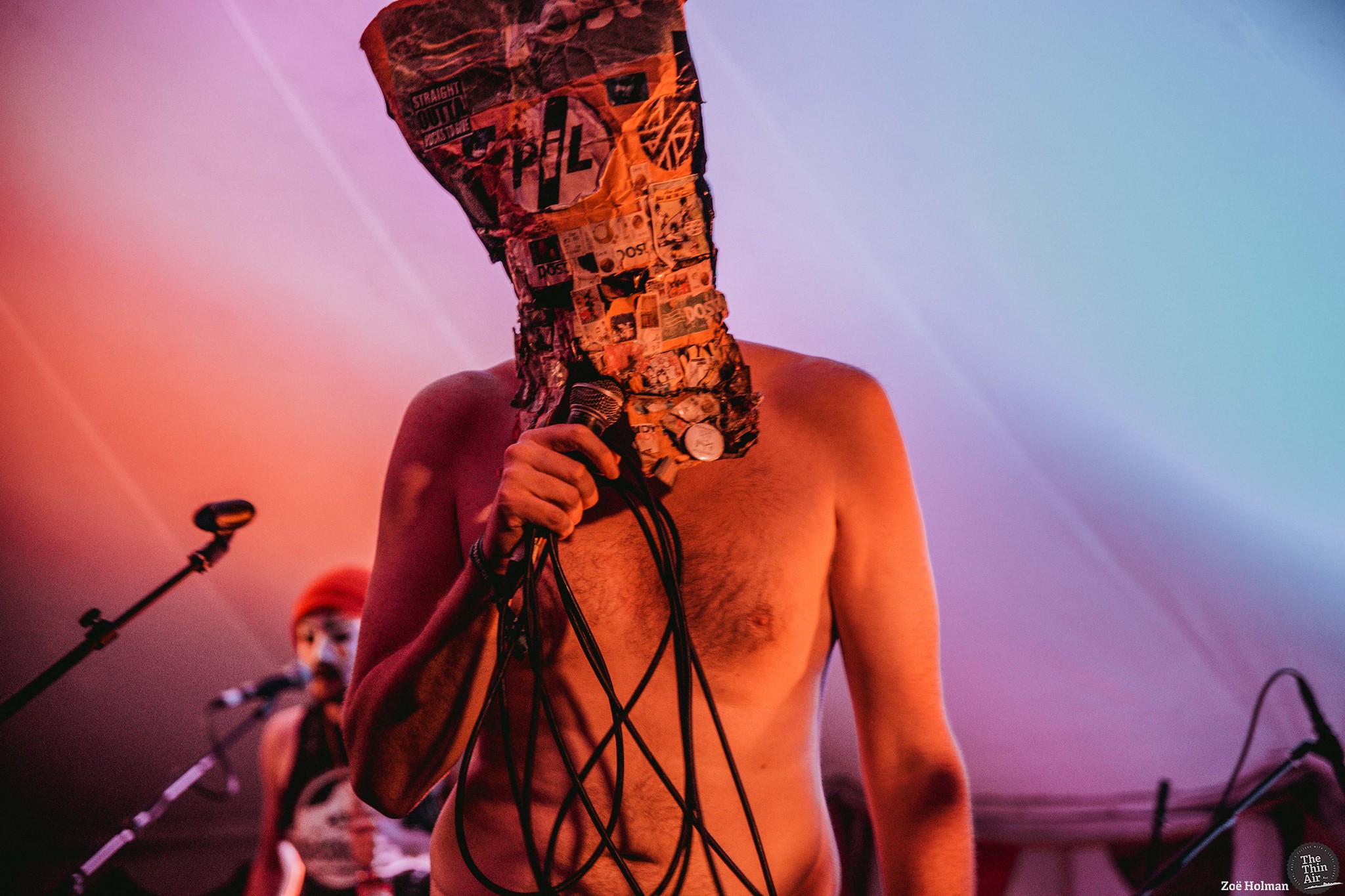 For many punters, it is now time to throw in the towel. Whether that is due to a heavy Friday night taking its toll, or just being old and boring, the striking of midnight sees many people retreating to their tents. Not a whole lot of people seem phased by the fact that Modeselektor are playing the main stage, it's very much a case of "keep your head down and get on with it".
As people settle in for the night, the vocals of Just Mustard's KT Ball can be heard throughout the campsite. Her soft reverb-drenched melodies wash over Body and Soul like a lullaby, ushering in the end of day two. Jack Rudden
Photos by Zoe Holman