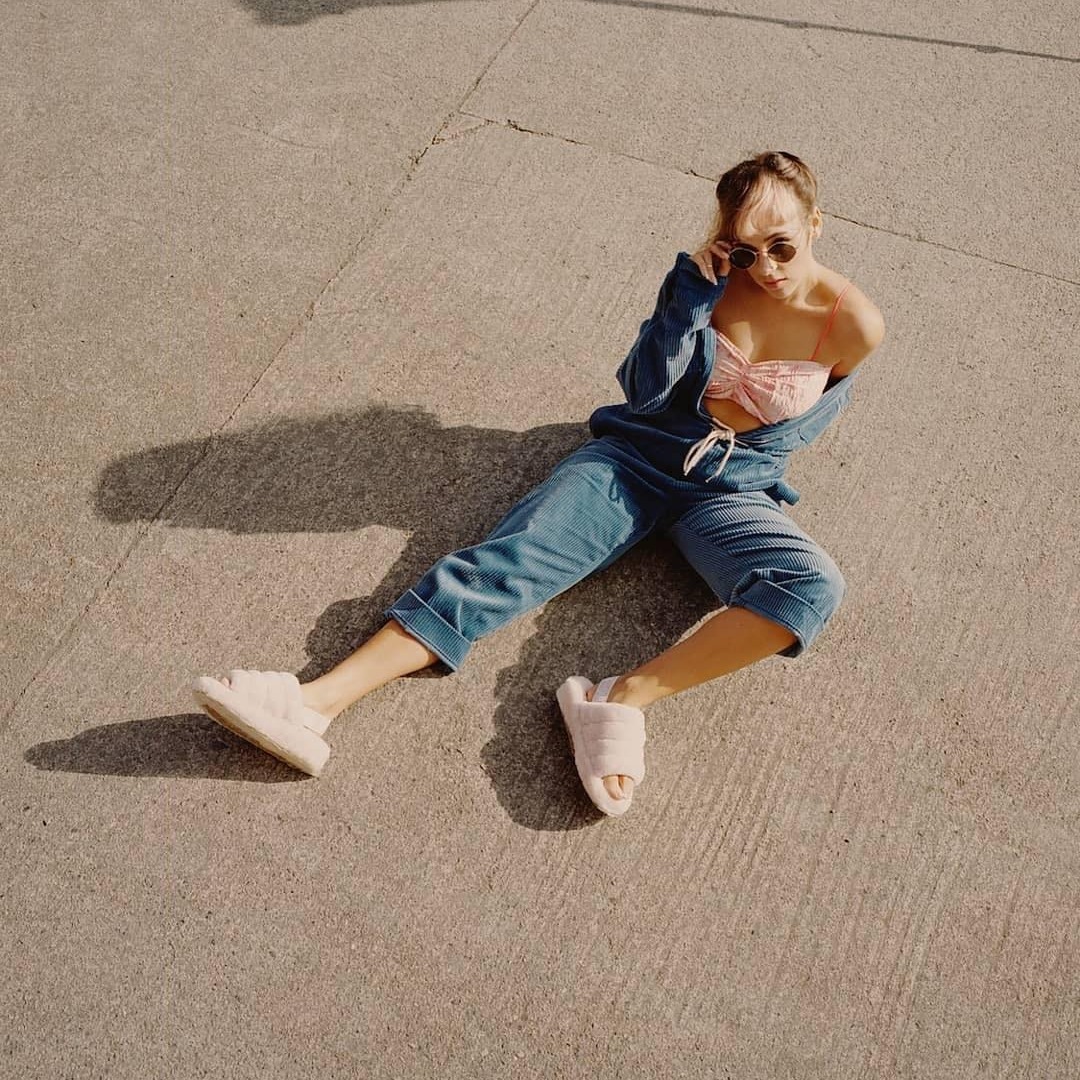 In the latest of a new regular series, Colin Gannon rounds up the very best Irish tracks released of the month just gone, featuring Alarmist, Post-Punk Podge and the Technohippies, Gemma Dunleavy, April, Department of Forever and more.
Citrus Fresh — DiCaprio
The abrasive grain of the Limerick accent render it a useful weapon for aggressive, menacing rapping, as Hazey Haze's attritional style has expertly shown. But Haze's friend, collaborator and spiritual brother in Limerick's DIY rap scene, Citrus Fresh, adopts a different mode on the tender, celestial 'DiCaprio': a break-up song, captured in low-fidelity hip-hop. A twinkling sample recalling the intro to the now-defunct Playstation 1 brings the song to life, casting the rapper as a temporary loner in his room—languishing, sullen and dislocated from everyday normality. Weird samples cackle from low in the mix as Citrus's raps, stripped of pretension or cloying twee, unspool with images of rain, death, and the emptiness of a loveless life. The beat sounds like something the late Capital Steez would've rapped over.
"I was lovesick, now I'm all better / Flat 7UP and a warm sweater," he raps, painting a picture of vulnerability post-break up. The beat is aptly claustrophobic; a teary-eyed Citrus, for now, just wants to wallow. Sometimes it's the best medicine. As the soporific beat comes to an end, Citrus repeats, regretfully: "You'll probably find another one better".
Ordnance Survey — Sonder and Lilt
Forged in his National Concert Hall studio, Neil O'Connor's new work as Ordnance Survey, an augmentation of neoclassical and electronica and ambient music, is full of twists and turns, foggy yet somehow also illuminating. Featuring a coterie of esteemed collaborators, from the scintillating woodwind instrumentalist Sean Mac Erlaine to John McEntire of Tortoise fame, Relative Phase has an ecclesiastical feel to it. 'Sonder and Lilt' is the best song here, showcasing O'Connor's virtuosity in blending disparate elements together—what sounds like Mac Erlaine's huffing bass clarinet; drifting, organ-like modular synths; jolting strings—into a world that deserves to be lived in for an eternity.
Rikshaw — Games
Rikshaw makes uncomplicated R&B-tinged trap songs that, outside of an Irish context, ought to be viral SoundCloud smashes. Combining his production chops with an increasingly ranging autotuned warble, his greatest asset is squeezing big melodies out of small pockets of spaces. Love, on a romantic and platonic level, plays on his mind on 'Games', a lofty 7th Obi-featuring single from his new EP, Junk Food. He sounds wounded and hurt, yet always brilliantly defiant.
Lyrically and sonically pain-stricken, Rikshaw bounces across a shiny beat that is incredibly easy on the ear, befitting of the brand of melodic emoting both him and 7th Obi employ. There are echoes of Rodeo-era Travis Scott in the production, and Key! in the paranoid, languishing style of singing. Rikshaw and 7th Obi make for a compelling duo.
Gemma Dunleavy — Better 4 U
There are minor differences between rote, paint-by-the-numbers pop and ecstatic, heavens-opening joyousness packaged in song. It's a mere matter of perfecting the billion-dollar formula: a labyrinth of melodic sweetness, surging choruses, memorable lines, and sleek, pulsing production. And when artists get it write with pop writing, the results can be mesmerizing. Take Gemma Dunleavy's (pictured) 'Better 4 U': a towering electro-R&B song that falls somewhere between Kelela and Ariana Grande. "Why didn't you try and make it better for me?" she sings, weepingly, over crunching synths and slow, churning 808s. "Why didn't you lift up your hand and try to help me to see?".
Post-Punk Podge and the Technohippies — Heavenly Tones
A gaping whole in this column has been Post-Punk Podge and the Technohippies, who, objectively, don't give a solitary fuck about orthodoxies, expectations, genre tags and Blueshirt politics. Implicit in the Limerick group's latest song, 'Heavenly Tones', a sinuous, demanding cut of distorted house, is the idea of perseverance. To be resolute, to never allow yourself to be swallowed whole by all that is bleak and sunless. "Heavenly tones, in my bones / On the beach again," go the only lyrics in the song, alternately sung and chanted. The slender lyric sheet seems tethered to the deliberately uplifting beat, a strange sight to behold in itself: low-lying, worming bass; perplexing violins; bright, popping synths; and crisp drums—the glue holding everything together. It's arguably their best yet.
Department of Forever — Unseen Pictures
The formless, subterranean soundscapes that Irish sound artist Steve Fanagan builds, all with the finesse of an Ancient Greek sculpture, gnaw at you even though there is scant physicality to grab onto. Combing through the drone-laden Unseen Pictures provides boundless pleasures; it's one of the best Irish albums I've heard this year.
April — Bliss
Injecting soul into bedroom pop is no easy feat, but rising singer April is uncanny in her ability to coax out sensuousness in barely there instrumentals. Veering from flutey jazz on the chorus to neosoul on the verses, the beat sounds like, at any moment, it could dissolve into your earphones. April sounds lovelorn, lamenting the bad behaviour of a beau. In a song as unobtrusive as morning light, she talks ruefully of walking in someone else's shoes and understanding, from a distance, the toxicity of the relationship. But, as Bliss testifies, she just keeps coming back for more; besotted by charm, perhaps, but keenly aware that routines are hard shaken.
Alarmist — Bronntanasaurus
Quartet Alarmist's sophomore album, 'Sequesterer', drops next month and 'Bronntanasaurus', a hurricane of math- and post-rock with blustering jazz textures laying ominously in its eye, has heightened expectations of the new project. Full of concussive bursts of percussion, it's one of the more positively, appealingly chaotic Irish releases this year.
Bui — Something Else to Talk About
Belfast indie band Bui excavate Pavement-like warmth from lackadaisical guitar lines on their latest single, Something Else to Talk About. Buoyed by a gentle fuzziness, with riffs that float instead of soar or slash, it's an aggressively easy listen, injected with enough crystal-clear writing to encourage repeat listens. "If only I could control it / And stay where I want myself to stay," sings Joshua Healy with the faintest Derry twang.