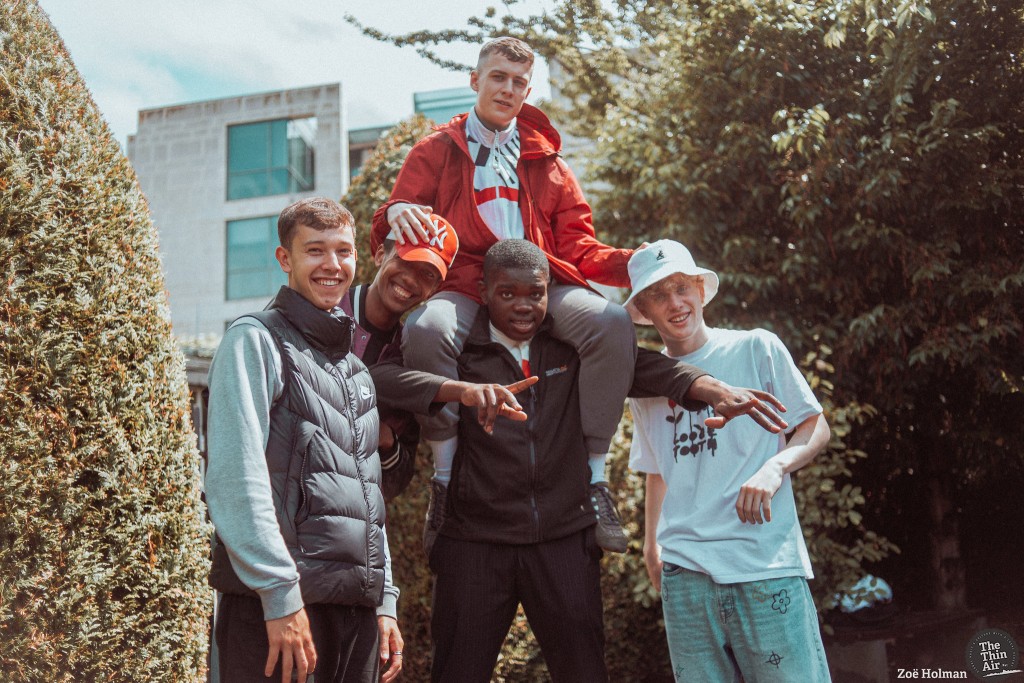 Hailing from Artane in North County Dublin, Gracepark is an eight-piece art collective consisting of three rappers (Matthew, Conor and Dara), one singer (Femi), one producer (Charlie), two photographers/videographers (Cian/Luan) and their manager (Remi).
It's a project that combines aspects of visual artistry with numerous variants of the Hip Hop genre, creating a sound that is unheard of elsewhere in Ireland's Hip Hop community. They are undoubtedly one of the most exciting collaborative efforts on the Irish music scene. Jack Rudden had the pleasure of meeting up with the collective to discuss Stephen King, the prolific nature of Hip Hop and plans for the future. Photos by Zoe Holman.
____
Across your discography there is a wide variety of styles. Songs like 'Clean' evoke a Brockhampton vibe, the guitar on 'Skinny' brings to mind Bon Iver, but 'Soul' is reminiscent of The Streets. Would you like to tell us a bit about the musical influences within the collective?
Matthew: The Streets are probably my biggest influence, definitely my favourite band besides The Stone Roses. Any current rappers from England or America like Denzel Curry. We just listen to that sort of thing and try to put our own spin on it.
Dara: Along with that we also try to experiment a lot, but we have to build off of other sounds. We've got a lot more electronic stuff now, we're not just like Brockhampton.
Would you guys take influence from any Irish rappers or producers? Are there any local acts you're particularly fond of?
Matthew: Obviously we're big fans of what Kojaque and Kean Kavanagh are doing, I know Femi is a big fan of Kean Kavanagh. The scene is blowing up pretty big, even in terms of podcasts and among social influencers.
In one of your songs you make reference to Stephen King. Is there a certain degree of literary influence when it comes to your lyrics and are there any photographers or film makers that influence your visuals?
Luan: It's definitely about making your own style. We can happily admit that at the start people were a bit like: "Oh you guys are just like an Irish Brockhampton". It's hard with a big group like this, you're gonna be compared to similar big groups, so we've moved towards making our own niche, our own style. It's the same with visuals, Cian and I will work on completely different things, so when we come together it's a much more rounded project. There's definitely a cliched formula with rap videos, so you have to try and break that up without going too self consciously artsy. It's all about using different inspirations to create something that represents you and represents the group.
Matthew: Outside of music, myself and Dara read a lot. I'm reading a Stephen King novel at the moment actually. I love Tolkien and obviously when I was growing up Harry Potter was fuckin' bangin'.
 You guys have released an insane amount of material in such a short amount of time. Do you feel there's a certain amount of pressure within Hip Hop to release huge amounts of music seeing as it is such a notoriously prolific genre?
Luan: I think there's always that thing of trying to stay "relevant", so obviously we're going to try and release things whenever we can. We also feel we improve quite quickly a lot of the time. The lads will spend a month working on something new and then another month finishing it up, then we sit on it for a while and decide "No, this isn't good enough" and we end up not releasing it. I find that we work best when we make things really quickly and get it finished and released super quickly.
Dara: Yeah, just like Luan said since we only started making music a year ago we kind of have to develop as people and artists ourselves. We have to find that midpoint between "Could we do better right now?" and "We need to release something so people know we're still around"
Most of you guys are still in school, so it must be somewhat difficult to get gigs. How do you guys go about getting your shows?
Remi: We either organise gigs ourselves or send out emails to other artists that are performing. We're hoping other artists will be happy to have us as a support act. We organised a show ourselves there in Adelphi and that went really well. That's mainly it for now because a lot of our audience would be younger and most venues don't want to do a show unless it's entirely over 18s, there are very few venues that'll have under 18s shows. We're hoping that in the next year or two we can grow our audience and hopefully have an older crowd that can attend more of our shows.
Already your audience has grown massively in the last year. Do you guys employ any particular tactics to encourage that growth or have you found it to be a very organic development?
Remi: It's social media really when you release new music. You have people share it, you have other artists share it. With our Adelphi gig that's what we did, we had other bands share it, which also influenced our music's popularity. With our latest EP, that's where we saw the greatest level of growth and hype. It's mainly social media, mainly instagram.
Hip Hop is probably the biggest thing in Irish music at the moment. With so many people now trying their hand at it, what is it that separates you from the crowd?
Luan: I think a lot of people starting out just put their stuff up on Soundcloud, they keep it kind of low key and lofi. Whereas we have producers, we have rappers we have all the camera stuff, we're trying to make it as high quality as we can from the earliest stages. Give us two years and we'll be ahead of everyone that's in their lofi stage.
Dara: We can really curate stuff and bounce ideas off of each other. As a solo artist you can probably send stuff to your friends and they'll just say "awh that's sick", but when you're working with other people that actually create stuff too they will give you proper criticism, because they know the value of it. It works better when you have more people to work with.
In terms of college, will many of you be pursuing music in college or do you wish to pursue interests outside of that?
Charlie: I definitely want to do music in Trinity or something like that. We're all only heading into Sixth Year now, except for Cian, he's heading into college next year.
Cian: I only picked up photography a year ago, but I'm heading to do it in college now because it's the only thing I have any interest in doing. I'm going to have the experience of college too so I'll be able to help the lads figure out exactly what it is they want to do. It's going to be different, it's completely new to me, I have no older siblings that have done this before. My Dad did accounting, my Mam is a teacher, so it's completely different from anything anyone in my family has done. Pursuing something like that is definitely the best option in my opinion. It doesn't matter if you could be doing something where you'd be making more money, being happy is the main thing for me I think.
Luan: It's a scary thing to do something like that in college- to study an art- mainly because it's so hard to make a living at it. People always say: "Do what you love and the money won't matter", but if you're scraping by every month you're going to fall out of love with it. Everything becomes a job, so you have to weigh up following a dream with the safe option of doing something that could get you an office job. They're both attractive in different ways, but it's just about weighing that up for yourself.
Matt: I'll probably take a year out after school just to work and travel a bit. If I was to go into college I don't think I would do music because any friends I have that have done music… the shit they say scares me, sounds very full on. I'll probably do something with English, something like literature or philology or something like that.
Remi: Even in the context of school, we just do this in our spare time. I feel with college we could do the same and continue to grow. The way we're doing it at the moment we've gone from 600 monthly listeners to 3000, just doing it on the side. Like Luan said earlier we could definitely get bigger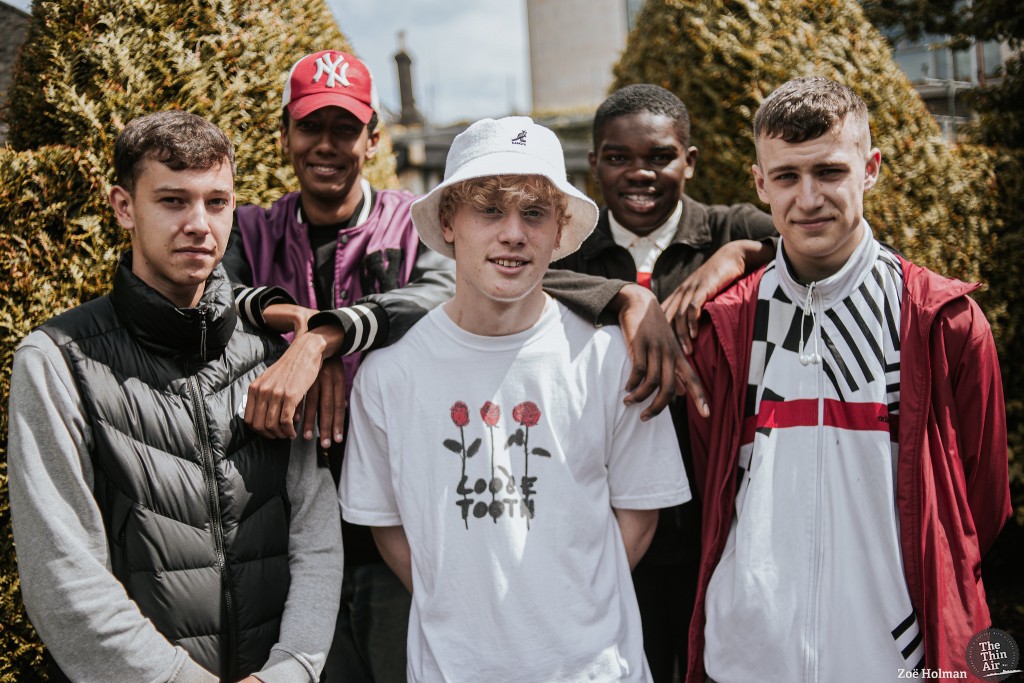 Is there a particular goal in mind for Gracepark? What makes you guys want to keep doing this?
Matthew: I'm not sure there's an end goal but I think the main goal is to keep going, get as many people to hear what you have to say. Never stop, if we're not making shit we're not doing anything.
Dara: Yeah, like Matthew said it's just something to do, but it's also for happiness. Even if we never make it to big stages or anything at least we were happy doing it. That's what we put first, we're not going to put out music or videos that we're not happy with, that would just be plastic work.
Luan: You hear a lot of people say things like "You need to have a clear goal" or "We're gonna be the biggest in the world", but like Dara said: it's just something we can do. It's something we can focus on so we're not just drifting through these years of our lives. It's something we can put our energy into and something we love to do, which I feel is really important to have. I feel like a lot of people don't have that. A lot of people just drift through college and fall into a job without finding that thing that makes them happy.
Is there anything you guys would like to add, anything you'd like to plug?
Charlie: We'll hopefully have new music out some time in August. We just spent the last few days in Cian's house making music. We should have a show coming up at the end of August too.
Gracepark play The Workmans Club on the 25th of August.