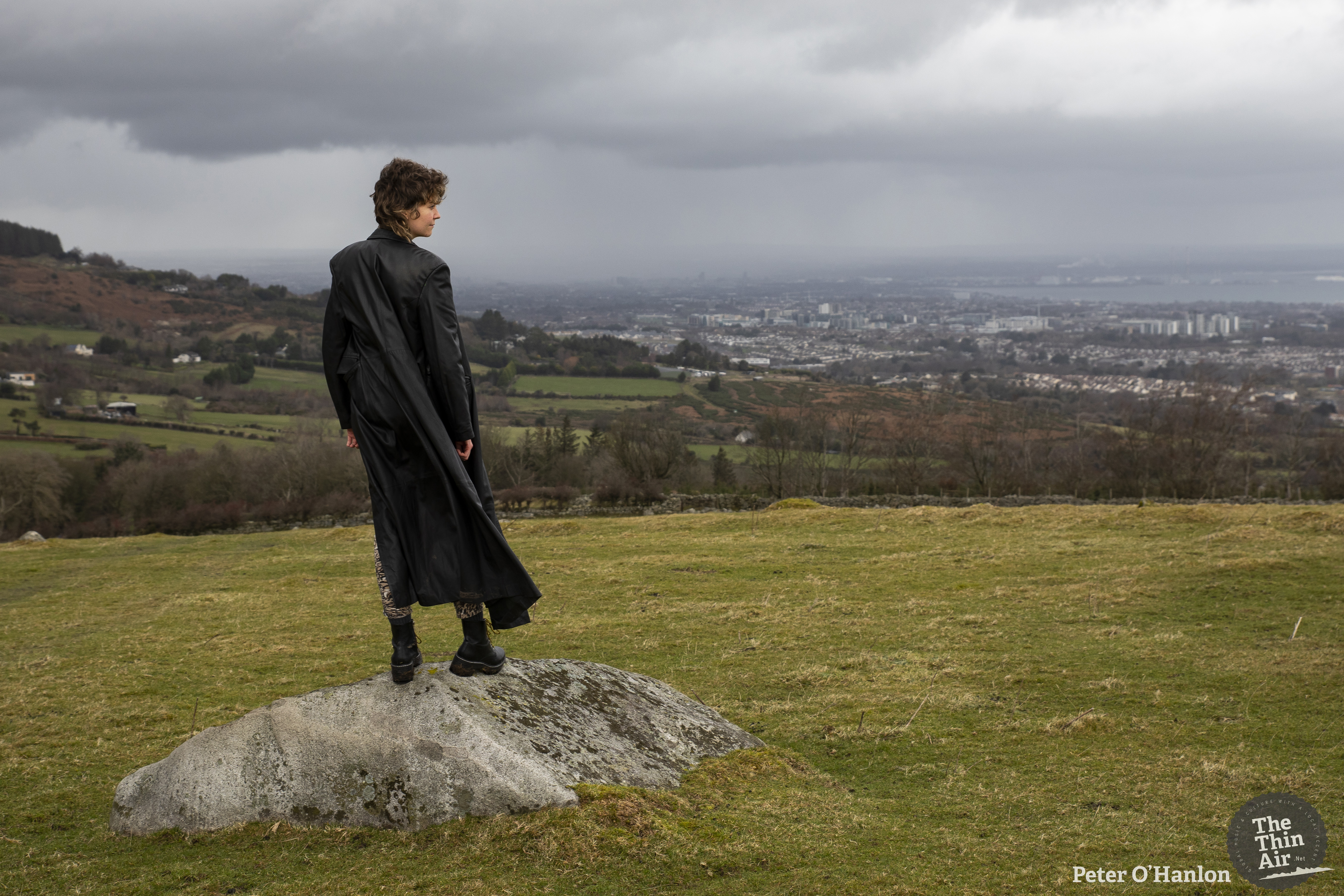 In the latest installment of 10 for '20 – our feature looking at ten Irish acts we're sure are set to do great things in 2020 and beyond – Eoin Murray profiles genre-warping musician and visual artist Michelle Doyle aka Rising Damp.
Photo by Peter O'Hanlon
One of the Irish undergrowth's most febrile live acts, Rising Damp, makes music to be shook to. We first heard her at Banger Cliff, on the Sunday of Open Ear 2019, when she played an appropriately head-scrambling live set of ravey electronic punk and EBM. The Dublin artist's effect-soaked howls and propulsive rhythms injected a final burst of frenetic energy into the festival's final day, and presented an uncompromising performer most comfortable in the wide-eyed buzz of the rave.
As with anyone equipped to soundtrack that frenzied buzz, however, Rising Damp – real name Michelle Doyle – knows how to guide the wind down, in her own way at least. Having debuted at Open Ear 2018, another project of hers, Yoga For The Eyes – an art collective featuring Digital Druids Eva Richardson McCrea and Coilin O'Connell – returned to Sherkin Island in 2019 with another exhibition, focussed on "decentralisation, AI, offgrid servers, mushrooms and folk art". The trio also put together a CD to soundtrack weary travellers on their drive home from the festival. Yoga For The Ears offered a uniquely warped take on affirming recordings and sleep guides, using the spoken word framework and manipulating it with surreal lyricism, vocal alterations, grumbling electronics and field recordings – a delightfully odd salve.
Both sides of Rising Damp's sonic identity are represented in her debut album, Petrol Factory, set for release in March on experimental electronic cassette label, wherethetimegoes. Written mostly during a residency in the Sirius Arts Centre in Cobh, Co. Cork, the seven-track release got its name after a local referred to the oil refinery in the bay as the "petrol factory", a phrase Doyle found "both terrifying and exciting".
"Being in Cobh really inspired an aesthetic for the album," Doyle explains. "It's a port where containers from all over the world are brought in. [It's where] the Titanic and Lusitania left on their final journeys, it's the home of the Irish navy, massive cruise ships tower over the entire town in summer, and it's one of the most polluted places in Ireland. It really felt like when you were constantly confronted with the horror of consumption and the rebranding of trauma for tourism."
Petrol Factory offers the most song-led work Rising Damp has produced to date, while clinging to its tough electronic edge, invoking everyone from Joy Division, Suicide and Carter Tutti Void to Blawan, Puce Mary and Laurel Halo. Lyrics, echoing and assertive, tackle societal disarray, violence, the rise of facism and the banking crisis, and place her among the likes of TPM, Girl Band and Gross Net with their manic, darkly humorous approach to prominent issues in Ireland, 2020.
Looking to the year ahead, Rising Damp will be taking Petrol Factory on the road along with her newly formed ensemble, The Spores. With an album launched lined up for 28th March at a yet to be revealed location, as well as a performance at It Takes A Village festival, there's plenty in store for the coming months. With a view to creating more visual work following her arts council's Next Generation Award, and with more gigs hopefully presenting themselves in the meantime alongside Petrol Factory, Rising Damp should become an artist you are excited by, gripped by, and above all shaken by in 2020. Eoin Murray