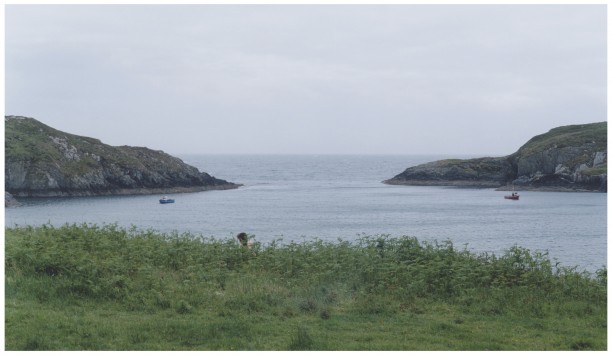 If there was ever a space to disprove the absurd notion that the world of Irish independent music is disjointed or lacks community it would be Open Ear – Not that it needed disproving. For the past four years, the small festival on Cork's Sherkin Island has shone a light on a countrywide scene that has, for some decades now, been quietly growing – thriving in the undergrowth.
Expanding this year to a capacity of roughly 600 attendees, Open Ear's celebration of Ireland's experimental music scene, from its stalwarts to its adventurous young artists, is a testament to the unity and support that fuels it. Where the mythology of experimental and avant-garde music typically casts its figures as outsiders, Open Ear is defined by its welcoming community of creators, noise makers and eager festivalgoers.
With no "headliners" and no sense of hierarchy on the bill, Open Ear balances everything from exuberant electro and brutal noise to hypnotic ambience, experimental folk and performance art with a careful precision. And with an emphasis being placed on only having one performance on at a time, the festival ensures that everyone gets the same chance to be heard as everyone else.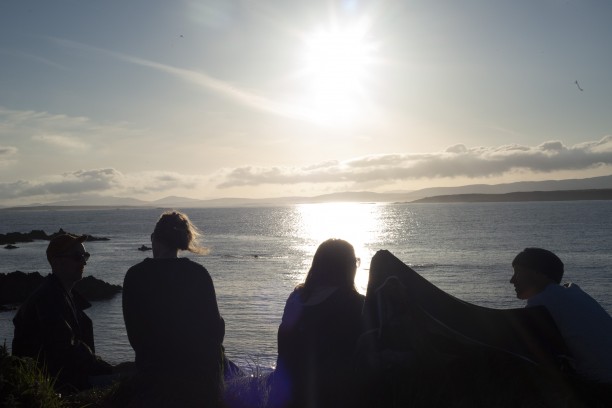 Travelling to the island on Friday afternoon – having regrettably missed reportedly exceptional opening party sets from Somadrone's Ordnance Survey, Collision Objects, Gadget and The Cloud, Zeropunkt and Donal Dineen the night before – the sky is troublingly claustrophobic and grey. On the bus through West Cork, toward Baltimore and the ferry to one of the country's most southerly points, the mist and rain push a concern to the front of the brain that this could be the year a festival that has traditionally been blessed with sunshine gets washed out, all rumours of microclimate be-damned.
Shows how much of a dumbass this writer is for doubting Open Ear and its home for even a second, because no more than 45 seconds after stepping onto the island we are met with postcard-blue skies and bright, warm sun.
Taking a buggy to Sherkin's North Shore, where Open Ear's main site rests, looking across to Heir Island and out toward the Atlantic, we pass signs directing festivalgoers to the performance and art spaces from where adventurous and captivating sounds and visuals will radiate over the course of the weekend – the spaces ancient, natural and embedded in the place, feeling utterly fundamental to proceedings.
Case in point, T-Woc accompanies a radiant evening sun with a DJ set of buoyant and percussive krautrock, afro-funk and no wave. Then, as Odd Ned steps up with a live set of intoxicating dub warbles, a steady stream of people gather, sitting on the island's slight cliff edge drinking Buckfast and tins in giddy anticipation of a weekend that strikes a near-perfect balance between  hedonism and thoughtful appreciation for affecting art.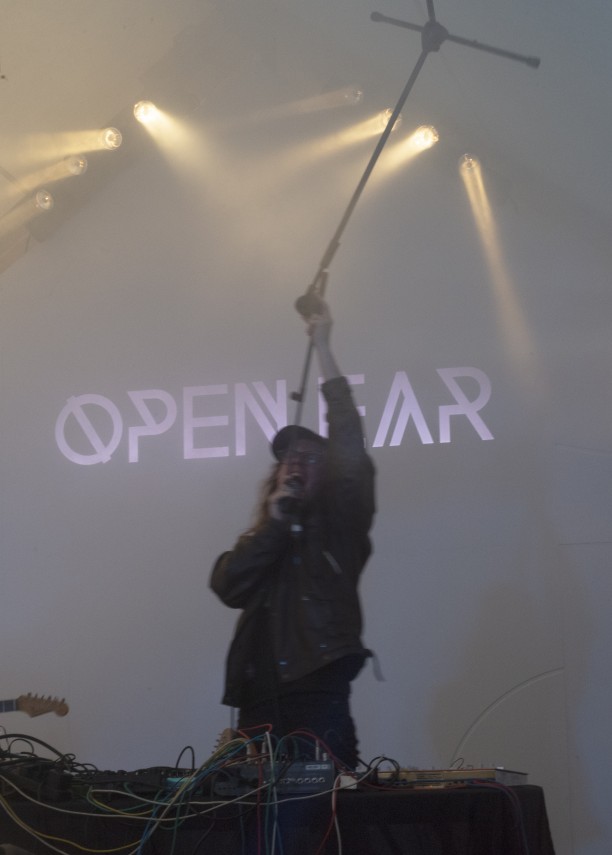 New duo The Troubles bring on the dusk with a whirl of modular noise and driving beats á la Throbbing Gristle or Girl Band, with Woven Skull's Aonghus McEvoy providing sprawling distorted guitar backdrops for Gerard Duffy's (School Tour) electronics and visceral, desperate vocal squalls. It marks a change of pace for the night, with the balance of heaving drones and rabid intensity making way for Garies' live set. The pairing of David Kitt and Lumigraph demonstrate the kinetic, sizzling electronics of 2018's Dull Clunk LP as the tent fills with eager dancers. Hurtling through tracks like 'Future Systems' and 'Crash Course', as well as improvised new material, there's a sense of frenzy that bursts into the crowd like a cannon and a switch is flicked.
Belfast's Son Zept follows with an equally propulsive live set of synthetic jolts and frenetic percussion. What comes next, then, shortly after midnight, stands testament to the adventurous and nonlinear programming of Open Ear, one that champions the experimental time and again, holding it in its deserving, "peak-time" regard where other events would shove it to the side. Where other festivals would likely keep the clubby momentum going, Open Ear insists on joyfully fucking with the expectations of how a festival "should" run, and is all the more vital and exciting for it. The festival's own Vicky Langan and Aaron Dilloway step up with a 35-minute burst of brutal and cathartic improvised noise and howling drones, all met with rapturous energy from a more than receptive audience. Immense altogether.
Cork hard drum producer extraordinaire, Syn – of the burgeoning Flood collective – kicks things back into percussive gear with a DJ set of her trademark blends of gqom, bass and hammering beats. She's followed by Conan_, who closes off the North Shore Stage before we all skip our way to the marvellously titled Banger Cliff tent, named after a previous festivalgoer's drunken misreading of the "Danger Cliff" signs dotted around the site. Vital queer party-starters Club Comfort bring the vitality and verve of their regular nights in Dublin to west Cork with triumphant confidence, with residents Selky, Roo Honeychild and Jack Colley laying down radiant breaks, vogue and ballroom cuts to close the first night off on a delirious high.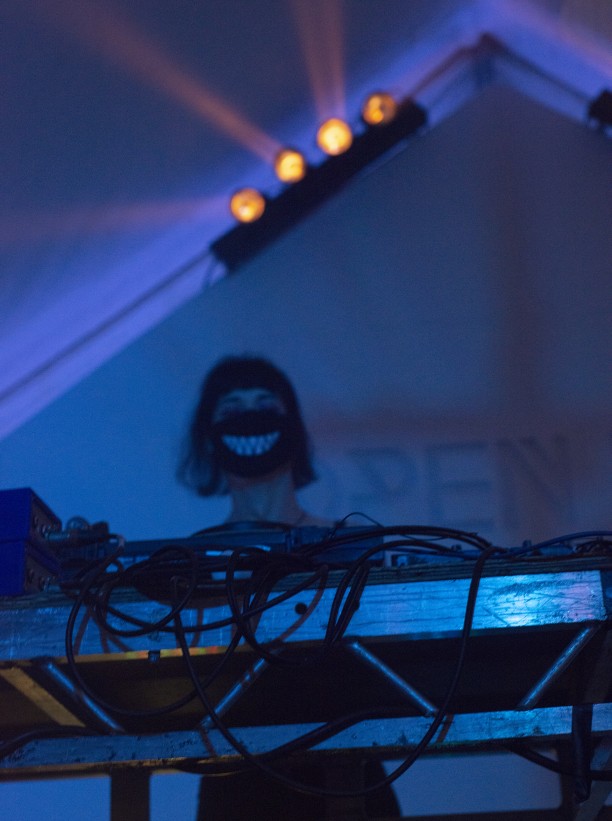 There's a heaviness in the air on Saturday morning – Sherkin's microclimate predicting the sounds of the day and acting accordingly once again, you'd suppose. Michael Prime – a sound ecologist – launches proceedings shortly before noon on the grass of the island's ruined Franciscan Abbey, under dense grey clouds and in muggy, uneasy heat. A resident of the nearby island of Cape Clear, Prime attaches hypersensitive sensors to local flora, using them to detect tiny electrical voltages produced naturally by the plants. The pulses of those plants, transmitted through oscillators and electronics, create a fascinating and intoxicating mesh of noises, bursting from the speakers dotted around the abbey as listeners are encouraged to stroll around and take it all in – a more than appropriate hangover cure.
Back to the North Shore via Dublin Digital Radio's captivating Spectral Voices Damned To Air installation in Sherkin Community Hall, a heavy fog draws in across the water. It makes for a fitting companion to Bristol-based Irishman Aonghus Reidy AKA Ocean Floor, whose engulfing modular drones heave through the tent as it slowly fills with figures, sat and easing into round two.
Maria Somerville, whose debut LP All My People became an early Album Of The Year contender upon its release, has the North Shore tent full to the brim ahead of her set. A certified "must-see" for pretty much everyone heading to the festival, the excitement to hear the Galway native's atmospheric balladry, hypnotic drones and captivatingly introspective songwriting is palpable. It's a bit of a shame then, that technical issues coming from the sound desk result in some unfortunate difficulties during the set. Somerville and her band power through with the utmost professionalism however, and the strongest moments soar with the same power as they do on record, not least the ambient swells of 'All Too Much' and 'All My People'. The crowd too, are committed to the performance, and their enthusiasm for these songs doesn't falter in the slightest throughout. It's as strong a reminder as any that Open Ear is a festival of loyal punters and music lovers – a community in the truest sense that is determined to support the adventurous and dedicated artists that make this country's scene so vital.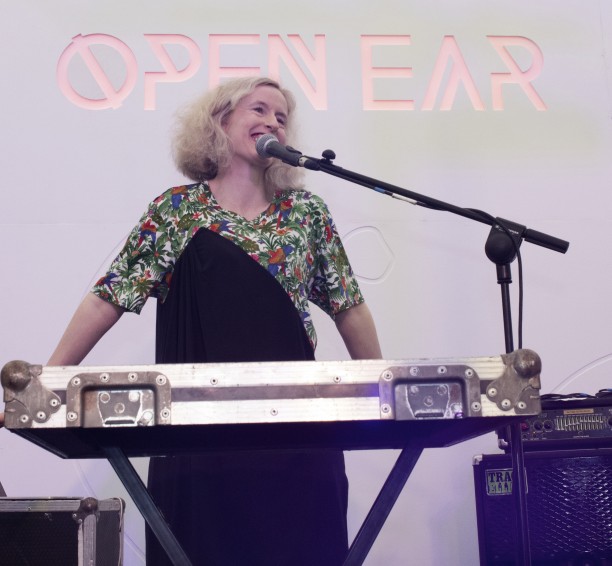 That support carries through to Jennifer Walshe's frankly mind-altering performance of 'In Glorious Mono', a 30-minute piece from her new album ALL THE MANY PEOPLS. The Aisteach Foundation founder launches into her at times harrowing, at times absurd and at times hilarious monologue on top of a bed of rapidly surging, cacophonous sound design and scratchy synthetics – and lines such as "I want to join the scouts so I can learn to fire a gun; then I want to get a job so I can buy a gun" are met with uproarious applause and woops from the crowd. By the time the piece ends Walshe is met with a standing ovation, the crowd literally leaping off the ground to yell an enthusiastic "ONE MORE TUNE", though probably not really expecting one. Except she does – returning with a much briefer, but equally riveting rendition of a solo-voice piece comprised of minuscule lyric snippets from the history of pop music. The tent goes suitably apeshit.
More mesmerising and fierce improvised noise goodness comes from drone supergroup – yes, supergroup – BB84, comprised of Wild Rocket's Cian Moose Woven Skull's Natalia Beylis and George Brennan (with Gnod's Paddy Shine unfortunately absent), who lead us dizzy and invigorated into Dunk Murphy's live take of 101 Beats Per Minute, a project he has curated through the Countersunk imprint where numerous Irish artists have contributed tracks with the only brief being that they are at 101 BPM. It's a rousing set, and yet another fine showcase for the versatility and thrilling oddness at play in Ireland's experimental undergrowth.
Saturday pushes forth with a heady string of DJ and live sets from the likes of S>>D, Open Ear's Dion Doherty AKA Belacqua, Prun, Fran Hartnett and Eliza, each of whom delivers a storming bout of face-melting electro and techno. J. Colleran, doused in strobes, casts the ambient swells and mesmerising orchestral sounds of his 2018 album Gardenia in exchange for a surprisingly hammering set of experimental club sounds. Raw, searing energy bursts from the North Shore tent as the skies open up with pelting rain, bothering absolutely no one. It sets the mood perfectly for everyone's favourite experimental psych trio Woven Skull who deliver a brain melter of a finishing set at Banger Cliff. Tracks from their 2018 self-titled LP like 'Exile On Warren Street' and 'Hot Nights on Honeyhole Road' wreak total havoc. That is, of course, before, in lieu of an encore, the band do an impromptu DJ set where Big Freedia's 'Azz Everywhere' gets played three times – frankly enormous behaviour.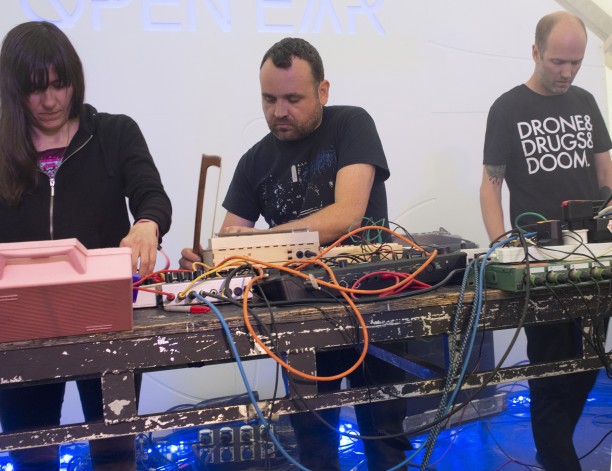 Sunday finds one of Ireland's foremost avant-garde artists, Áine O'Dwyer, showcasing her most ambitious work to date, Accompaniment for Captives, in Horsehoe Harbour Bay [lead image above]. The Limerick-born, London-based artist has, for close to a decade now, shown herself to be one of country's most inventive, with albums like Music For Church Cleaners and Locusts being recognised internationally for their unique approaches to minimalism, drone and liturgy. Her work, however, has shamefully been under-celebrated on home turf. It's hard to know what difference Accompaniment for Captives could make to that fact, but what is certain for everyone in attendance that morning at least is that there have been few modern performances that have invoked and drawn from this country's landscape in quite as visceral a way as this. And everyone there knows they have witnessed something special.
Words will do it no justice, but we'll try – O'Dwyer kneels in the long grass, naked, half way between the standing crowd and the bay, generating altered sounds of a flock of seagulls that whirs across the scene. Distorted, droning electronics cut across the wind as two small fishing boats – one red, one blue – enter from either side of the bay, slowly crossing one another and moving further toward land. O'Dwyer's voice resonates in what could be cryptic choreography instructions for the slowly dancing boats or a poem for those stood there to interpret or simply hear. She crawls slowly toward the water, out of view while one boat leaves the bay. She makes it to the rocks, throwing herself into the sea as the sounds still cleave across the heavy wind. She swims to the remaining boat and climbs on, met with awed applause, and more than a few shed tears from those back on land.
O'Dwyer's performance, coupled with equally captivating works from artist Dylan Kerr at the Community Centre and Lankum's Radie Peat in St. Mona's Church, makes for a stunning Sunday morning of intense sights and sounds from artists so unwavering and resolute in their practice that it is impossible to not feel touched on a, dare it be said, spiritual level. Or, at the very least, a deeply human one.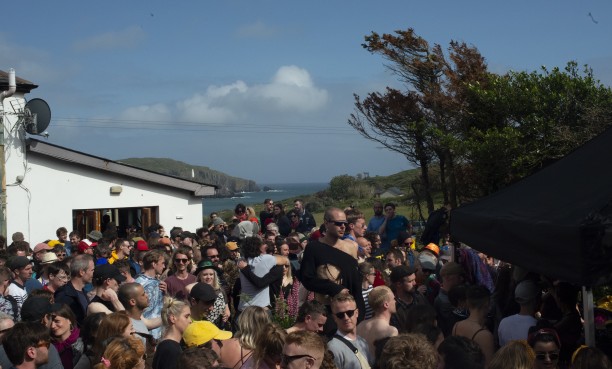 So obviously enough you'd need a drink after. And on the entire festival's population goes to The Jolly Roger, the pub by the pier where pints of Murphy's are poured like water and drum & bass, garage and house cuts propel through the sun kissed beer garden from the likes of Bobofunk and Kate Butler .
Back to the North Shore for the closing party at Banger Cliff, where Safetyboy leads the charge before Repeater member Rising Damp kicks things up a notch with an incendiary live set of rabid EBM, her altered vocals crashing over riotous electronics in a vein not unlike Autumns, Giant Swan or, at its most searing, Pharmakon.
The closing string of DJ sets from Tousist, Cáit and Aoife O'Neill, not to mention members of the Open Ear team itself, Lolz, Sias and Kenny Hanlon, is nothing short of euphoric, rapturous mayhem. Thunderous breaks, jungle, techno and electro ensure Banger Cliff stays true to its name, and as the sun rises and it all draws to a close with Hanlon throwing out Squarepusher's 'A Journey to Reedham (7AM Mix)', it's hard to imagine a more perfect track to end a festival built on pure expression and release. Clattering drums, frenzied, joyous arps, unpredictable twists and turns – a sense of hope amid the chaos.
Photos: Maeve O'Neill