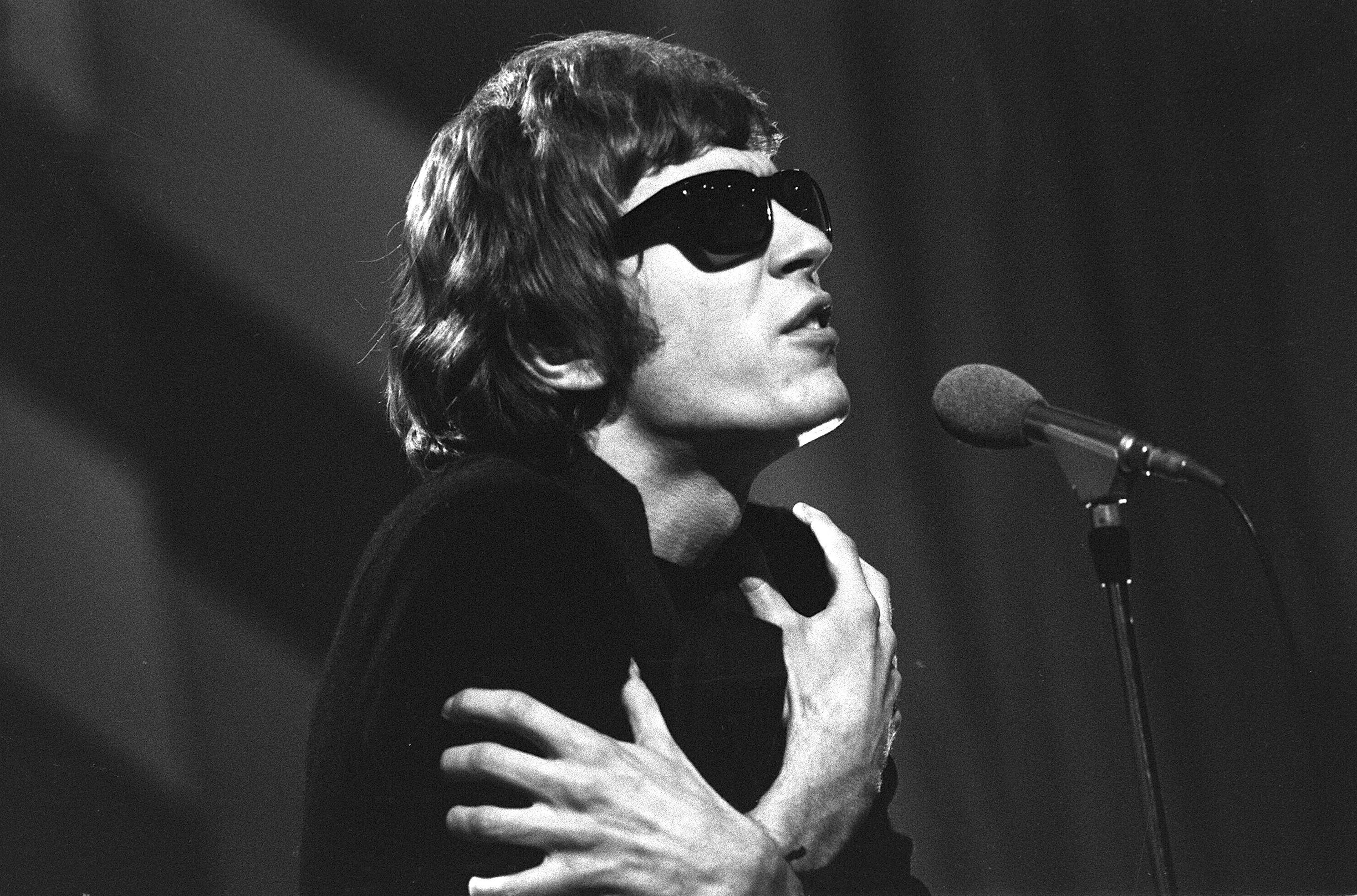 "This is how you disappear", Scott Walker sings at the start of 'Rawhide', the first track from 1984's Climate Of Hunter. The persistent high pedal of clustered strings that seems to hold everything in suspension – his voice, the secondary voice of the fretless bass – taut like a puppeteer's strings, we now unmistakably recognise as characteristic of his arrangements. We can trace this dissonant resonance back to tracks 'Such A Small Love' from Scott through 'Plastic Palace People' from Scott 2 to Scott 3's 'It's Raining Today' – all his own compositions – and specifically to the talents of arranger and conductor Wally Stott (later known as Angela Morley). When he came to reform the Walker Brothers for the albums Lines and Nite Flights in the late 1970s, it was the latter's first four tracks' pinguid black palette, and its employment and accentuation of Morley's harmonically ambiguous and sometimes jarring orchestration that finally signalled his slip – his "disappearance" – into avant-pop experimentation. If Nite Flights is his exquisite farewell – a perverted swansong – to the world of popular entertainment he was never quite comfortable in, then Climate Of Hunter is the album where his alchemical forging of deep croon, sound-mass composition, and deconstructed pop forms begins to foment into the grooves and clefts he'll quarry over the next thirty-five years.


There is no shortage of bands that have made a brief, calculated move into Scott Walker's sound world. Most conspicuous is Radiohead's unsubtle 'How To Disappear Completely' from Kid A, replete with a beautifully hazy string arrangement lifted straight out of Nite Flights; itss title presumably a lyrical nod to 'Rawhide'. The singers Neil Hannon, Richard Hawley, and Jarvis Cocker are often compared to Scott Walker by critics unwilling to listen deeper than the particular cosmetic qualities of a particularly articulated male baritone voice, and while Hannon and Cocker's music is certainly indebted to the theatrical frippery and emotive irony present throughout Scotts one through four, their Scott is the ironic sexy sixties foppishness of Walker 1.0, whose acclaimed fertile period lasted barely over three years from 1967 to 1969.
The Scott Walker concert at the 2017 Proms highlighted in excruciatingly painful detail just how spurious such comparisons are, and the unfortunate events they spawn. Like 2016's Bowie proms – tapes must be wiped, producers fired – they demonstrated not only how technically difficult his songs are to sing, but how perilous they are to perform. Like Bowie, it's hard to cleave Walker's voice from his music and lyrics, and unless someone is vantriloquising him to perfection, a certain gravitational command dissipates into the expansive airless voids of the songs. Both artists' music sound absurd, nonsensical, near blasphemous in anyone else's mouth. Theirs is anti-canonical music. Ungenerous. Unwilling to give itself over, and unforgiving if it does. That's where the much-vaunted alienation and the otherworldliness of both artists lie – in the hopeless task of ever being able to recreate their music, unless of course, it is created anew, a directive Walker himself gave to Jarvis Cocker during preparations: "make it as new as you can". Predictably of course, it sounded more like a BBC 6 Music karaoke for fans of contemporary classical Frahm-ery than a bold adaptation in keeping with Walker's restless creative forwardness. Reinterpretation – the modern classical world's dullest and most precious injunction – is what was offered when the songs themselves demanded they be exploded and recast into one of the thousand singular musical possibilities housed within them. It was an opportunity missed. 2008's Drifting and Tilting concert at the Barbican, directed by Ann-Christin Rommen, featured Jarvis Cocker and, inevitably, Damon Albarn, set among dancers and theatrical staging, and was more artistically curious and exploratory, while making it glaringly obvious that to sing songs from Tilt and The Drift, you need to be able to pitch and hold a note amongst complex, seething, and harmonically unhelpful orchestration.


David Bowie's 'The Motel from Outside', and 'Heat' from The Next Day, are his most undisguised attempts at 'doing' a mid/late-period Scott Walker. His more or less straight-up cover of 'Nite Flights' on Black Tie White Noise, allows him to open up into his full-voiced croon that is as brawny and intoxicating as Walker's (his regular producer Tony Visconti frequently mentions just how loud Bowie could sing). They're largely successful, if a little pastiche, but Bowie's deftness of voice, which sees him dart to unexpected notes in distinctive melodic shapes, carries them in a way that lifts them just out of imitation. His melodic toolbox is more advanced and intuitive than Walker's, who frequently, across his career, uses the same whole tone movements, and whose later work is built around persistent repetitions of vocal motifs. Bowie avoids the large-scale orchestration so crucial to Walker's work, experimenting instead with various configurations of rock bands – Walker finally jettisoned the 'band' after Climate Of Hunter – yet manages more convincingly than most to achieve something closer in relation than other singers who claim kinship.
We tend not to immediately associate David Bowie closely with Scott Walker possibly because he was so much more prolific and his output far less stylistically consistent. There's an impatience to Bowie it would be difficult to ascribe to Scott Walker, but dotted throughout this career are moments where there are unmistakable parallels, or homages, or sly acknowledgements. One of the things I find endlessly funny and appealing about Bowie is his darting vocal cosplay, where a winking Anthony Newley shades quickly into a sombre Walker-yelp. It's pure Musical, and you can understand why he tried for his entire career to write one, only partially succeeding with Lazarus in his later years. You get the sense that after Blackstar, there might have been a twilight run of albums of unshackled Walker-esque experimentation. One can hear possible futures branching off in the frenetic arrangement and gorgeous yawning larynx of 'Sue (Or In A Season Of Crime)' that also recalls the cyber-croon of 1995's ambitious if uneven Outside. Bowie was a champion of Scott Walker in decades before universal critical acclaim found him in the 1990s and beyond, and often cited him as an influence long before every male singer (and writer) over 35 with a vintage Tarkovsky film poster in his bedroom did. He co-produced 30 Century Man, a documentary named after one of his worst songs, that maybe leaned a little too heavily on pop stars earnestly self-mythologising about their own Engle love affairs, but one that undoubtedly brought a new audience to his music.


A lot can be said for Scott Walker's music that it still stands so singularly despite ostensibly sharing much with the flat-pack ambience of cinematic scores and television soundtracks. Arguably the stuff that works least well are his film soundtracks – Pola X, The Childhood Of A Leader – because they sorely lack an analogue to the playful, shifty humour of his voice, the sly wit and cunning of his lyrics, and the masterfully crafted orchestration so central to his album work. There's a strange paradox inherent in the disappointment of listening to these soundtracks by a man whose main oeuvre is invariably described as cinematic. What that might mean when we use 'cinematic' in describing his work, is that albums like Tilt, The Drift, and Bisch Bosch are so self-contained and assured that their vividness comes not from a sense of evoking and intensifying something external, but from a transmission of a particularly fully realised and complicated world. They are as sensually arresting as cinema can be. The mistake we make is assuming that 'cinematic' music will translate well as soundtrack. This might be why his soundtracks feel like Scott Walker, but stripped of all the interesting bits. There's only so much moody atonal string drones can bring to the table.


At this point, I would like to consider a contemporary artist who we could say has adopted and adapted – made new – Scott Walker's distinctive approach. Dutch musician Jessica Sligter's Polycrisis.yes! (2018) is an extraordinary record, immersed in dry European Union bureaucracy in a way that strangely transmutates Walker's romanticised Europe of Brel and Bergman into something more complex, cold, and alienated. Now, cities are gentrified. Populations evicted by Airbnb investors. Borders hardened. We are conditioned by austerity. We are in the midst of ecological suicide. In a process of slow disclosure, her tracks unfurl over seven or eight minutes, grounded by static electronic throbs and propelled by persistent, repetitive skeletal percussion, all functioning as a kind of sonic inversion of Walker's dense orchestral arrangements. It feels like Polycrisis.yes! sits on the other side of a historical cleft; a generational fracture. A political and social rupture separates Sligter's work from Walker's, and even if there is a bridge between them it serves to underscore the distance between the 20th century and the precarious present. The Endless End is a highlight, with Sligter's distinctive lengthy vibrato – in all its uncanny artifice – channelling Walker but simultaneously exorcising him; permitting us to let him go and move on. We must make room for the new. We must find a new Europe. Surely that's what he would have wanted?


A set of Scott 1 -4 reissues by 4 Men With Beards was the first vinyl I bought when I finally got round to owning a record player. I have an inverted relationship with Scott Walker in that I knew and loved Tilt and The Drift before I had heard any of his '60s records. I had to work backwards, tunnel from the mineral depths. Scott 3 is the record I return to when I need to reset my ears, when I feel it necessary for a return of some kind or another. The Drift is what I listen to when I feel complacent and need a kick up the arse. His music was and is still the most singular influence on how and why I create music, but he is also the driver of my ambition to stubbornly spend a lifetime coloured and defined by musical exploration. His trajectory from beautiful swooner cloaked in the most dazzling arrangements, to an undisputed, untouchable, fearless purveyor of avant-pop is, for me, a thrilling example of how a creative life can unfold. To listen and study his music from the beginning to the end is to trace a proliferation and expansion of tangential, freaky musical strands that are there in small and subtle ways from the very beginning. In this process of magnification and cultivation – and like Bowie a great deal of self-referencing – things that might seem mere introductory remarks are expanded and augmented in a decades-long project to emerge as the densest sediment of his work. Just listen to the string pedal that hovers throughout most of 'It's Raining Today' and how it foreshadows the long resonating guts of clustered dread by the time of The Drift. Even Climate Of Hunter seems to still be imploring: "what next?" Well, perhaps Jessica Sligter has an answer. But there are many forked paths.


His music and his life should rightly be held up as a bulwark against the tide of anti-intellectualism in music and our culture. But unlike the terribly boring mythology surrounding him kept alive by po-faced, possessive white music enthusiasts – that he was a recluse, that he was difficult, that he tormented himself over his music – his work is full of daft in-jokes, fart jokes, fart noises, self-deprecating melodrama, ridiculously oblique historical references to Russian princes, all carried aloft by a uniquely expressive voice and delivery that was imbued with a tricksterism that indicated he was always few steps ahead of you and in your blind spot. His later music does indeed have an expansive, heavy lilt, but it is also deft, immediate, playful, funny; light on its feet.
Rest easy, Scott Walker. James Joys
1/3 of Ex-Isles, James Joys is a musician and composer living in Belfast, Europe.
Photo by Dezo Hoffman