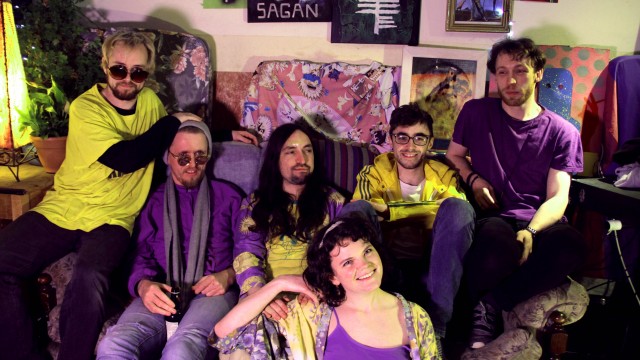 It's just two days until the release of Letterkenny psych outfit Tuath's new Research and Development EP. Frontman Robert Mulhern gives us the lowdown on some key music that has shapes both his sounds, and his outlook on music.
Soccer96 – I Was Gonna Fight Fascism
I hadn't seen any lyric-addled S96, but they came out with this track "I Was Gonna Fight Fascism" last year and we just couldn't believe that someone out there was doing sarcasm so well. We love it – the whole band couldn't stop listening to it for months. It made lockdown much more craic. It was like the clouds parted and a band came from heaven to tell us what we already knew but with a big dumb smirk telling us to "Dance to the cynical bullshit with us". It is the perfect song for Tuath in every single way. It speaks to us on every single level. It partially inspired our song 'That Looks Like A Good Spot For Some Luxury Apartments'.
Holy Fuck – Latin
Holy Fuck are up there with our top ten inspirational bands. It was an honour a few years ago when Gugai offered us the opening slot for them in the Roisín Dubh as they were instrumental in our discovery of neo-psych and inspired us to combine electronics with general band stuff. I to this day think that Holy Fuck are the most overlooked psych band there is, the only difference is they eschew guitars for circuit bent charity shop music toys and it's glorious. We weren't able to get a bassist on time for the gig and thus we couldn't play. It was so depressing. This band are FFO "What wait hippies are allowed to do dance music?" and "here if the drums are't acoustic yer a phoney".
Limp Bizkit – Counterfeit
I recently discovered that the pompous lens through which I viewed Limp Bizkit was inherently anti working class.  I am glad I snapped out of my air of superiority and reembraced the nonsensical, highly-evolved,big brain bangers courtesy of Freddy D and the salacious Three. This lesser known tune by them contains a sound that I am forever stealing wholesale unashamedly and I fucking love it.
Junk Drawer – Temporary Day
I wanted to include Stereolab here as they are massive influences of Ash and Myself but This song 'Temporary Day' by Junk Drawer is in the same Orbit and well, Stereolab don't need the coverage. It helps that "Theclassycoconut"(Lunch Machine drummer) and myself made the video together. This song takes "That Stereolab Sound" to the future but gives it an even lullier crunch when the anti-solo hits. I included this because I was surprised they were crazy enough to allow us to make the video for them and I was incredibly touched. I wanted to point people to this because their album Ready For The House is a joy from cover to cover.
Giant Drag – Kevin Is Gay
I utterly love this song and its nonsensical stoner-grunge vibes, there isn't enough of this exact vibe out there. it sits on the fence perfectly between the stoned 90s genres. Annie Hardy is on Deftones best album Saturday Night Wrist, but some of her back catalogue in this outfit is tremendous. She's turned into a fascist lately but it's thankfully so deranged that it looks more like a terrible mental illness she's suffering and for that I can forgive her.
Sonic Youth-Reena
This Gordon lead Tune is stupendous as fuck. Definitely my favorite SY album as well because its just the right amount of mixed,soundtrack of 2009 for me. Kim Gordon is a top songwriter when the haze has been lifted and you can actually hear her. I always found thurston to be too whiney when he sings. Stick to guitar mate.
Sylvia Massy-The Role Of Music Producer
Sylvia Massy doesn't have any songs persé and I didn't wanna add my favorite SOAD song that she produced and just give her a footnote. I just want to direct peoples attention to the Nigel Godrich of Alt Metal. Sylvia Massy is such an inspiration and I presume that as a woman she's less known and it kinda pisses me off. She shaped more or less everything Ash and I listened to when we were growing up and a tonne of the stuff the rest of the band listen to. Here is her explaining her involvement with all the bands.
Phantogram-When I'm Small
Paul (drummer) Showed me this song about 13 years ago and It changed how I perceived music forever after. This tune is just so uplifting, you would have to be utterly heartless not to enjoy it. There were a lot of cheesy synth duos back then. This is not one of them.