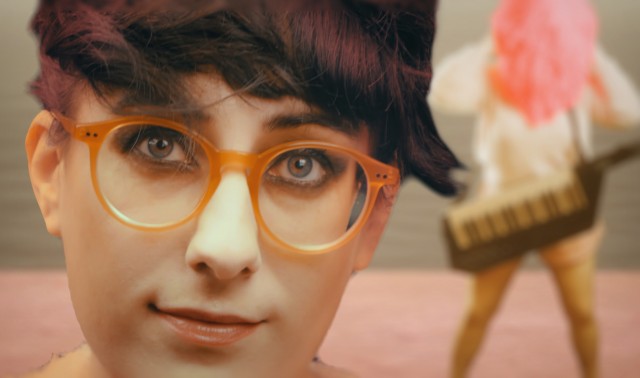 Having just released her self-directed video for 90s-pop bop 'Overtime', Meljoann's brand of experimental pop runs the gamut of classic and contemporary electronic pop. She takes us through some of her all-time favourites – in her own words: "I tried to make it not wanky, but unfortunately I failed and it's actually 100% pure nerdy enthusiasm"
Roger Doyle – The Iron Language Alphabet (Pt.1)
Roger Doyle is a bit of a legend on the Irish experimental electronic scene. A friend had this sprawling, sci-fi inflected double album, and listening to it we were transported to another world. It took him ten years to complete. This track is one of my favourites, seeming to break sound down to conceptual phonemes, and beginning with these wailing, muted extended techniques on the horn. Hearing this again reminds me of going to events like DEAF, and discovering all these other amazing Irish artists — all going to extremes with their sound.
Yma Sumac – Chuncho
This is a recent find for me. Yma Sumac was an experimental and unique singer, with a jaw-dropping technique. As a Peruvian performer in "golden era" Hollywood, I reckon she subverted the exoticisation with which she was presented, and used the absence of knowledge about Peruvian music to do her own extraordinary thing.
Niamh de Barra – The Man in the Picture
I wish more people knew about this. Niamh is a cellist, vocalist and electronic producer with a really formidable and dreamlike lyrical sensibility. She writes in Irish as well as English, being fluent in both, and constructs these beautiful layered live sets. This live version is from her album 'Beyond the Sea', which I was lucky enough to do mastering on. I think she's highly sceptical of the music industry (like so many other musical geniuses I know) but this just means we all should cherish her work all the more.
Tori Amos – Caught a Lite Sneeze
'Boys for Pele' is one of my essential albums of all time. Tori is a huge inspiration, especially lyrically; her approach is so atmospheric, full of rich symbolism. This album gives such a perfect melding of musics: from her intricate baroque harpsichord and impressionistic piano style, to the industrial beats, to some funk bass (from the excellent George Porter Jr.) and a melancholic brass band.
Stevie Wonder – All I Do
Stevie Wonder is another big role model. He's a visionary, with his beautiful harmonic sensibilities and elastic voice. A master of so many instruments, his lyrics cut straight to the point whether he's talking about relationships or social issues. He just seems full to the brim of good vibes. On this one, you can hear Michael Jackson on backing vocals. The first time I heard Stevie was probably on 'Bad', the first album I picked out as a kid.
Pahadi Dhun – Alap| Debopriya and Suchismita Chatterjee
Alap| Debopriya and Suchismita Chatterjee are incredible bansuri virtuosi who are also sisters. I love how connected they are musically, and their playing is so beautifully tasteful to me. For an enthusiast outside the Indian classical tradition, their interplay makes it easier to distinguish between a raga's composition or typical phrases, and the improvisation. I highly recommend seeking out some of their full concert videos.
Björk – Hyperballad
This song was almost like a hymn to my teenage self. Its lyrics to me mean finding space to be yourself, no matter what situation you may be in. You'll need good speakers or headphones to hear the sub-bass on this one. Its chorus is so full of happy abandon, you can feel it bursting out of your chest. Björk is an incredibly inspiring producer herself, and her collaborative producers in the 90s (Nellee Hooper, Mark Bell and Graham Massey) were a gateway drug into UK dance music.
Jodeci – Feenin'
Access to 90s R&B was thin on the ground in Ireland, back in the day. There was just one compilation series 'Pure Swing', where you could hear what was going on. Jodeci are really well known in the US, but finding out about them was a complete revelation for me. DeVante Swing is a genius producer who can chill you out and rise things to a peak, ecstatic crescendo — combined with the expressive and adept gospel-esque heights of the singing… this is a slow jam that will send shivers down your spine.