Live Reviews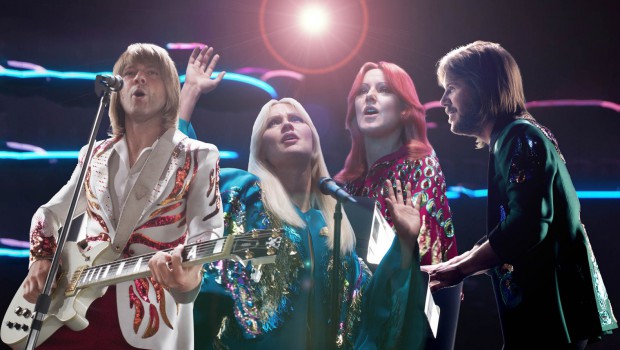 Published on September 1st, 2022 | by Shauna McLaughlin
0
Review: ABBA Voyage – "It has changed live music and performance forever"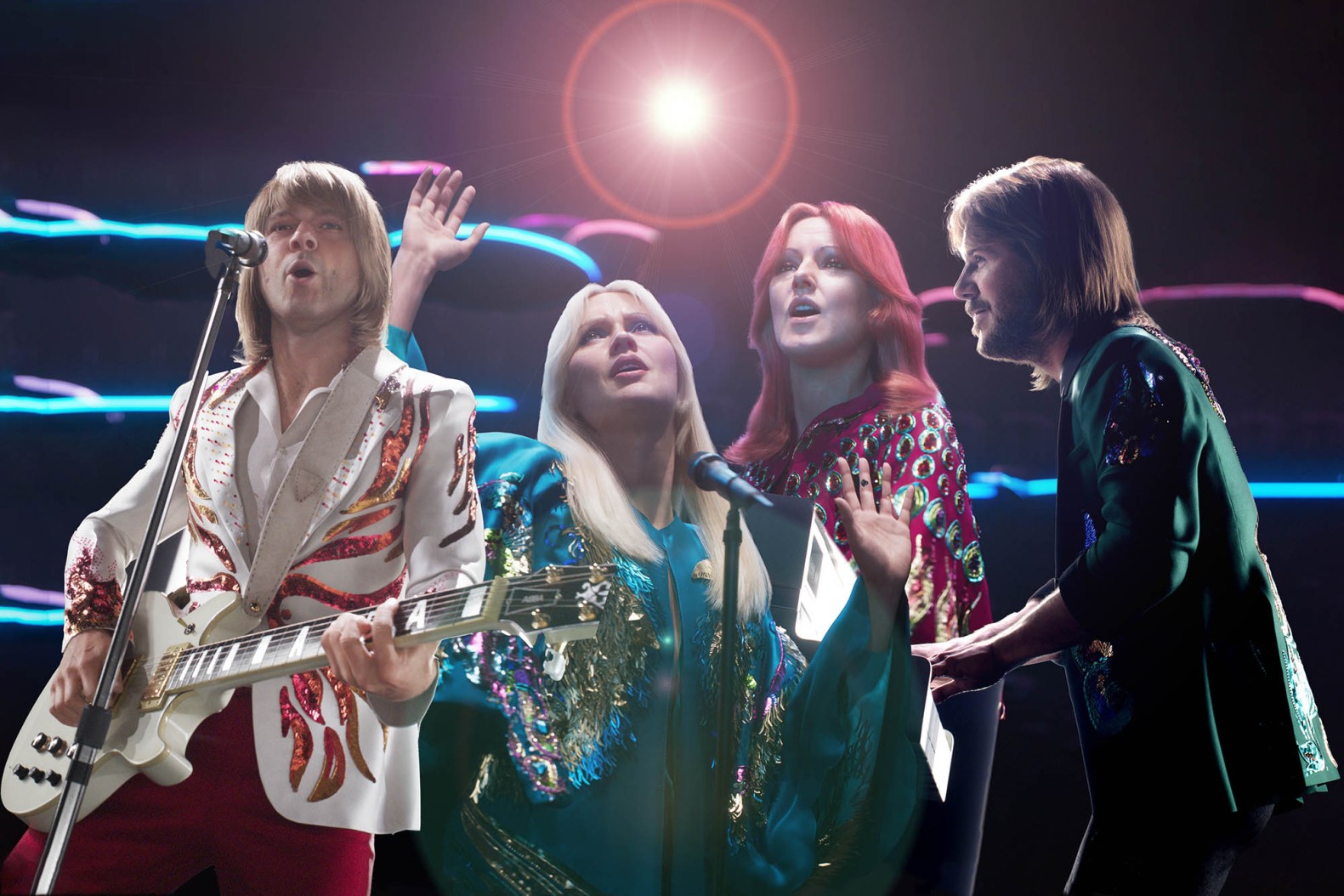 Belfast-based Abba stan Shauna McLaughlin makes the pilgrimage to London to review the dazzling and groundbreaking virtual concert
Traditionally reviews are written the day after the event. That didn't happen with this review of ABBA Voyage because that day was spent hanging around outside the Arena in the hope of getting tickets to see it again immediately. Which is an impressive review in itself. The other point I want to make is that you're better going in knowing nothing about what to expect. I may as well just stop writing here really.
ABBA's virtual concert residency, running since May 2022, with seven shows a week, is in the purpose-built ABBA Arena in Stratford, directly opposite the Pudding Mill Lane DLR station. This welcome discovery, considering I had already spent the morning travelling from Belfast, makes getting to the venue relatively stress-free. Each train brings a mass exodus of Agnethas and Bjorns in white satin flares and swathes of sequins. The arena itself is an extraordinary feat of architecture and sits like a giant UFO as concert goers alight from the train. This looks like the future. And what a future it is.
You'd need to have been living on the moon over the past year to have missed the main details of this venture – we've all seen the 'ABBAtars' and read about the 'holograms' (they're not holograms at all but three-dimensional creations on a screen brought to life by motion capture technology) but nothing had prepared me for what I actually saw. Naysayers had predicted a nostalgia-fest, but what this show delivers is the very opposite of a twee fondness for the past; it's one and half-hours' immersion in an event that feels like musical history being made.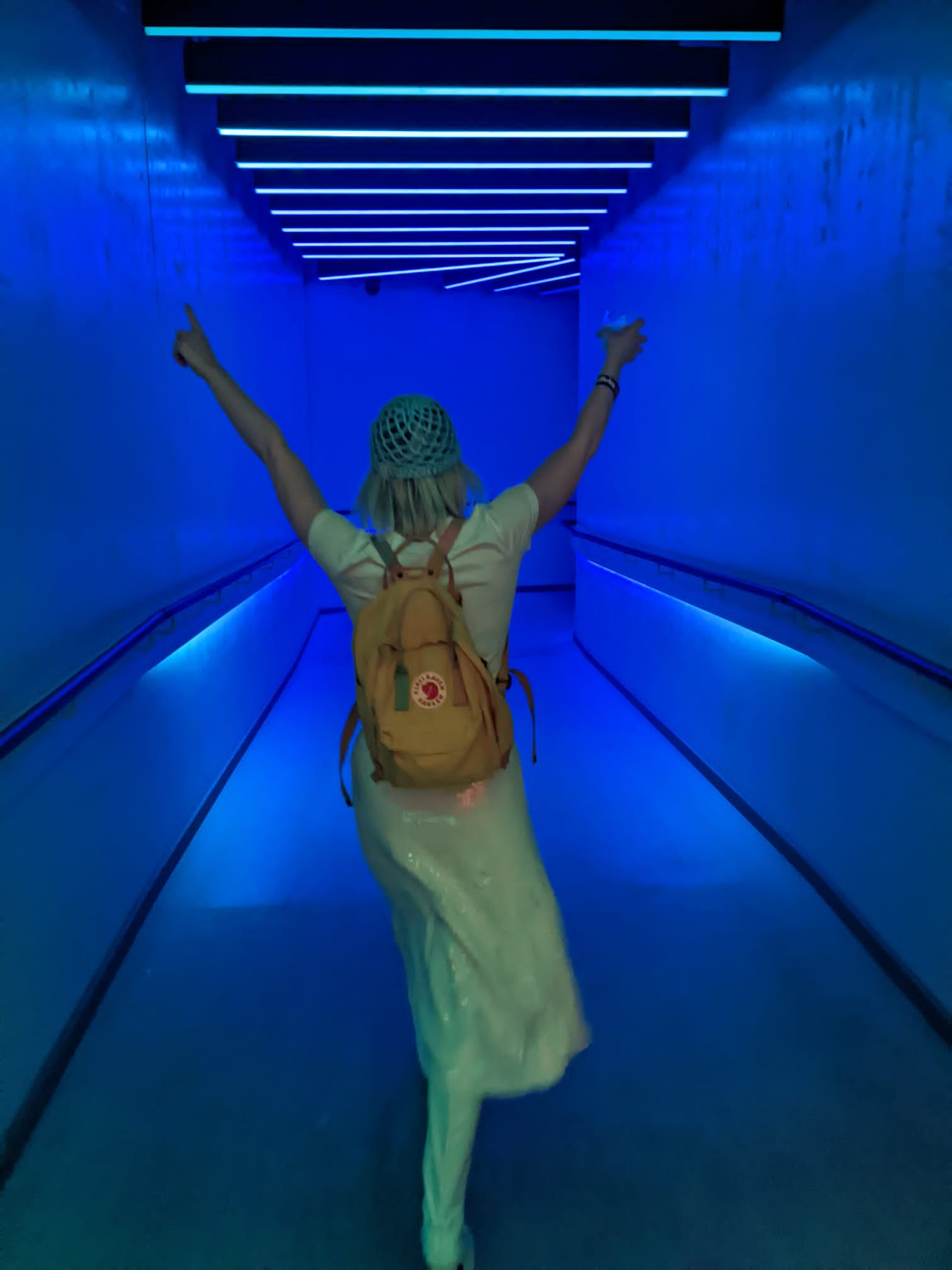 Pictured: Shauna McLaughlin entering the future (TBC). Photo by Sean Green
The show opens with 'The Visitors', a fan favourite but not necessarily one of their best-known songs. As opening songs go nothing comes close to the mesmerising build-up of this one. At one point in the proceedings, I did ponder whether all bands should just accept defeat and open their own gigs with 'The Visitors' from now on. For most musicians, bringing 3000 people dancing and screaming to the point of hysteria with a protest song about the plight of Soviet dissidents, would leave them with nowhere else to go, but it was only the beginning of this voyage and what followed was like nothing I've ever seen before. A live ten-piece band, anime, light shows, Dolce and Gabbana, and a performance of 'Lay All Your Love On Me' that I imagine is what it would feel like to go to a huge and immensely exciting party in Blade Runner. The theatre itself, and it really is more of a theatrical production than a music concert, becomes a surround sound and vision emporium, where you need to look in every direction to experience it fully. I don't think it's hyperbolic to say that ABBA's new venture – one so expensive that Bjorn himself admitted to sleepless nights over the reported £140 million cost – has changed live music and performance forever.
What everyone wants to know of course is how realistic they are – are we constantly aware these are not human beings? I did prepare for disappointment initially when Frida began to sing 'The Visitors'; Agnetha, standing still and silent beside her, looked uncannily mannequin-like for a few seconds. But this was the only moment of the concert I noticed anything out of the ordinary. While there are huge screens around the venue, my advice would be to ignore these when the band are on stage; the enlarged screens make it slightly more obvious these are not humans, something you forget completely while watching them on stage.
I'm not sure anyone, even the band's greatest detractors, could fail to be impressed with the whole spectacle. I've never really understood those who don't warm to ABBA and always suspect an intellectual snobbery around Europop, the Eurovision song contest, maybe even flares.  Scandinavia may be the epitome of cool now, but when I was a teenager listening to Bauhaus, admitting you liked ABBA would have felt like social suicide. Culture vultures fawn over that other Swedish artistic genius Ingmar Bergman, whose heartbreak gave us Scenes from a Marriage, almost doubling the country's divorce rates in the following year. Bergman gave the people permission to divorce. Benny and Bjorn used their emotional trauma and gave us permission to dance. An underrated legacy in my mind.
And dance we did, right through to a finale that went from the joyful disco of 'Dancing Queen' to the melancholy balladry of 'The Winner Takes It All'. We may not all have been young, or sweet, or seventeen, but for a sunny Saturday afternoon in London, we were certainly having the time of our life. Shauna McLaughlin