News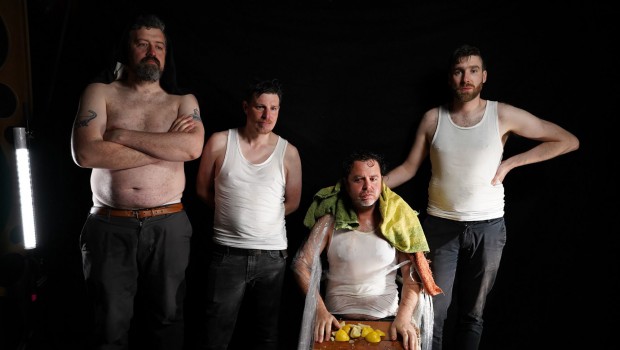 Published on March 2nd, 2023 | by Brian Coney
0
Premiere: Hands Up Who Wants To Die – Nil All
If there's been a better, more defiantly emphatic noise rock band to come out of Ireland in the last 15 years than Hands Up Who Wants To Die, we positively haven't heard them. On albums including 2014's Vega In The Lyre, they have served up their singular brand of trouncing, skull-blasting heft.
Now, six years on from their last release – a split with B.O.B. following the amicable departure of original frontman Barry Lennon – the band are back with their long-awaited third LP, Nil All.
Teaming up once again with long-time collaborators John 'Spud' Murphy (Black Midi, Lankum, Caroline) and Ian Chestnutt (Shifting, Crowhammer, Cormorant Tree Oh), the first release with Ten Past Seven's Rory O'Brien on lyrical duties is a typically merciless and perfectly stifling feat from the four-piece. On highlights including 'Late Cormorant Fishing' and the aptly-titled 'Nausea,' they double down – and then some – on their searing and seasick craft. They're calling it "wonky gothic noise rock" and we're fully here for it.
Eking out devastating riff majesty from the irreducible absurdity of existence (you know the one), Nil All is out tomorrow, Friday, 3rd March, and co-released by Human Worth in the UK, Sleeping Giant Glossolalia in the US and Fonoradar in Poland/ EU. 10% of the proceeds from Human Worth's sales go to masi.ie, an organisation demanding justice for asylum seekers in Ireland stuck in the devastating system of 'direct provision.'
Speaking about the album, the band said: "We've finally got the fucking thing out. Onto the next one. Looking forward to touring it and recording the next one real soon."
On which note, HUWWTD play An Spailpín Fánach in Cork on Thursday, March 9th with Crying Loser, followed by a show at Bello Bar in Dublin on Saturday, March 11th with Girlfriend. They will also tour the US, including a show at Caterwaul festival, in the summer.
Hold on to your seat and have a first listen to Nil All below.