Kelly Doherty chats to the founders of club night and community Honeypot about providing welcoming and accessible events for queer women and their friends in Dublin
Photo by Kate Lawlor
A new series of parties proving community for "gay girls and friends" has taken the Dublin sapphic scene by storm. Honeypot, founded by couple Kerry Mahony and Emma Murphy – aka Rhyzine – just last summer, has already sold out numerous events and built a steady online following with its irreverent, bubbly branding. In a Irish queer scene where almost every other night primarily serves a male audience, Honeypot is an oasis for girls who want to dance, find friendship, fall in love and have a night to remember.
Honeypot's origin came from a long-held dream of Kerry and Emma's. Facing a situation where venues and events targeting queer women were few and far between, the duo frequently entertained the idea of creating that space themselves. "It felt like a long time coming", Kerry explains. "We'd always said 'Imagine if there was a lesbian club night'. We were so used to going to gay nights and while many of them are amazing, it felt like there was nothing specifically aimed towards women or non-binary people".
A push from their close friend Megan, aka Dublin-based DJ Mercorn, brought Honeypot from a notion to a plan after they made an "off-hand comment" about starting a night. "She was like: 'just do it'. I think we needed that encouragement," Kerry says. After running the idea by several more friends and receiving a resounding enthusiastic response, Kerry and Emma set out to organise their first Honeypot party last July in The Soundhouse, with headliner sets from Mercorn and Emma herself. 
Despite Kerry and Emma's relative inexperience in club night promotion, word of Honeypot spread extremely effectively. Their first party, and all events since, sold out well in advance. Whilst there's obviously a demand for an event targeting queer women in Dublin, Honeypot's shrewd brand and online identity shouldn't be understated. 
Before a single ticket had been sold, the bright orange, gooey iconography of their logo and the Gen-Z queer culture referencing digital-speak of their accounts could be seen all across Instagram. From the start, Honeypot has had a consistent identity and voice. This, in part, stems from the pair's respective main hustles in advertising and illustration. "I'm a writer and I work in advertising, so from quite early on I was thinking 'what's our personality and identity'. Emma is an illustrator so she looks after the visual style. Creative direction is something we're both interested in", Kerry explains.
The pair settled on a voice that was "fun and didn't take itself too seriously", with a visual language centred around bees and honey. "It's quite flirty", Emma says. "We picked Honeypot because it has such a strong visual side – it has a colour scheme, emojis, and immediate imagery." An important factor for the pair was that the identity conveyed a welcoming energy for all club-goers. "It's not intimidating. There are plenty of nights that are Berlin-inspired where the visuals are dark and edgy and cool. We wanted to be different and have fun", Emma says.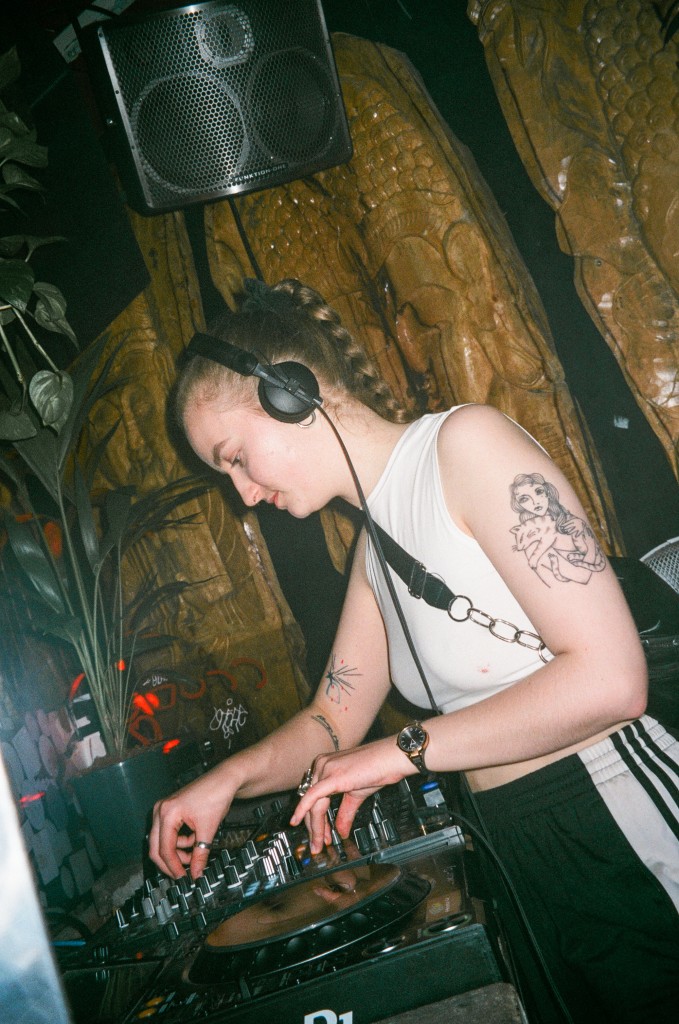 This approach has clearly worked. Six events in and a seventh on the way, Honeypot has hosted an eclectic set of queer Irish DJs including Roo Honeypot, Bambi, Pauline, Mooncup and more, in front of sold-out crowds each time. Party-goers speak to the welcoming, comfortable atmosphere and the joy of each event. "At Honeypot, there are only good people there", says Niamh, a third-year college student who's attended several Honeypot events. "Everyone's there for the same reason, to have a good time. There's never any nastiness or anything bad. It's all pure and good and simple." 
Niamh and their friends are a shining example of how Honeypot has captured the hearts of the Dublin queer scene in just the space of a few months. Despite having no personal connection to Kerry and Emma, when they heard about the first event Niamh made an Instagram chat with 20 of their friends to attend the party. "About 10 of us went to that first event and now the group chat has extended to like 30. Not everyone goes to every party, but we're always waiting for the next announcement." Niamh recalls receiving a notification for Honeypot's upcoming Pride event whilst driving home from their NCT – "I had to pull into a house so I could stop the car and buy a ticket", they laugh.
For Niamh, Honeypot has left its mark on their life far beyond club closing time. "In the last few minutes of the February Honeypot, a girl came up to me. One thing led to another and we started dating and now I'm talking to you whilst sitting in my girlfriend's room".
It's apparent that Honeypot is creating a space that has for far too long been missing from Dublin. "Whenever I talk to people who are visiting here, and they're trying to figure out the queer spaces, they're always a bit flabbergasted by the fact that there aren't many spaces to go to", explains Di, who's attended numerous Honeypot events. "It's nice to see people who are really trying to make it happen in an environment that's more working against them than working with them."
With a successful party series ongoing, Honeypot aren't resting on their laurels. Their Sticky Mix series on Soundcloud highlights rising queer female and non-binary talents, whilst a regular newsletter from the pair displays ambitions beyond the DJ booth.
"I think Honeypot has its own place in the community", Kerry says about Honeypot's direction moving forward. "It is so much more than just throwing parties, it feels like its own creative entity and we're going to keep growing it." Kelly Doherty

instagram.com/honeypot_club