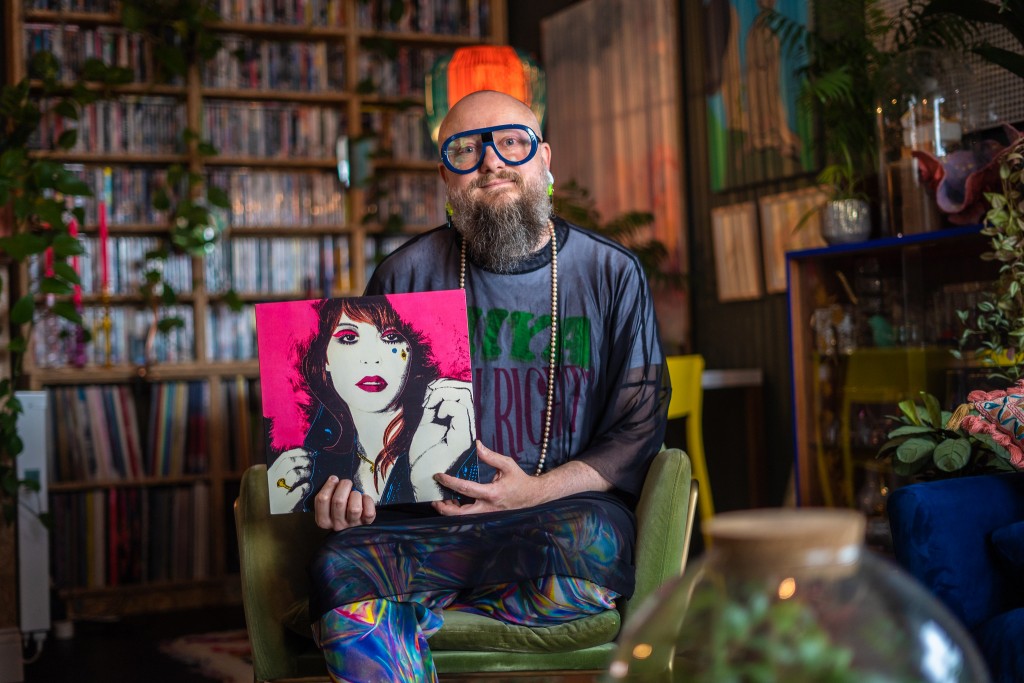 In this installment of Track Record, Dublin-based DJ and selector SHREM shares some of their all time favourite records from Glass Candy to Cocteau Twins. Photos by Monika Ruman
Glass Candy – B/E/A/T/B/O/X
Ida No and Johnny Jewel's 'B/E/A/T/B/O/X' is the sonic flagship of the now-cult Italians Do It Better label. It's also an album I own in most variations, 8 differently coloured vinyl editions and counting – I am an impossible nerd when it comes to collecting. It's an album full of surprises and its own humour and inimitable sound. It's such an engrossing mixture of italo disco, post-punk, synth pop and disco with a surprising and subtle cover of Kraftwerk's Computer Love thrown in for good measure. I adore coming back to 'B/E/A/T/B/O/X' in both its full glory as well as revisiting many of its tracks in stand-alone mode. It works both ways as confidently. The effervescence of this record is truly infectious.
Deee-Lite – World Clique
Don't even come near me if you classify Lady Miss Kier, Towa Tei and Supa DJ Dmitry aka Deee-Lite as so-called "one-hit wonders" 😉. I still feel immensely passionate about this one-of-a-kind trio and even have a separate shelf in my music library dedicated to their vinyl releases which I have been collecting patiently for years at this stage. Deee-lite's cult status in my muso life is as firm today as it was when their debut LP World Clique dropped in 1990. Possibly the most life-affirming, delectable and infectious dance record in my collection. The power of love, the power of house music! I know this LP by heart and put it on every time I need a mood-booster. I met Lady Miss Kier in Dublin back in 2012 and had a wonderfully surreal experience and deee-lectable muso chats!
Madonna – Erotica
I honestly don't even know where to begin with Erotica– Madonna's ultimate masterpiece and absolutely my desert island disc. No other Pop record has been this brazen or out-there and its flawless underground-meets-mainstream production is timeless. Shep Pettibone's house wizardry, André Betts' jazziness and Ciccone's adventurous and taboo-breaking song-writing were a match made in sonic heaven. For a devoted Madonna fan since forever, Erotica unquestionably remains her creative zenith, heralding the most prolific decade of her illustrious career. 'Secret Garden', 'Words', 'Deeper and Deeper' and the title track all have a solid spot among my top 20 all-time favourite Madonna songs. I still get as excited listening to it today as I did back in 1992 exploring it for the very first time on cassette!

Janet Jackson – Janet Jackson's Rhythm Nation 1814
Janet Jackson is one of the longest-lasting music fascinations of mine. It was a struggle to choose between Control, Velvet Rope, Janet and Rhythm Nation 1814 all of which I regard equally iconic and timeless. There is something powerful, poignant and completely unparalleled about Rhythm Nation though, a concept album like no other in the history of Pop music. There are so many reasons why I adore and admire it to this day. First of all there are no fillers here! ALL the non-single tracks sound as confident and as impressive right next to the record-breaking stream of 8 consecutive absolute mega hit singles. Jimmy Jam and Terry Lewis' production is sonic art and Janet's vocals are both sublime and commanding. The whole message behind ("Prejudice No! Ignorance No! Bigotry No!") and its brave social commentary. The innovation! All of it! An absolute and utter masterpiece in my muso books.
Soul II Soul – Club Classics Vol. One
Jazzie B – what an indisputable legend, standing firmly among my first music heroes, alongside his inspiring Soul II Soul collective and a plethora of some of the most superb UK vocalists of the past 4 decades. Club Classics vol. 1 is an urban evergreen of a record. A record which became a magnum opus of the UK soul and dance scenes while investing a completely unique sound of its own. An aural illustration of the ethos of diversity and inclusion. The exquisite compositions, the sumptuous arrangements (those strings!) and the phenomenal vocals courtesy of Do'reen, Caron Wheeler and Rose Windross. The album still sounds every bit as fresh as it did upon its release in 1989 and its primary acapella version of 'Back To Life (However Do You Want Me)' heralded what would soon after become my all-time most beloved song to this very day!
Gus Gus – This is Normal
Any of Gus Gus' first 3 albums could have easily been my pick here. Or even their more recent Arabian Horse LP. This uncompromising, ever-changing artist collective from Reykjavík revolutionised the cult 4AD label with their debut Polydistortion and This is Normal was probably the early peak of my fascination with them. What is it about Icelanders and their ability to create incredibly eclectic records that somehow sound convincingly unified and coherent? Effortlessly balancing between house, trip-hop, downbeat and techno, this is a thing of Nordic beauty with some of the most memorable songs and vocal performances in the band's rich catalogue. Major "university heydays" nostalgia with this one and I still often include 'Acid Milk', 'Starlovers' and 'V.I.P.' in my sets depending on the occasion.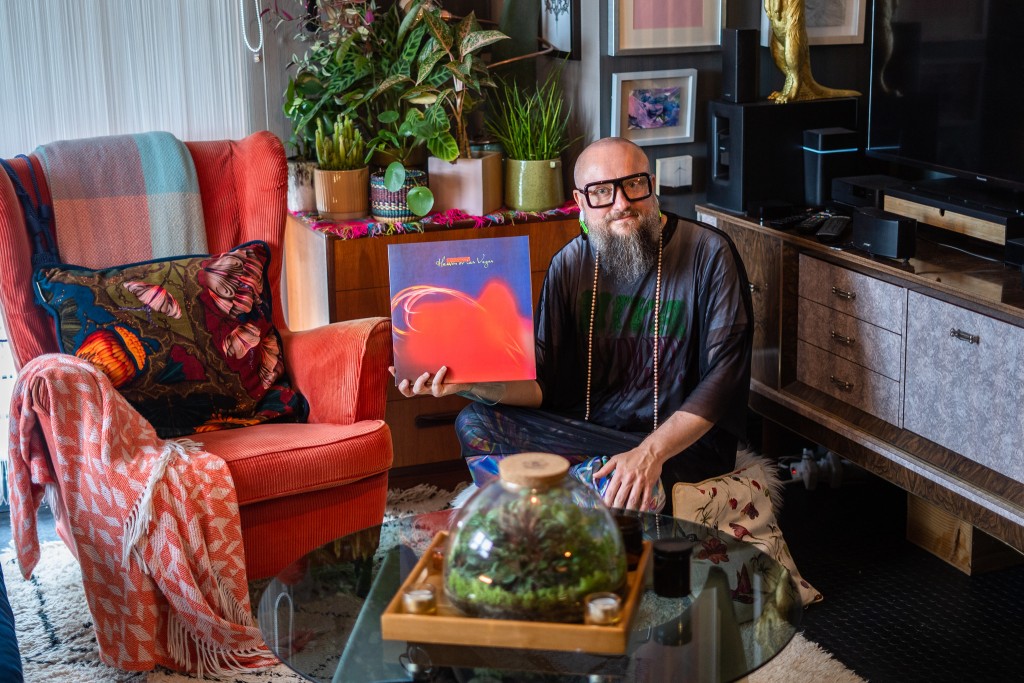 Cocteau Twins – Heaven Or Las Vegas
Similarly to Janet Jackson, it was a challenge to select just the one Cocteau Twins album. It could have easily been Treasure or Milk & Kisses as well. Ironically for someone who often controversially claims "I don't do guitars", Cocteau Twins ended up being one of the bands I cherish the most. I mean talking about uniqueness, on so many levels. Elizabeth Fraser's voice is one of this planet's most magnificent treasures, she's like an exotic bird of paradise and she is fully utilising her otherworldly vocal palette here. Those beautiful layers, the trio's signature very own twist on the "wall-of-sound" effect, those heavenly melodies, the abundance of sonic beauty here is remarkable.
Björk – Homogenic
I have been a devout Björk follower ever since her Sugarcubes days and her early electronic excursions with 808 State. I realise it may sound rather pompous but I genuinely see people studying her in centuries from now as one of the greatest artists that ever lived. I could talk about Björk for days non-stop and Homogenic is just the most astonishing era in her inexplicably creative, ground-breaking and boundary-pushing career. 10 perfect tracks (the ideal setlist for an LP, call me old-fashioned 😉) each of its own kind, mood, sound and style, yet when compiled together melting into one cohesive sonic storyline. It's by far her most Icelandic record even though ironically it was recorded in Spain. The mixture of strings, Mark Bell from LFO's "tech-tonic" beats, some of Björk's most emotional and free-spirited vocals to date and the melodies, the MELODIES! The bolero-esque 'Hunter' vs the subtle 'Unravel', the opulent 'Bachelorette' vs the minimalistic 'All Neon Like', the visceral 'Pluto' vs the oneiric 'All is full of Love', all amalgamated together somehow works as one finished ode to nature and techno. There is not a single second of fault here, it's an album I must have listened to hundreds (if not thousands) of times ever since its original release and it just never fails to amaze me. My mum adores 'Bachelorette'. I am bringing my parents to see Björk's Cornucopia live in Kraków this autumn and I cannot wait to experience it together. (P.S. Also the most iconic album cover of all time, there I've said it!)
Goldfrapp – Felt Mountain
By the year 2000 I would have already noticed Alison Goldfrapp's name on other artists' records (Orbital and Tricky to name just a couple) but it was with Goldfrapp's first LP Felt Mountain when I fell completely "head over heels" over her unique voice. This first full album from the extraordinary duo she founded alongside her artistic partner Will Gregory stands out among the greatest debut albums of all time for me. It's so dramatic, so over-the-top, so cinematic and hauntingly beautiful. Often referred to as a soundtrack to a film that was never made, you automatically get a similar feeling upon your first listen. The sumptuous arrangements, the lavish selection of instruments (those strings!) and the enigmatic aura surrounding the record never fails to amaze me. Right from the very beginning of 'Lovely Head' I am being teleported to a different mountain-laid universe of exquisiteness and mystery. It's the most visual album I can think of just listening to it, if it makes sense at all. Even though Felt Mountain was followed by a series of excellent records it remains Goldfrapp's finest moment to date. Exceptional!
Róisín Murphy – Ruby Blue
When La Murphy met Maestro Matthew Herbert. Ruby Blue was such a bold choice for Róisín's first solo album but then again this woman never does the expected, the predictable or the compromised. It's a sophisticated introduction to her post-Moloko career, a multi-layered aural pleasure, an impossible-yet-fully convincing mélange of jazz, electronica, avant-pop and even echoes of boogie-woogie. Everyday objects never sounded so expensive and refined. And don't even get me started on her vocal acrobatics and "self-harmonies" there. She shouts "Wow! Bloody Hell!" at the beginning of the elegant 'Through Time' and that pretty much sums up how I feel about this album to this day. Ruby Blue is a cult era for all of us Róisín Murphy devotees and it extends beyond its sonic aspect to the Simon Henwood paintings serving as its visual identity throughout the single artworks and the sought-after Sequins 12" triptych which preceded the release of the album. I have been a dedicated Róisín Murphy follower and collector since Moloko's early days, in fact I consider her to be my favourite artist of the past 2 decades, and Ruby Blue has its solid spot among her most artistically accomplished recordings to date. Flawless.
Moloko – I Am Not A Doctor
It was the summer of 1998. I vividly remember coming across I Am Not A Doctor (on a cassette back then!) in one of my local shops, unable to contain my excitement on the way back home. Gasping to listen to it! I hadn't even heard that Moloko had just released their 2nd LP while I was still impossibly obsessed with their debut Do You Like My Tight Sweater?. Music news tended to reach us relatively late in Poland.
From the very first listen to this day, I am every time showered with an "avalanche of goosebumps", exploring again and again this arguably most avant-garde record in all of Róisín Murphy's catalogue. How ironic it is to find on here her biggest selling single 'Sing It Back' in its first pure, original and superior version as part of this record's unparalleled sonic escapade into productional wizardry, lyrical absurdity, genre-bending frivolity and vocal phantasmagoria.
I Am Not A Doctor is what cemented my ultimate passion, undisturbed fascination and endless devotion to the artistry of La Murphy. From the phenomenal first single 'The Flipside', the hypnotising 'Be Like You' to the multi-layered 'Caught In A Whisper' and my all-time most beloved, the exquisitely ridiculous 'Dr. Zee', it was filled with sounds that were incomparable, unclassifiable, uncompromising and deliciously berserk! 25 years after and the LP still does not sound quite like anything else out there.
You can catch SHREM DJing this Saturday 8th July at Mother's Library Bar and Friday 14th July at Anseo in Dublin