Mike Ryan reports back from Sugababes, Iggy Pop, Beak>, Villagers and more at the latest and greatest All Together Now to date. Photos by Celeste Burdon
All Together Now returned last weekend for its fourth instalment, and with the memory of last year's stellar line-up still fresh in people's minds, it was always going to have an uphill battle to impress returning punters. It didn't help matters that on Friday night that hill was covered in mud and into 50km winds.
But before the weather turned, the evening got off to a rocking start. After an impressive set in one of the smaller tents last year, Sorcha Richardson (below) stepped on to the Main Stage like she was buying the place in cash. Draped in a pink dress and a tapioca-coloured Telecaster, her set was a fitting soundtrack to a crowd full of greetings and enthusiastic hand waves at old friends just now arriving at the festival. I'm quickly reminded of the lovely, friendly vibe that ATN cultivates each year.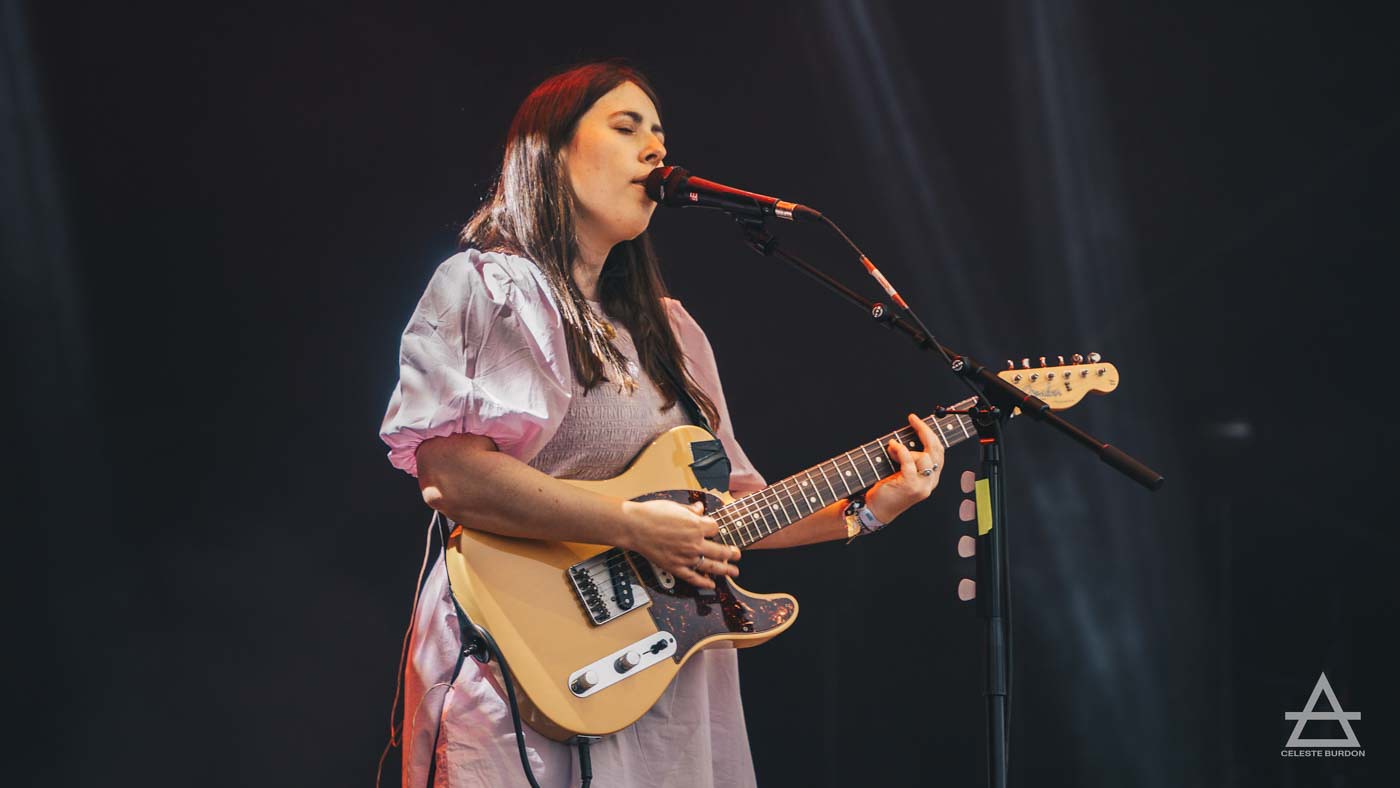 I'm then quickly reminded of how unpredictable Irish summers can be, as it starts to rain and I take refuge in the largest tented stage of the festival, the Something Kind Of Wonderful stage for David Kitt's sumptuous set. Ambient guitars from Kitt and lush vocal harmonies provided by Rita Lynn Doherty and Meg Cronin, along with Cronin's tasteful saxophone licks, bringing depth to tracks both new and old. The psychedelic visuals accompanying the performance were upstaged by the surreal sight of the world's most awkward and embarrassing stage invader who clambered to the stage and commandeered the mic just to say "I told ye I'd do it". She then simply remained standing there beside an unimpressed David Kitt, confused about the physical and emotional logistics of returning to a crowd who very clearly did not want her among their ranks.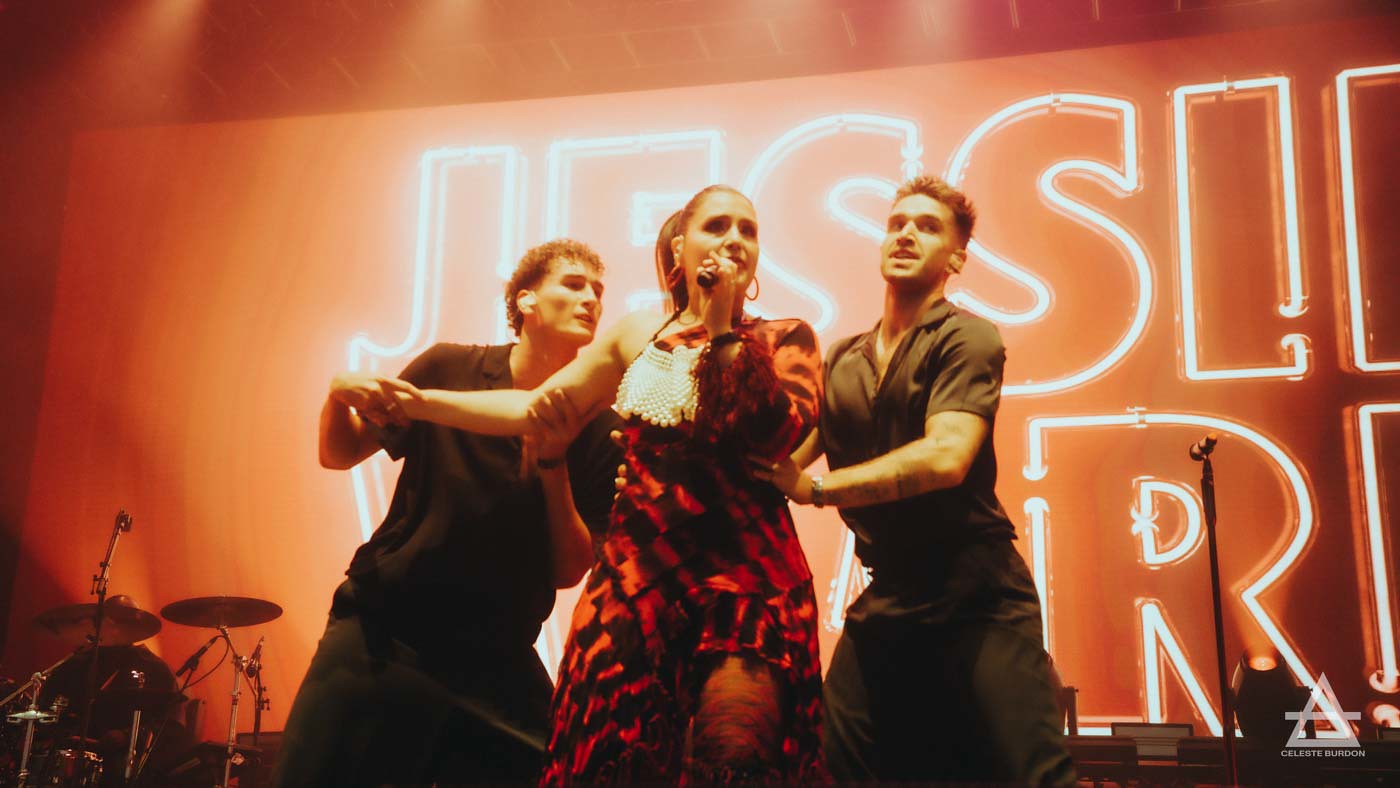 Fleeing back to the Main Stage for Jessie Ware's set, which opened with two of her dancers ripping up the stage before Ware (above) herself appears and takes total control. I wasn't sure what to expect from this set, but the disco bangers and oily slick choreography was really a sight to behold, despite the quickly accumulating puddles of mud in amongst the now sopping but no less joyous crowd.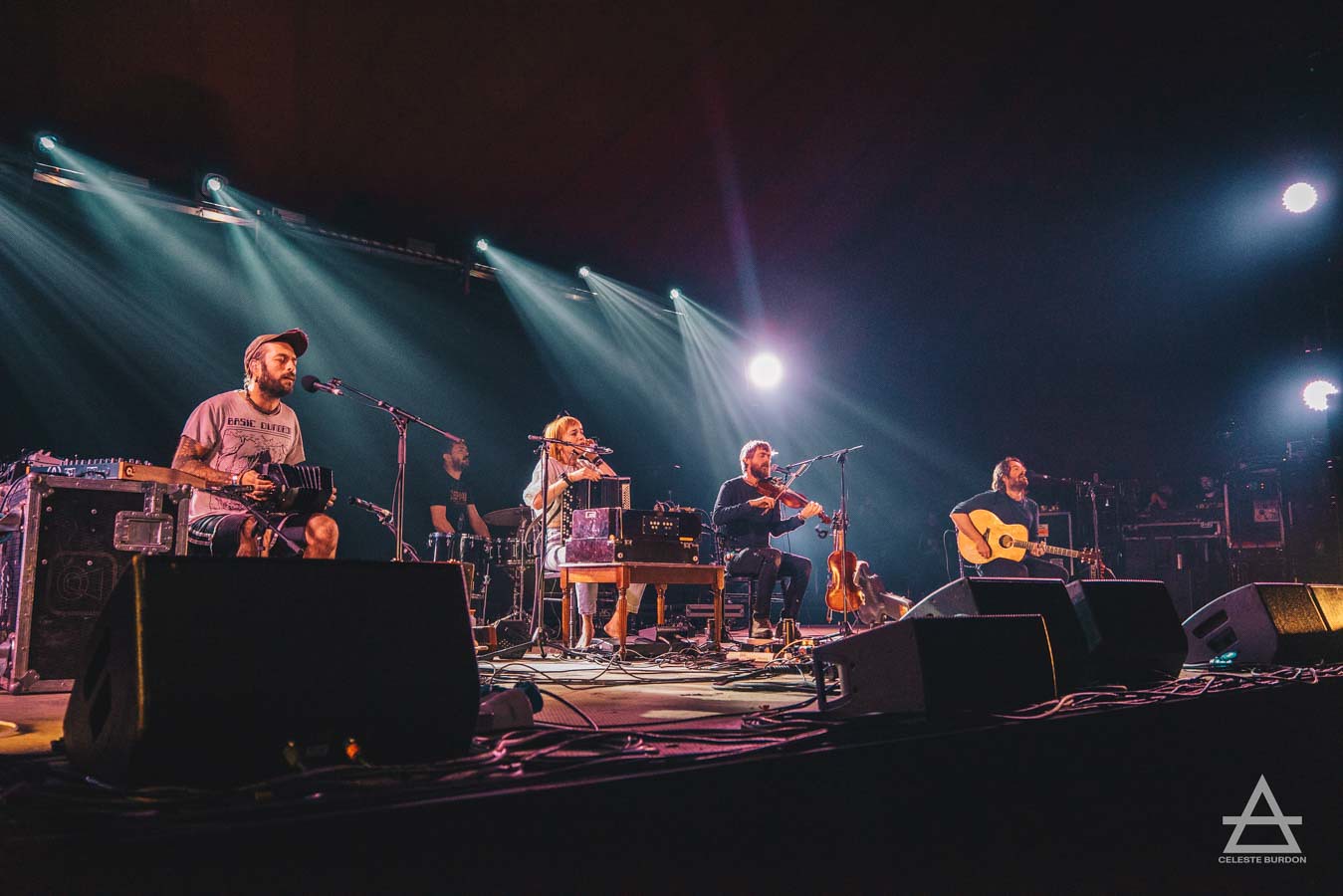 As Jessie Ware's set comes to a close, we make our way out of the rain and into the big tent for a packed out Lankum (above). It's extra full due to the rain, but it's hard to imagine anybody feeling hard done by having unknowingly strolled into the middle of a Lankum set. I've seen Lankum before, and their dark, ambient neo-trad soundscapes are usually a breathtaking experience. To see them in front of such a large, music hungry crowd should have been transcendent. Sadly, Lankum fell afoul of what would be a frequently recurring theme at this year's festival: terrible sound. The Something Kind Of Wonderful stage is by far the worst offender. If you're up the front then there's little to complain about, but get more than a quarter of the way towards the back, or 45 degrees off centre stage at a busy gig, and you'll hear nothing but crowd noise. Still, Lankum make the most of the noisy, boisterous crowd, and the ensuing war between the band and their enthusiastic audience somehow works to Lankum's favour.
Closing out the Main Stage on Friday was Loyle Carner, who put in trojan effort in keeping a sizeable crowd engaged, despite the rain now being quite unrelenting. He was one of the slickest acts at the festival, one-upped only by the now near impassable trails of mud. As we made our way back to our tents, the rain got lighter, but the wind was only picking up.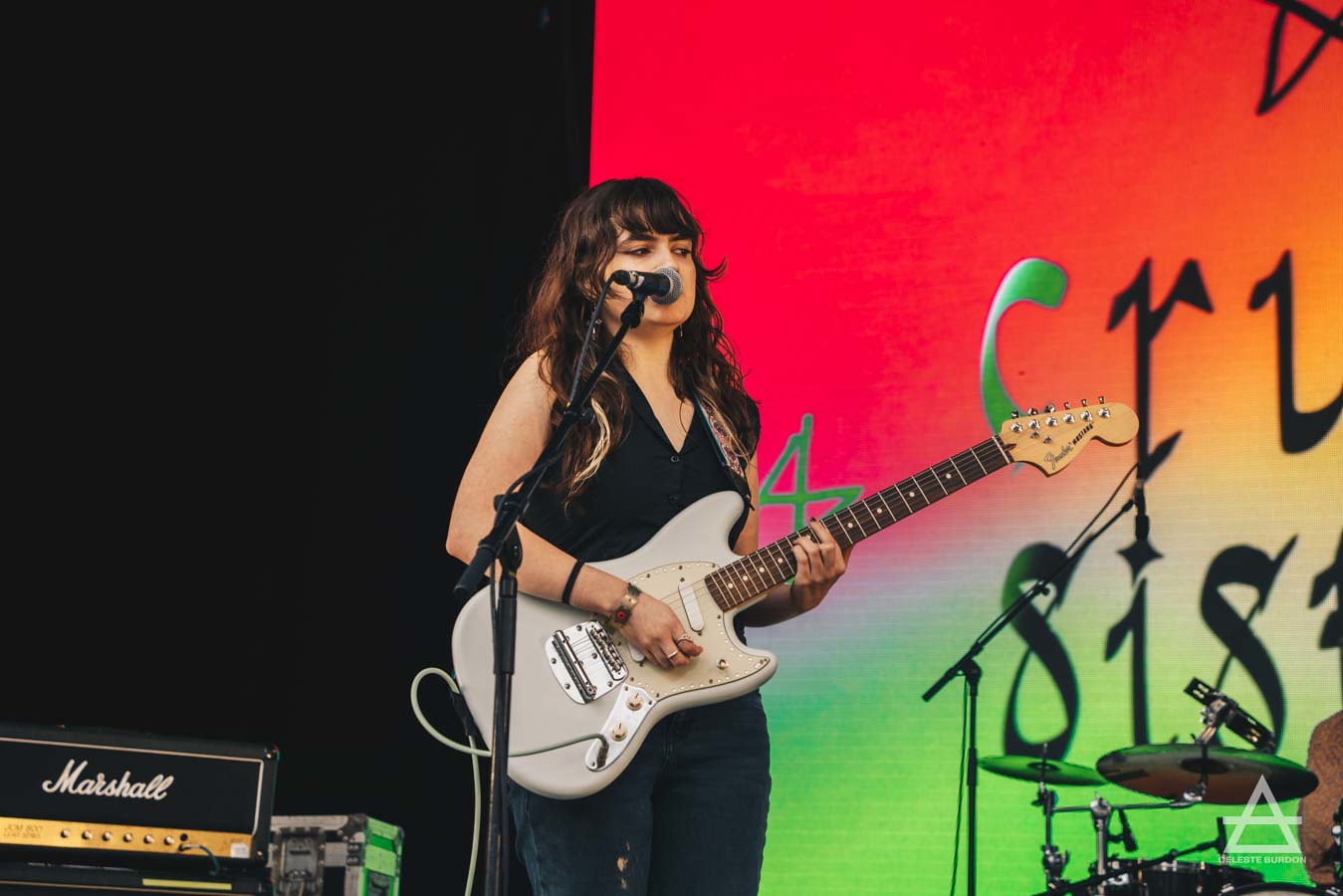 The wind early on Saturday morning felt near apocalyptic when lying in a flimsy tent at the top of a very exposed hill. Several campers had returned from festivities in the wee hours to find their tents collapsed, broken, or in at least one instance, stuck up a tree. After several hours of being slapped in the face by my own tent, the wind died down and the sun began to creep occasionally through the grey clouds.
First on the agenda for Saturday was the compact powerhouse of noise that is Cruel Sister (above). Their driving bass lines and chunky guitars remind me of early grunge and shoegaze bands. Her siren voice lures in the crowd until she begins unleashing screams any emo-core frontperson would be proud of. Their set was at times reminiscent of the now defunct Cork dream-punk band Elastic Sleep, with a killer cover of Gorillaz track 'Tomorrow Comes Today' thrown in almost as a challenge to the crowd.
Back over in the Something Kind Of Wonderful tent, Really Good Time (below) take to the stage in their matching grey jumpsuits. The high energy outfit take off at lightening pace, but technical issues cause the set to quickly stop as their bassist loses all sound from his instrument. The lead singer is forced to banter awkwardly with the crowd while the sound techs try to figure out the source of the issue. They finally get back on track with their new song 'Holy Grail'. An ideal jumpstart to the big tent, but by now the sound issues there were a common conversation piece around the festival. Taking a short break from the stress, I recuperate by watching Lisa O'Neill bring a wave of folky goodness to the Main Stage, with her incredibly unique and confident voice enthralling a rapt audience.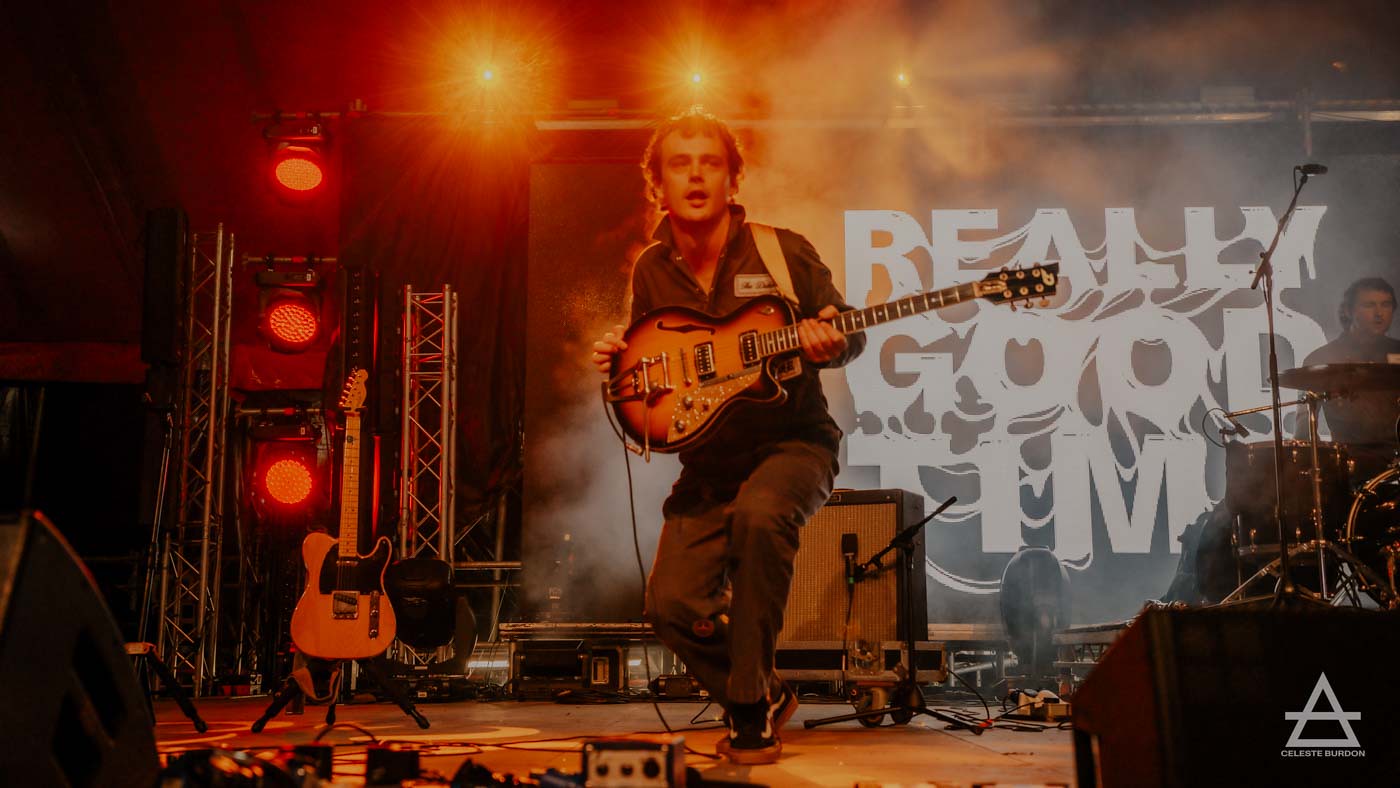 By now I had started to worry about what was one of the most anticipated sets of the weekend, about to start in the cursed Something Kind Of Wonderful tent. Black Country, New Road had been hotly tipped to me from multiple trusted sources, having blown away crowds at Glastonbury, but arriving into the big tent as their set was due to begin, things were already going awry. Sound check was still going on, and not going well. As the set kicked off there was continuous signals from the band to the sound techs, with engineers running to and fro behind them throughout their opening songs. Between songs the band apologised to the crowd. Two guys standing beside me apologised to me on their behalf, having seen their stellar set at Glastonbury. I really felt for the band who were clearly doing their best to give the crowd their money's worth, despite their clear frustrations.
No such frustrations were present back on the Main Stage as Sugababes launched into their impeccable set. They seemed genuinely surprised by the massive turnout for their appearance, but I've learned over the years to never underestimate an Irish audience's passion for 90's and 00's pop music. It was just the shot of adrenaline that much of the audience needed to re-energise them after the night of wind and rain, and an ideal accompaniment to the sun's scorching reappearance.
The next few hours were a frenzy of ping-ponging between stages. The Scratch (above) were more than up for the challenge of carrying that momentum into the evening, taking to the stage at Something Kind Of Wonderful. Their noisy, high-energy performance seemingly able to overcompensate for the poor sound, and putting in a solid shift before Villagers took to the Main Stage and provided some welcome ambience to a crowd now in need of respite. Billy Bragg, protest singer and bonafide legend, had a powerful set filled with his classic revolutionary anthems. He interspersed his songs with politically charged speeches, at one point chastising a certain cohort of his older fanbase who seem unable to get on board with allyship with the trans and non-binary community. "If your 25 year old self could see you now they'd probably kick the shit out of you". He gave a particularly rousing tribute to Sinéad O'Connor claiming that "Sometimes you bring people together by doing a benefit, sometimes by playing at a festival, and sometimes by ripping up a picture of the pope on live television". Tributes to Sinéad O'Connor were plentiful throughout the festival, but hearing it from Billy Bragg somehow hit a different chord.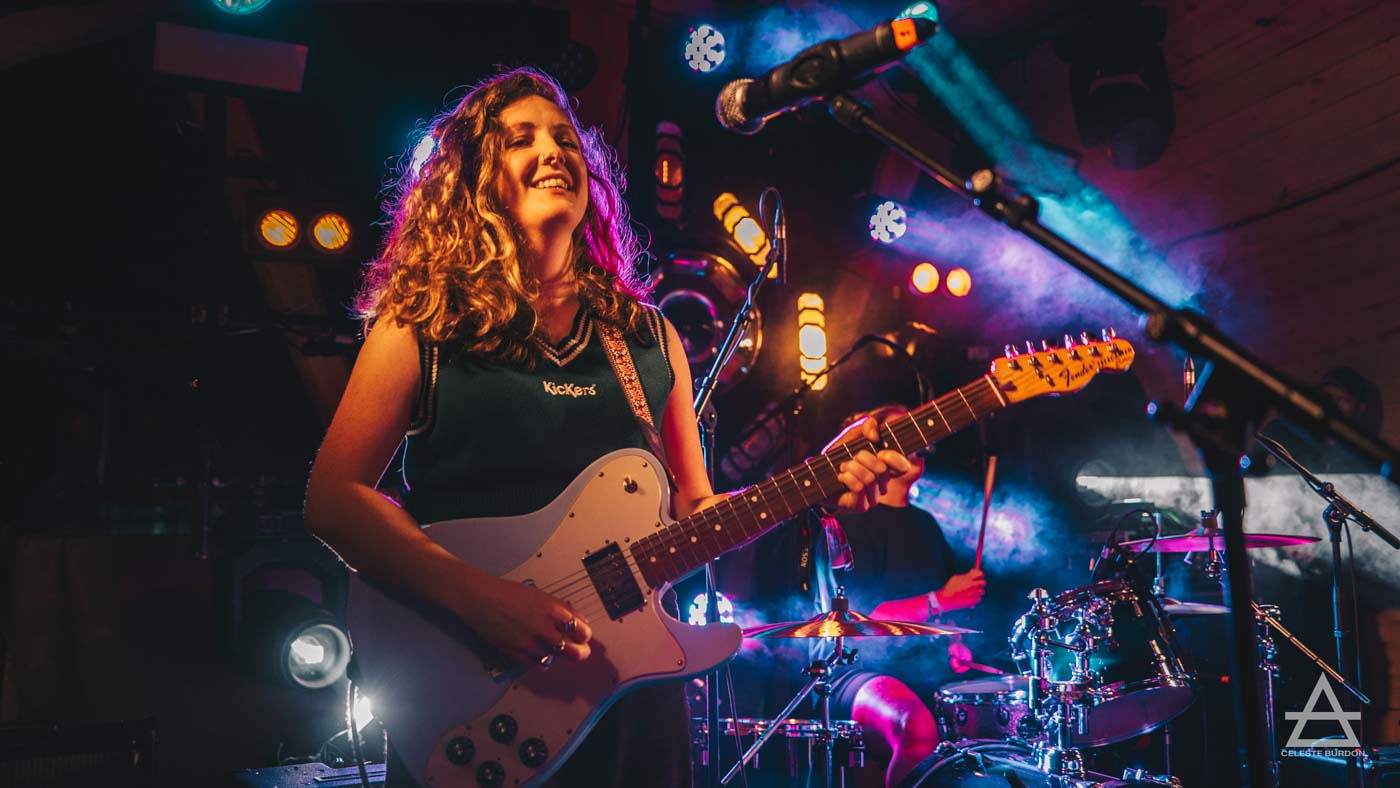 One of the most impressive small areas of the festival was the Jameson Circle stage in the woods. Saturday evening they hosted the powerful one-two punch of Sprints followed by Pillow Queens (above). Sprints had been one of my most anticipated gigs of the weekend, and they did not disappoint with their riotous performance. Likewise, Pillow Queens delivered as only they can by bringing a pair of new tracks fresh from the studio where they're recording their new album. It's always great to see Pillow Queens perform live, but there's nothing like seeing them in front of a baying festival crowd.

Back out of the woods, Daniel Avery's very contemporary electronic mix on the Something Kind Of Wonderful stage was competing with the clangy nostalgia of the recently re-formed Fight Like Apes on the Guinness Lovely Days stage. Both great appetisers before Saturday's headliner Jamie XX stepped out on the Main Stage to bring the house down with his dazzling and introspective exploration of rave culture.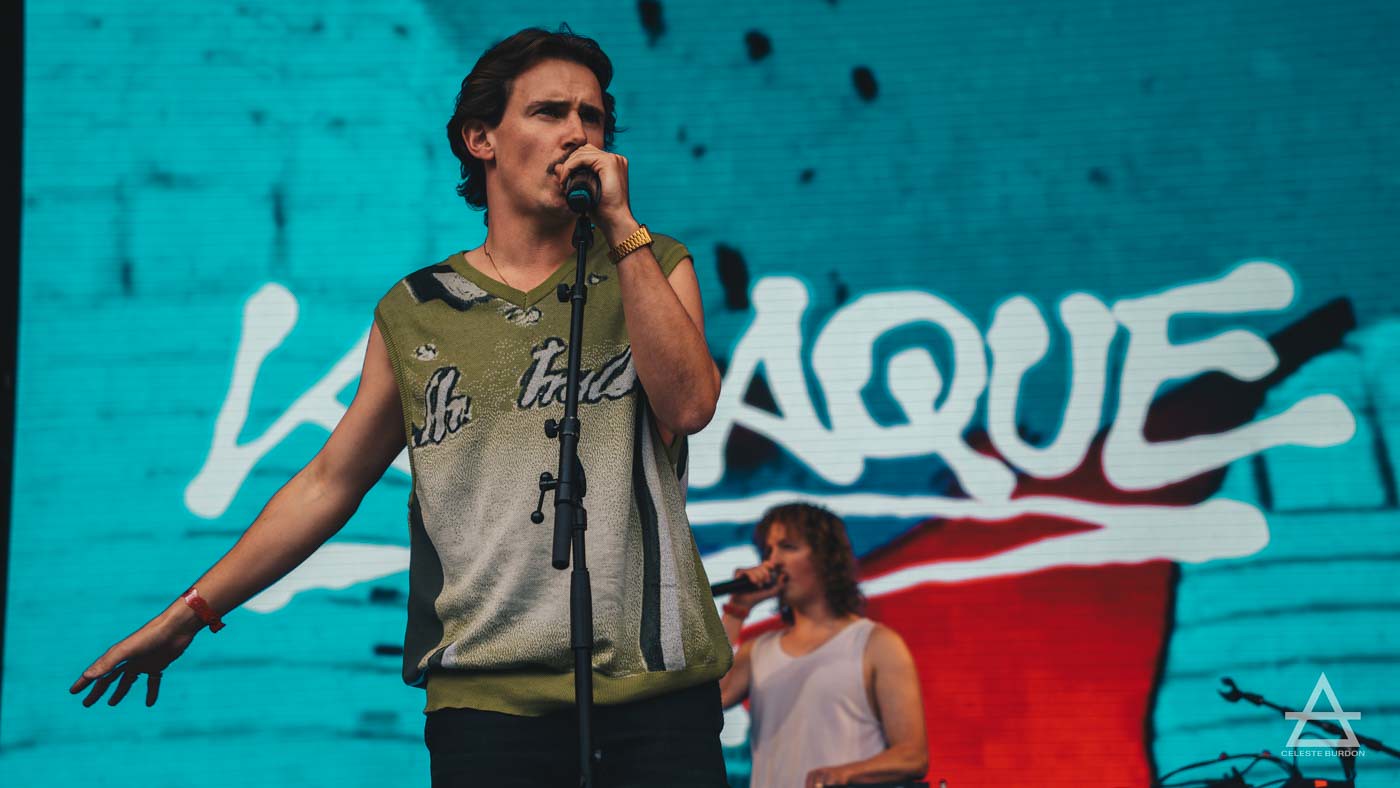 Sunday got rolling with a stellar set from a surprise late addition to the Lovely Days stage, Kojaque. Performing a mix of new tracks and classic staples from Deli Daydreams, Kojaque (above) is simply a top-tier performer. Word had travelled fast in the 24 hours since he was announced, and he had the audience unbothered by the sporadic rain showers early in his set. By the time he was closing even he had to admit he hadn't expected the ravenous crowd he drew. "I know I was a surprise guest, but you surprised me. I did not expect this sh*t!" A bit later, over on the Jameson Circle stage, another rapper was taking to the stage. Belfast-based Leo Miyagee has been rattling cages for a few years now, and is finally getting some well-deserved attention. With tight flows and a mighty female vocalist smoothing out any rough edges. Classic gospel influences abound in his set, but his voice is distinct and new, and it's exciting to think where he'll be by this time next year.
Max Richter's appearance alongside the RTE Concert Orchestra was highly anticipated across the vast fields of Curraghmore Estate. Playing Recomposed, his modern odyssey through the lens of Vivaldi, he drew large cheers at strange moments within the piece, but he seemed to be thoroughly enjoying the experience. It was a strange sight to see him standing facing the crowd, hands crossed at his waist, nodding along with the orchestra, waiting to cue a track on his laptop – or contribute some synths over the impeccable orchestra – but most eyes were on the powerful soloist on violin; a powerful presence in the spotlight on stage.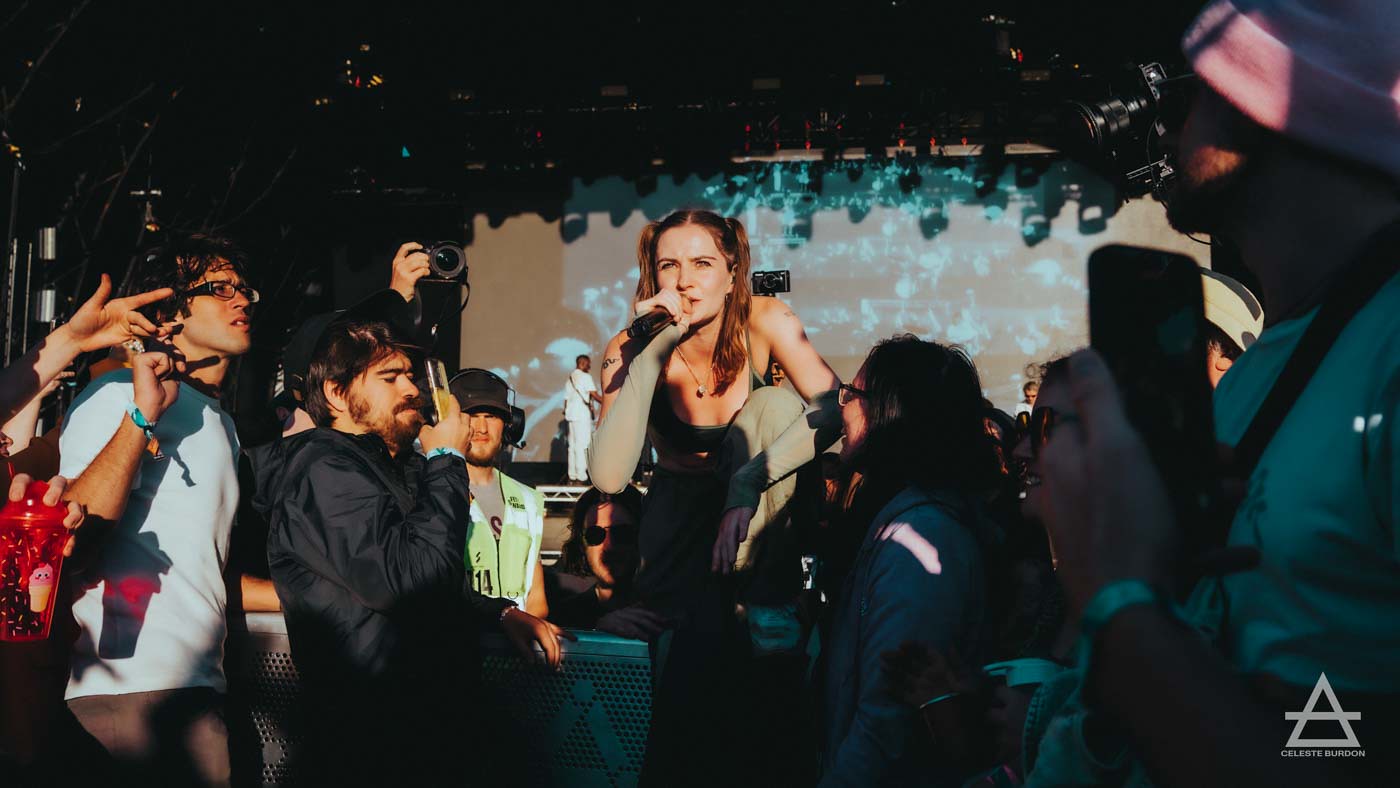 Just like on Saturday, the early evening on Sunday was hectic. Wunderhorse brought their shoegaze sensibilities to the Lovely Days stage. One of my favourite new discoveries from this year's festival for sure. Then back on the Main Stage, Biig Piig (above) opened her set with glissy pop anthems and positive vibes in the bright sunlight. Commanding the stage like a pro, wearing the baggiest cargo pants in the game, her performance was joyous from start to finish. Her band were equally impressive, with her guitarist often taking the spotlight with her authoritative solos Putting Biig Piig on the Main Stage is a great example of where ATN programming excels. Much like CMAT did in a similar spot last year, she's clearly ready and able for the challenge, closing out the set with several heavier, high-energy tracks, at one point climbing into the crowd to start the mosh pit herself. A set that built and built until she had the crowd in the palm of her hand.

Lorde was always going to be a highlight of the festival for most attendees, but her innovative staging and use of a video camera on stage made the event truly spectacular. Beginning with 'Royals' from behind the large circular set-piece that dominates the bulk of her set up, we're teased with her presence for the entire song before she appears anywhere other than on the large screens, singing directly into the camera. It's the first iteration of her new Solar Power tour, and the staging felt like they were still experimenting with it, but it worked remarkably well. Stand-out tracks included a dub-step remix of 'Tennis Court', and the ever-popular closer 'Green Light.'
Of course, Iggy Pop was going to be the most anticipated act of the festival. At 76 years of age, what music fan wouldn't relish the chance to see a legitimate living legend live. I'm not sure anybody was ready for the energy he brought to Curraghmore except for Iggy himself. From opening to close he was combative and unapologetic. Climbing into the crowd, starting arguments with people in the front row, shoving his microphone down his pants and at one point, during 'I Wanna Be Your Dog', very pointedly drooling down his own chest to a half disgusted, half-enraptured audience. It was everything you'd want from him.
The weekend came to an end with the incredibly impressive Beak> rocking the Lovely Days stage, before Le Boom on the Lovely Days stage battled with a DJ set from James Murphy over in Something Kind of Wonderful to close out the main arena. By the time we were packing our tents on the Monday morning, talk of the wind and rain on Friday had been replaced with rave reviews for another solid and often surprising line-up from the All Together Now team. Mike Ryan
Photos by Celeste Burdon
Friday

Saturday

Sunday