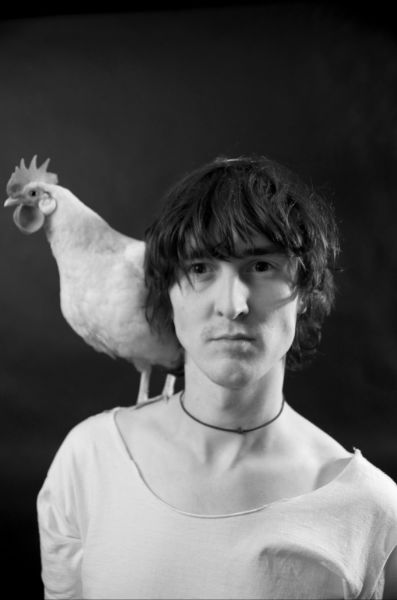 In the second installment of The First Time, we kindly interrogate Mike Mormecha from the one and only Mojo Fury (and indeed Clown Parlour) about significant "firsts" in his music listening, loving and making life. Thanks, as ever, to Joe Laverty for the exceptional portrait photograph of Mike. Look at him there, with the chicken on his shoulder. Lovely.
___
First album you bought?
Aphex Twin – Come To Daddy

First single you bought?
Daft Punk – 'Da Funk' (cardboard cassette)


First live concert/gig?
Eric Bell at the Waterfront hall.
First album you properly loved?
Nevermind
First artist/band to change your music-listening/making life?
Trent Reznor/Nine Inch Nails
First local band you really got into?
Fighting With Wire


First festival experience?
Witness 2002 – go look at the line up! They don't make 'em like that anymore.
First favourite film soundtrack?
The Matrix
First band t-shirt/jumper?
Long sleeved The Fragile Nine Inch Nails shirt.
First song to make you cry?
'Wait and Bleed' by Slipknot!


First time you knew you wanted to make music?
I think in 1995 straight after I had a go on a drum kit for the first time. I had the bug!
First instrument you learnt to play?
Drums!
First riff/song/piece you leant from start to finish?
'About a Girl' by Nirvana
First original song you wrote?
I think my sister and I wrote a song when we where kids called 'Gorillas in the USA'.
First gig or performance of your own?
I was 17 and I played at an open mic night in Auntie Annies
First musical hero/idol you ever met?
Gary Numan
First music magazine you ever bought?
Kerrang! Marilyn Manson was on the front cover – my ma threw it in the bin!
'First Day Of My Life' by Bright Eyes: any good?
Amazing!