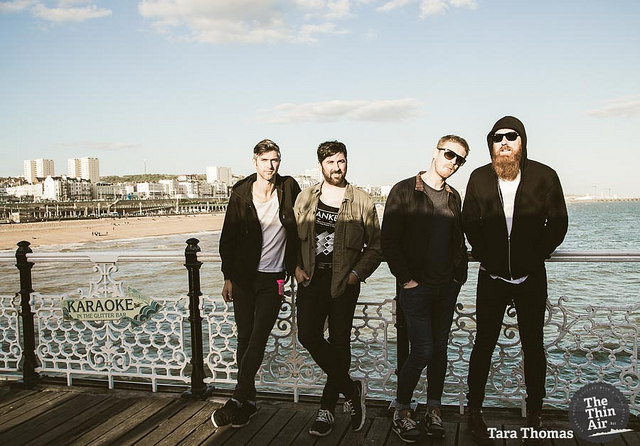 The latest Roving Eye trip took me to Brighton to get a little taste of The Great Escape with party time favourites Le Galaxie. Brighton – nicknamed "London by the Sea" – has witnessed huge gentrification over the last decade, albeit without losing its notorious licentiousness. It has a charming seaside resort exterior, with beautiful Regency architecture converted into guest houses or pied-à-terre for London bourgeois weekenders. However, a gentle scratch of the surface reveals an undercurrent of bohemian non-conformist attitudes and the UK's largest recreational drug market. Seemed like the perfect location for the UKs leading music industry festival, and my jaunt with Le Galaxie.
Thirty minutes on the train down from Gatwick passed quickly in the company of a carriage full of festival folk and The Who's '5.15' in my headphones. On arrival into town it was easy to get my bearings, the station was crawling with musicians lugging gear to and from platforms. It's evident over the last few of years there's been a change in people's expectations of music festivals. No longer the exclusive domain of muddy fields and weekends in rain soaked tents, festivals have migrated to our cities and town parks, in the guise of Hard Working Class Heroes, Forbidden Fruit, Longitude and more recently Canalphonic. I was keen to see how veteran The Great Escape celebrated its tenth anniversary. The festival runs over three days this year, playing host to over four hundred and fifty bands from forty different countries performing in thirty venues scattered around the city, it was sure to be a hectic few days in Brighton. The Great Escape is a bookers wet dream, bands making a splash here will be popping up on festival programs all over the summer and throughout the year. Previous alumni include HAIM, London Grammar, Foals and in 2007 Adele played in a café to eighty people. This year we are represented by a very strong Irish contingent SOAK, The Academic, Girl Band, The Riptide Movement, Silences, Ciaran Lavery, All Tvvins, Walking on Cars, Orla Gartland, and the act I'd specifically travelled to meet, Le Galaxie.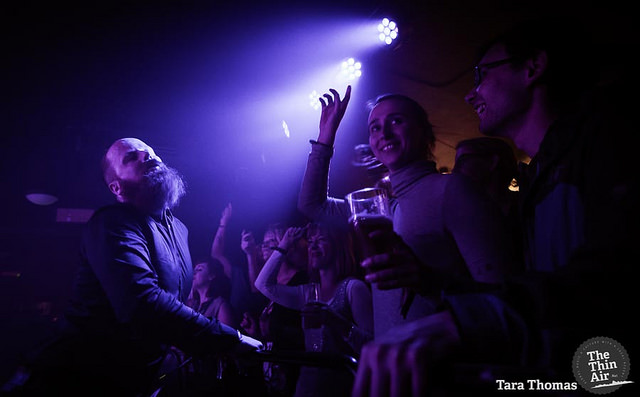 It's an absolute treat walking down the promenade to Patterns, the location of Le Galaxie second set of the weekend. Music of every genre flows from teashops, watering holes, quirky craft stores and buskers on the seashore, the carnival atmosphere is electric. Front man Michael meets me at the entrance and as we walk down a dark tunnel into the club I can already sense the Le Galaxie feel good vibes kicking in. Downstairs in Patterns is a compact spot with a capacity for roughly five hundred music souls. It's dark and gritty, and tonight it's sold out. Word of Le Galaxie's stellar performance the previous afternoon at First Music Contacts 'Music From Ireland Presents' has spread and people want more.
Anyone who's been to a Le Galaxie show can attest to the amount of kit they utilise, and so soundcheck is time consuming. There's a bit banter but it's mostly down to business. Frankie is keeping it tight. I comment to David that there is no potential climbing frame for his usual acrobatics, he just laughs and mumbles something about show drama, I don't know what to expect. With the amount of energy expelled at the shows I'd seen previously it's only a matter of time before refueling is mentioned. We head back out into the blinding sunshine and proceed to the nearest fish 'n chip establishment, where else would you eat in a British seaside resort?! Sitting outside, getting our dose of vitamin D, I chat with Alastair, he's in training for an Ultramarathon, a hundred kilometer run, that isn't a mistype, I kid you not, a hundred kilometers. I seriously thought he was joking earlier when he told me he'd been for a thirty kilometre run that morning and Michael had kept him company. He apologises to me explaining it won't be a late night of revels. I'm not surprised, these men are professionals, taking their performance very seriously. Fitness is essential. Michael recalls a gig where he'd boogied so hard he felt faint, nauseous bile rising in his throat so bad he thought he'd keel over. Nice! That's enough chips for me.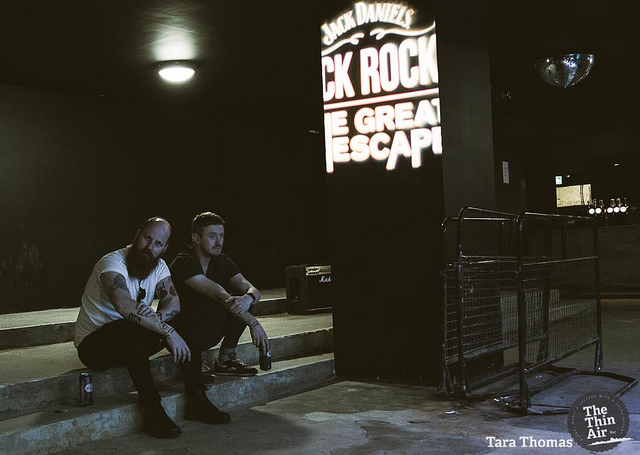 You can't visit Brighton and not take a stroll along the pier, so that's where we aim to walk off our dinner. The pier is beyond kitsch, everything you could imagine or desire from a boardwalk, candy floss, striped deck chairs, slot machines, hot dogs, silly photo boards. It gives me a warm fuzzy feeling watching two hairy men stick their cheesy faces into one of these photo boards. This one has meaning though. Le Galaxie have been staunch supporters of the Marriage Referendum YES campaign from inception and the lads are super giddy seeking to recreate a photo they took in the same spot last year. Anthony makes a handsome groom indeed. The obligatory "we're on Brighton Pier" photo is also snapped and afterwards we grab some pre-gig tipples in the Fortune of War bar on the beach. It's all very civilized, no plastic beer glasses, no mud, no portaloos. The only concern we have are the kamikaze seagulls. I'm liking this city festival vibe more and more. The bands tells me some on the road stories, one including "school boy pisses" – I will struggle to wipe the image from memory. As the evening settles in it's hard to motivate ourselves back to the venue, this setting had all the potential for a good session.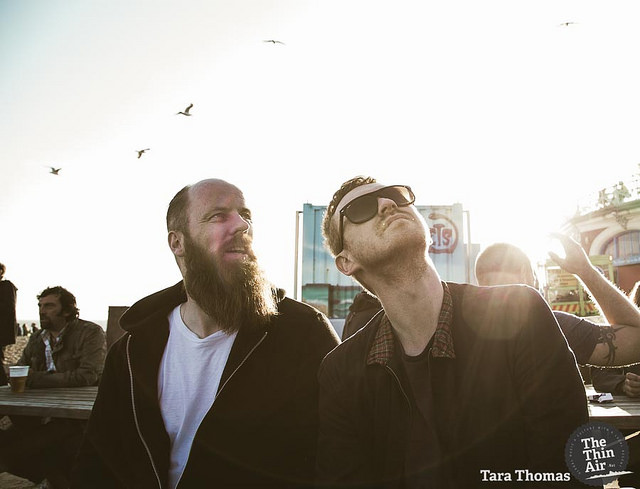 We arrive back to a sweaty dungeon pulsating with psychedelic rock. Landshapes are on stage and the crowd are enthralled with the antics between the lead singer and the drummer. She seems to be coaching him through the set. I later learn that the original drummer let them down at extreme short notice. When arriving onstage they put a call out to the audience for a drummer and were obliged. This is The Great Escape, anything can and frequently does happen. Landshapes quickly clears the stage and Le Galaxie get their gear in place. The band takes advantage of a small dark cubby hole masquerading as a green room behind the stage to get revved up. The audience wait patiently. I give the guys some Le Galaxie alone time and position myself out in the narrow gap between safety railings, two minutes later the guys burst out onto the stage. Tune after banging tune works the onlookers into a frenzy, e.g. 'Got to Go', 'Love System', 'Carmen', 'Heat City'. I am astounded by the effect Le Galaxie has on a crowd that has never seen them perform before. It's remarkable. Before I know what's happening Michael and Anthony have vaulted the barriers and are bumping bits with the natives who are lapping it up. It's a masterclass in audience seduction. Le Galaxie is a finely tuned machine, melody and performance perfectly combine to achieve a stellar show. They wind the crowd into a tightly coiled mass of heaving sweaty bodies, the dancing becomes frenetic and then it's all over. I pity the act which follows.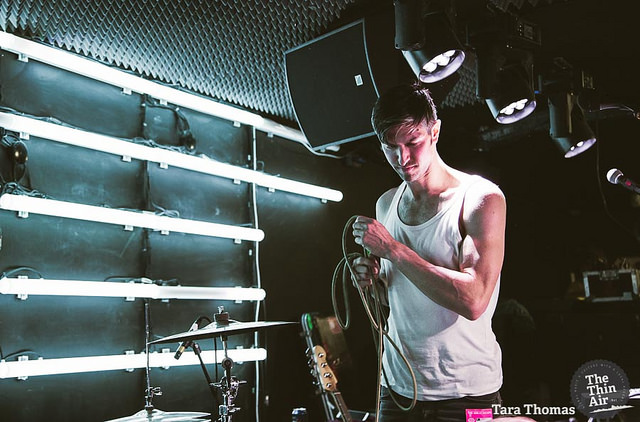 The lads fall back into the green room dripping in euphoria. They are elated, pleased with the performance and even more so by the audience's response. There isn't much time to revel in the glory though as it's a quick turnover event so we carry equipment and a slab of tinnies out into the night. The cool air is refreshing. The lads order a mini van taxi to take them to their hotel out of town, they are heading home tomorrow, it's an anti-climax after a mental few hours. It's hugs all round, except for Michael who has done a disappearing act, needing to let the adrenaline subside. For me it's a slow stroll around town to soak up some more of the atmosphere. My ears are ringing and I love it.
Le Galaxie have a jam packed calendar, make sure to catch them at a festival near you this summer. Tara Thomas
Check out Tara's previous Roving Eye features with SOAK in Berlin, The Minutes in Brussels and The Young Folk in Birmingham.