Articles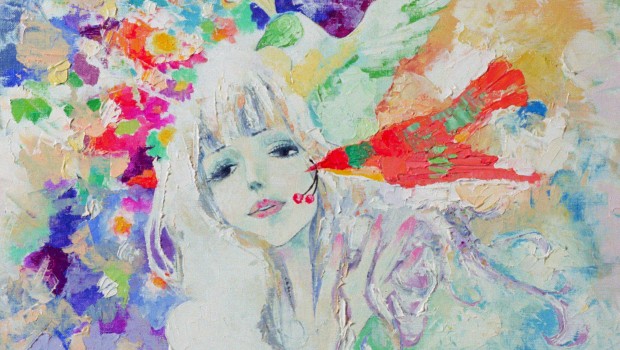 Published on April 7th, 2017 | by Conor Smyth
0
Belfast Film Fest Blog: Day 9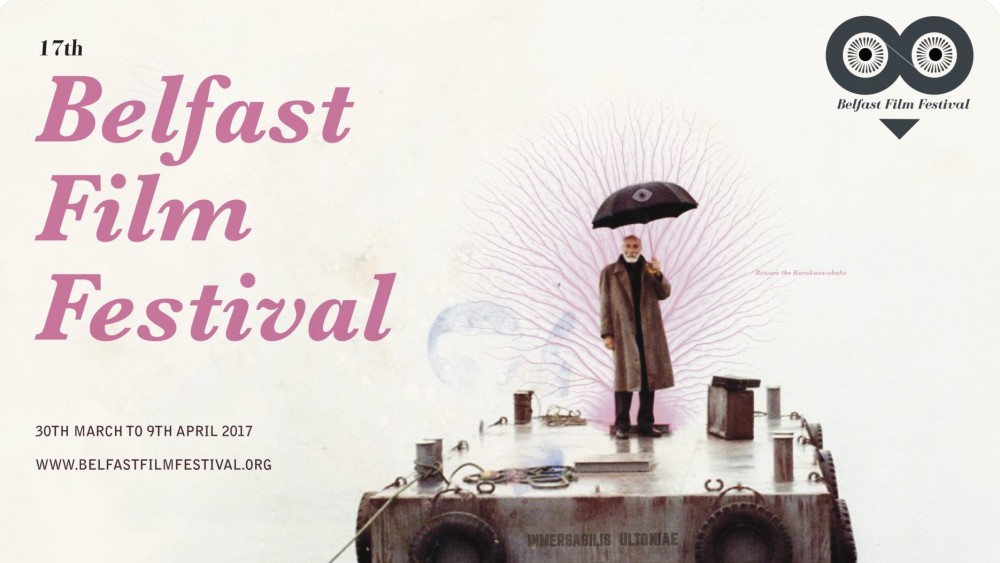 It's engines go for festival, and we'll be running daily reactions, reviews and previews of upcoming screenings here on this regular blog. There's going to be a lot to get through. Send us your film reactions at conor@thethinair.net, or tweet @thethinair – we want to hear what you're seeing and what's good.
Day Nine – Friday 7th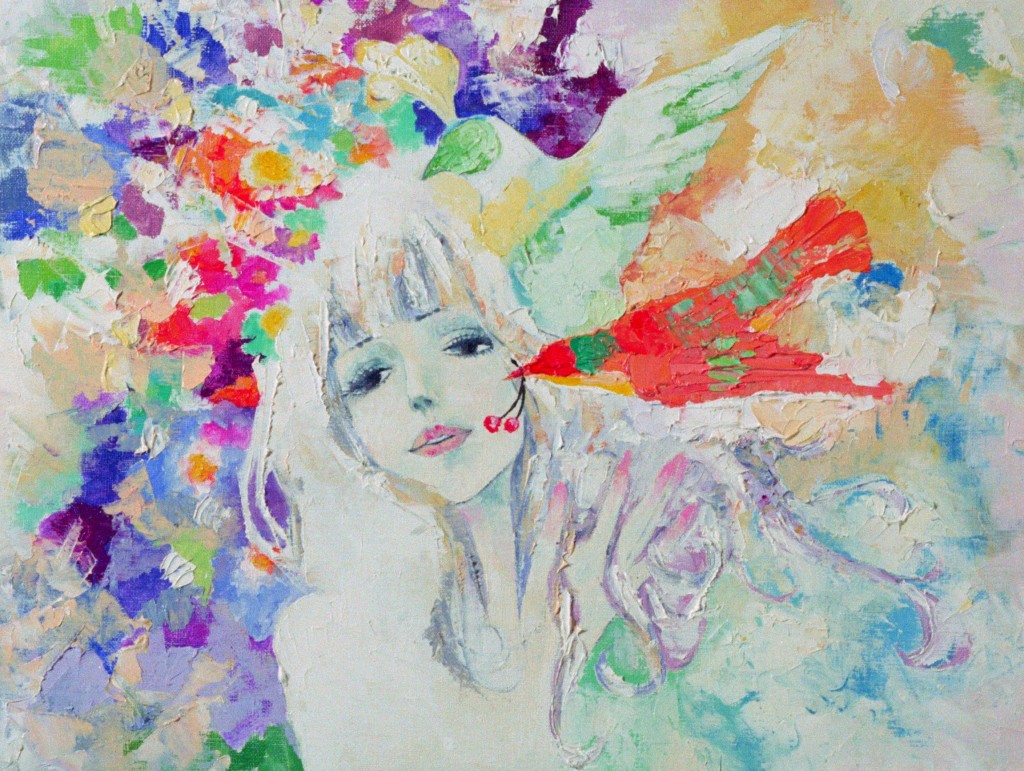 We're closing in on the home stretch here. Expect more reviews and reflections over the weekend, including cinematographer Kirsten Johnson's absorbing, reflective doc-collage Cameraperson and Breaking Bad's Betsy Brandt's not-bad (that's a lot of Bs) lead turn in missing-husband drama Alice in Motion, but for now here's a quick preview of tonight's lineup.
Eiichi Yamamoto's The Tragedy of Belladona, over at the Beanbag Cinema, looks wild: a digitally restored X-rated cult Japanese animation sure to send your senses spinning. Spend the evening with Charles Bukowski in Matteo Borgardt's You Never Had It, or social activist Jane Jacobs in urban-development resistance doc Citizen Jane. Tamara Von Steiner's Controindicazione takes us into the punishing, unwieldy systems of criminal justice and mental health treatment in Serbia and Montenego while at the Strand, the late Seamus Heaney presents an exploration of Patrick Kavanagh and the spaces that inspired his poetry in Where Genesis Begins. These are all good people to give your Friday evening to.

Also, for budding film-makers, Christine Morrow, the Short Film Executive for NI Screen, will be at the Beanbag Cinema today at 5pm to offer insight into the production and distribution process for local shorts. We saw a lot of good ones during the festival, and no doubt there's more coming in the future.
If you fancy getting out of bed Saturday morning, be sure to get down to the Hudson's Heel Bar at 11am for a live recording of Banterflix's BFF podcast. Regular hosts Jim McClean and Neil Sedgewick will be reflecting on this year's programme and special guests include Aidan Largey (short film Time And Again), Eoin Cleland (short film Incoming Call), Colin Broderick and John Duddy (writer/director and star of Emerald City) and Chris Baugh and Brendan Mullin (director and co-writers of closing night gala Bad Day For The Cut). We're almost done guys!
Day Eight – Thursday 6th
Took a break to get our head showered yesterday, but we're back! It was a busy night at the QFT last night; the inestimable Mark Cousins was in town to screen his new movie Stockholm My Love and we had Handsome Devil's lead Fionn O'Shea and writer/director John Butler.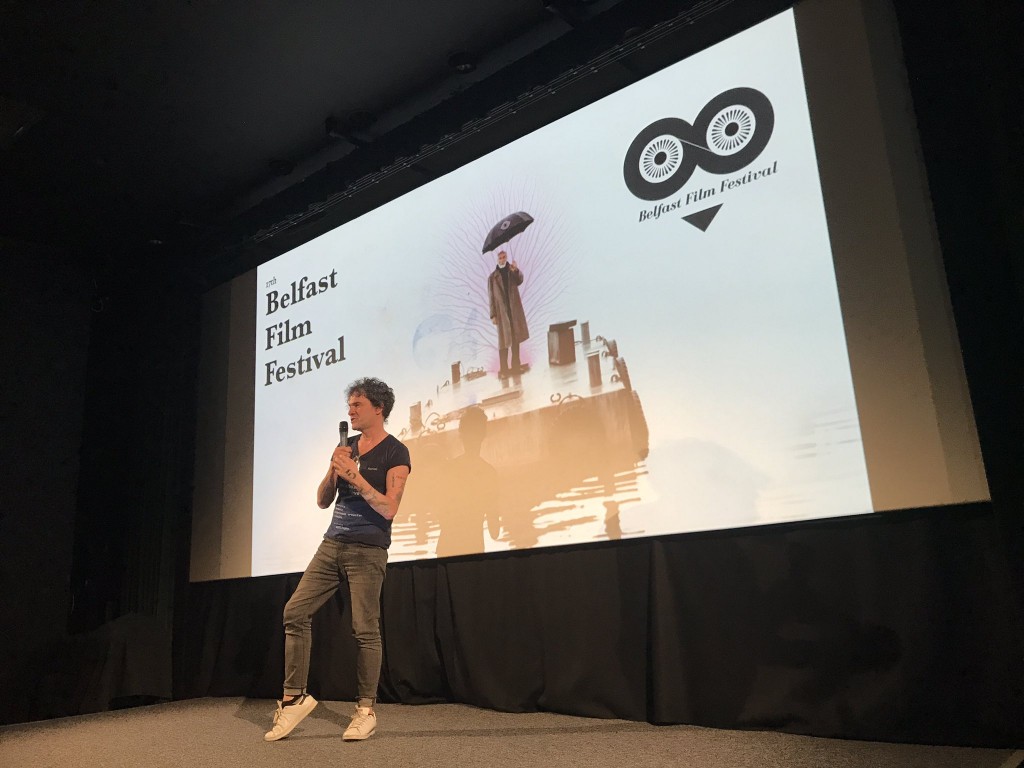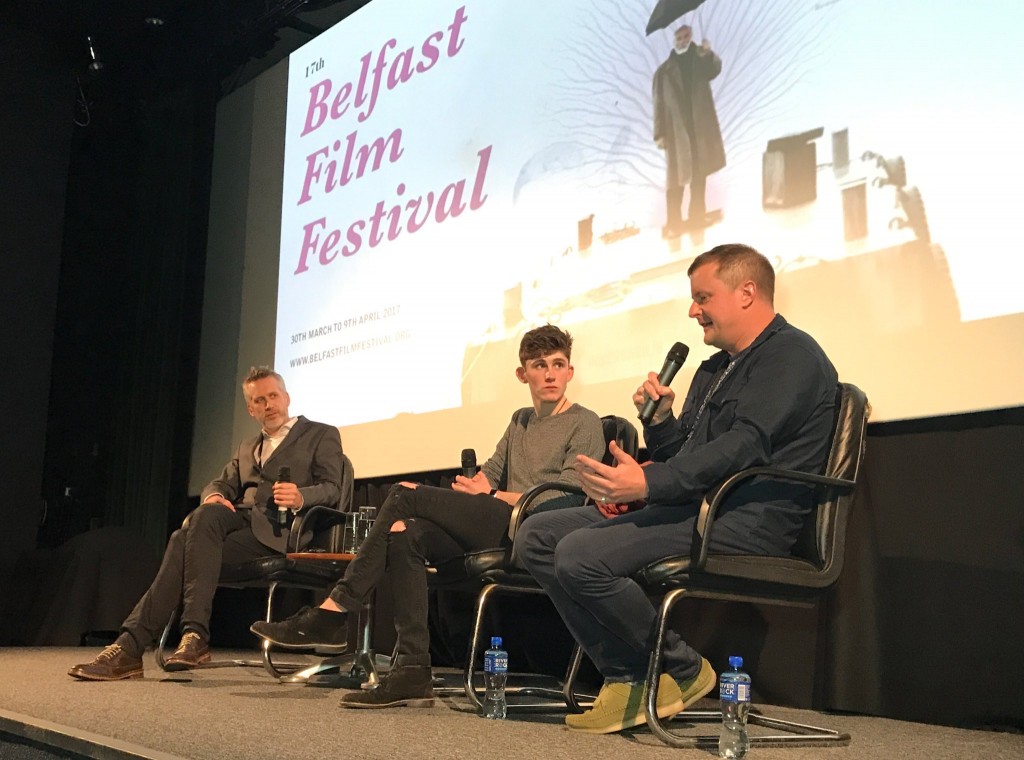 (Mark Cousins; Brian Henry Martin with O'Shea and Butler; photo credit to Banterflix)
Over at the Black Box, Film Devour screened its usual eclectic range of local shorts. Winners were as follows:
Directors Choice Award sponsored by Odeon Belfast: Fetch (Directed by Debbie McCormick)
Audience Choice Award sponsored by Forbidden Planet International Belfast: Orchard Road (Directed by Ida-Maria Olva)
Runner up Audience Choice Award: Down There by the Train (Directed by Andrew McNeill and Thomas Pollock
Local lad Colin Morgan (TV's Merlin) made his lead feature debut in Charles Garrad's Waiting For You. Morgan plays Paul, a former architecture student who travels to a small French town, in search of something owed to his late father, an ex-squaddie who may have been involving in a shady military affair. Under the pretense of documenting the home of his father's Captain, and the suspicious gaze of the Captain's grown-up daughter (Fanny Ardent), Paul tries to get a feel for the history of the place and his family's place in it, while developing a romance with one of the natives. Morgan equips himself well enough, even if his freshness is sometimes noticeable, but the script is too vague and casual with his motivations and the details of what he does or does not discover. For most of the running time it coasts on an atmosphere of mild chateaux intrigue. Garrad was at University Square for a chat afterwords, but I was on the last 5A home.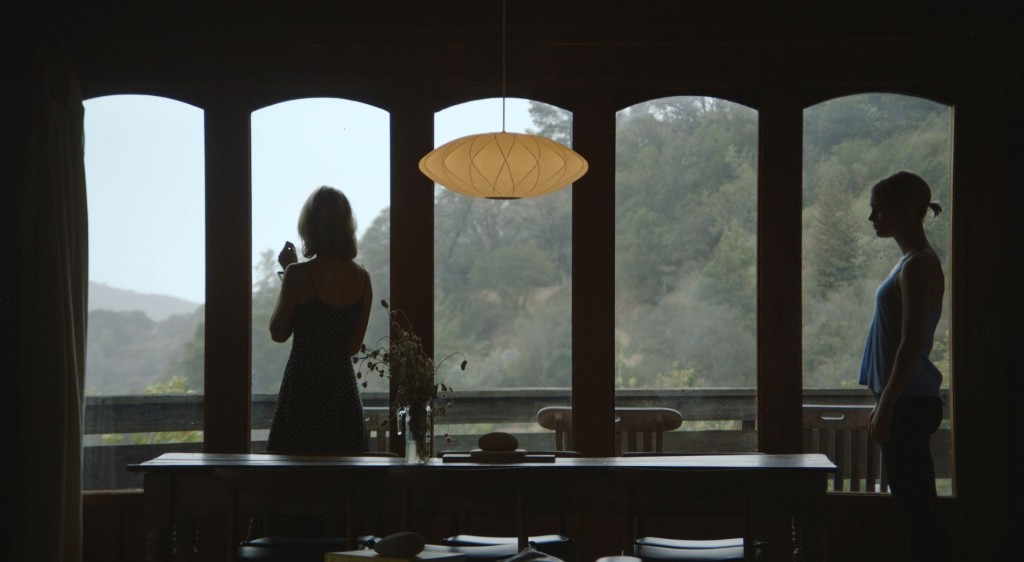 Last night's Always Shine is probably my favourite film so far, Sophia Takal's unnerving and uncomfortable psycho-drama about the strained friendship between two actresses who go away for the weekend together. Beth (Caitlin FitzGerald) is ploughing through shitty horror movies but is starting to generate some buzz, while Anna (Mackenzie Davis) is still waiting tables and desperate to jumpstart her career. Beth is meek and classic-looking, the sort of person men easily fall in love with; Anna is outspoken and mildly self-sabotaging. I'm not sure the film quite pulls of the final Act, but the toxic atmosphere, heavy with coded jealousy and resentment, feels rich and volatile. Strong work.
More fur flies in Onur Tukel's Catfight, in which Sandra Oh (Grey's Anatomy) and Anne Heche star as two former friends who have a chance encounter after leading wildly divergent lives, and promptly starting beating the absolute fk out of eachother. The film's a bit too unsubtle in its commentary, especially with the unnecessarily symmetric reversals of fortune, but it's a fun and emotionally believable black comedy and satire on our culture's weirdly unreal relationship with violence. With bonus Alicia Silverstone and Tituss Burgess!
Tonight's horror throwback The Void is sold out, but issues of politics, difference and bridge-building animate docs The Peacemaker and The Postman, while Breaking Bad's Betsy Brandt is a brittle woman searching for her lost husband in Claire in Motion. Not to mention Leonard Cohen, dog videos and The Princess Bride; full listings on the BFF site. Also our ★★★★ review of All This Panic is up here.
Day Six – Tuesday 4th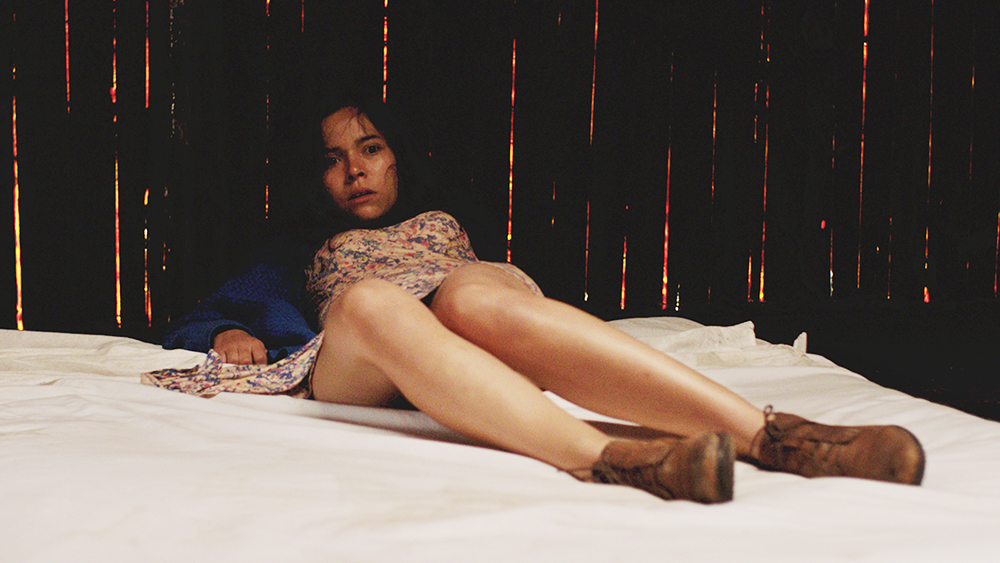 Last night the Movie House screened Mexican director Amat Escalante's The Untamed – or, its alternate and more evocative title, La Región Salvaje (The Savage Region). Thanks to a problem with the file the festival received, we had to watch it without subtitles. But, to be honest, I'm not convinced readable dialogue would've made it any easier to follow. Part family dysfunction realism, part Lovecraftian body horror, the film takes place in a small Mexican town, on whose outskirts an asteroid has delivered a strange squid creature, a source of super-charged erotic influence on the local population and, in one supremely surreal tableaux, the woodland wildlife too. As the marriage between Alejandra (Ruth Ramos) and her cheating, closeted husband implodes, she finds herself drawn towards the rapturous, deep-throating tentacles of this otherworldly visitor. Hard to shake, this one.
The Beanbag Cinema have a real rogues gallery of oddball titles this year. Last night they showed She's Allergic To Cats, a VHS-grubby, funny, visually original feature written and directed by Michael Reich, starring Mike Pinkney as a loser video artist and dog groomer living in Hollywood. His life is basically a total shitfest: rats eat his bowl of bananas in the night, he's out of shape and he can't get his producer buddy (a very funny Flula Borg, from Pitch Perfect 2) to finance his passion project, an all-cat remake of Carrie (he should get on Kickstarter, the internet would eat that up). Until, that is, he meets a girl! It's sad and romantic and kind of nightmarish, with a lot of animal butt.  Seriously, take a look at this thing:


Elsewhere, Kev Lovski attended the Found Footage Festival, always a fun event:
"With a full house at the Black Box to welcome the hosts and curators, Joe Pickett and Nick Prueher, The Found Footage Festival's debut in Belfast is easily one of the highlights of BFF. If terrible VHS footage from the US of Bruce Lee-influenced police training videos, compilations of a North Dakota newsroom's bloopers over 20 years and advice on spotting Satanists is your thing, then make sure and catch this hilarious and occasionally gobsmacking show at any given opportunity!"
And he caught David Byrne's Contemporary Colour:
"While not in the same league as David Byrne's previous film Stop Making Sense, Contemporary Colour is an entertaining showcase of some great music that is mostly complemented by the various teams of Colour Guard dance performers. And while I'm still slightly at a loss as to what these teams are and their purpose, the way the film is shot with an amalgamation of the performances that flows with behind the scenes footage, I can't say that I didn't enjoy the film. The passions and commitments from the dancers are there to be seen and it's nice to see Ad Rock and Money Mark from the Beastie Boys doing music together!"
On the cards for tonight, the righteous James Baldwin doc-essay I Am Not Your Negro, Onur Turkel's brutal Catfight, Kleber Mendonça Filho's much-buzzed Aquarius, and local lad Colin Morgan (TV's Merlin) stars in Charles Garrad's Waiting For You.
Day Five – Monday 3rd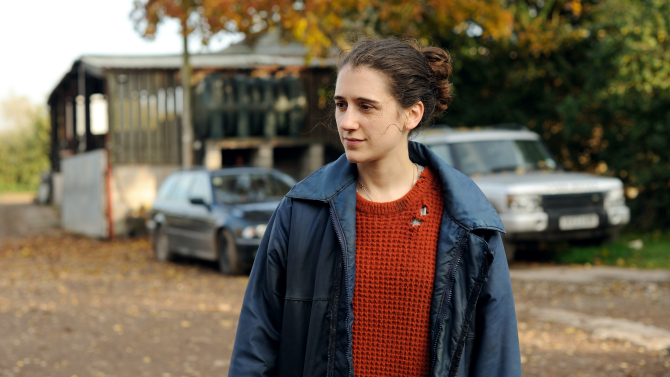 There are a number of screenings tonight worth keeping your eye on, including the promisingly mad-looking The Untamed, sweet animation The Red Turtle and new Irish horror A Dark Song. But with the weekend behind us we can reflect on some of the first few days' films. My review of Mad to be Normal is up here, and there'll be more coming, but in the meantime here are some quick reactions to the programme so far.
Writer/director Hope Dickson Leach, cinematographer Nanu Segal and lead performer Ellie Kendrick (Game of Thrones, pictured above) all impress in The Leveling, a sharp, sodden farmland drama about a veterinary student who returns home when her brother, and heir to the farm, kills himself in vague circumstances. Relations between daughter and father (David Troughton) are strained with guilt, evasion and old resentments, while flooding and dwindling finances seem to be sinking their livelihood into the mud. Kendrick is especially good as the spiky, inquisitive Clover, trying to make sense of the tragedy and pin her blustering father down.
A troubled young woman is also at the centre of Axoloti Overkill, Helene Hegemann's adaptation of her own novel. Mifti (Jasna Fritzi Bauer) is a wild teenager from a well-off but emotionally distant family, who refuses to go to school and disappears for days, partying, drinking, sleeping with strangers and pining over her affair with an older woman. It's hard to know what we're supposed to make of Milfi, and she's not very interesting company for 90 minutes, indulging in pouty, promiscuous fun that isn't as edgy as the film seems to think it is. The World of Us, from South Korea's Ga-Eun Yoon, is an assured look at the isolation of being a young kid who doesn't fit in, mining delicate feeling out of the unsure, nervous expressions of the young, lonely Sun (Soo-In Choi), whose desperate hopes for a best friend are raised and dashed by her class' new arrival. The film takes is time with the banal, everyday exchanges that mark friendships at this age, never losing its cool with any showy sentiment, but it doesn't make the moments of minor mortification any easier to watch.
After Jackie, Pablo Larraín returns with another supposed biopic that plays with ideas of artifice and reality, Neruda, which stars Luis Gnecco as the beloved Chilean poet and Gael Garcia Bernal as the eager (possibly not real?) policeman ordered by the autocratic government to find and arrest him. Neruda is hard to get a grip on, jumping between locations, ideas and assumptions about the reality of the manhunt and the motivations of the investigator who, like everyone else, seems to be a little in love with the Communist outlaw. As an approach to the poet's story, it's inventive, slightly surreal and little lifeless, even as Gnecco brings girthy, libertine personality.
Our own Kev Lovski was impressed with French medical drama Heal The Living:
"With a blend of art and realism that you'll not see in any other medical drama, Heal The Living is a compassionately told tale of the French organ donation system, telling the stories of the donor of a heart and the person receiving it with unparalleled sensitivity and skill. Essential viewing."
Over at Banterflix Magda Paduch compared Jakob M. Erwa's paranoid thriller Homesick, which got its Irish premiere last week, to Roman Polanski and Darren Aronofsky:
"All the shortcomings of the first two-thirds of the film are forgiven by the intense and surprising ending. Comparisons to Polanski's Repulsion (or even Rosemary's Baby) and Aronofsky's Black Swan spring to mind quite early on and, even though Homesick fails to improve upon the tense atmosphere of the former and the portrayal of a sick mind in the latter, this German take on one's descent into madness does leave you wondering, if not horrified."
Everyone I've spoken to who attended Mindhorn on opening night says it went down a treat, Neil Sedgewick gave it a glowing review one his Films and Faith  blog:
"This film is simultaneously spoof and a nostalgia piece nodding to the many onscreen detectives that have graced TV screens for years. Mindhorn pokes fun at the ridiculousness of dodgy plot lines, the outdated sexual politics but is never mean spirited in its' ribbing of the legacy of TV detectives.
Sitting comfortably alongside Partridge and The Office, but not directly comparable, Mindhorn holds similar levels of self awareness but never wanders into outstaying its welcome."
We'll also have a report on the weekend's short films and short docs up soon!
Day Four – Sunday 2nd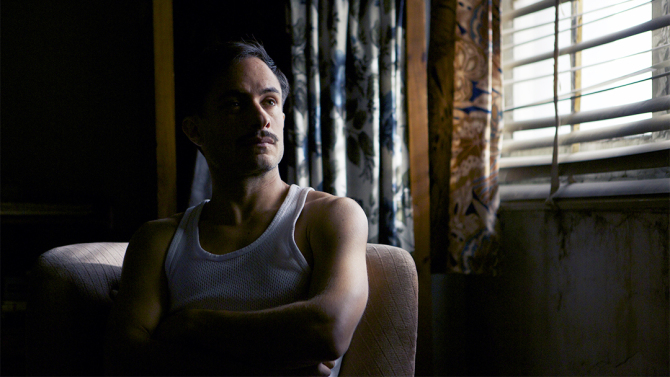 Bit late with today's preview, so we've missed most of today's local independents, but there's a healthy selection of new, international cinema tonight. Seasoned Japanese director Koreeda Hirokazu returns with After The Storm, an elegant and simple look at father/son relationships, South Korea's Yoon Ga-Eun produces a vivid portrait of childhood in The World Of Us, while The Other Side of Hope is Finnish filmmaker Aki Kaurismaki's first feature in half a dozen years. The evening closes with Oliver Laxe's Mimosas, which won top prize at Cannes' Critic Week, a minimalist trek through the Moroccan desert, and Pablo Larraín's Neruda, starring Luis Gnecco as the revered poet and Gael García Bernal as the inspector trying to track him down.
Tonight the Beanbag Cinema will be hosting a screening of the work of conceptual video artist Matthew Noel-Tod, and a Q&A with the artist himself, while the Movie House Dublin Road finish their programme of Northern Irish work with Emerald City, the feature debut of New York based NI-born writer Colin Broderick. Questions of Irish consciousness and travel also play out in Joe Lawlor and Christine Molloy's poetic doc-essay Further Beyond. If that all sounds a bit heavy, get yourself down to the Black Box tonight for the annual BFF Quiz, hosted by Brian Henry Martin and Tim Burden, for a chance to relax and reveal just how much about the movies you don't know.
Day Three – Saturday 1st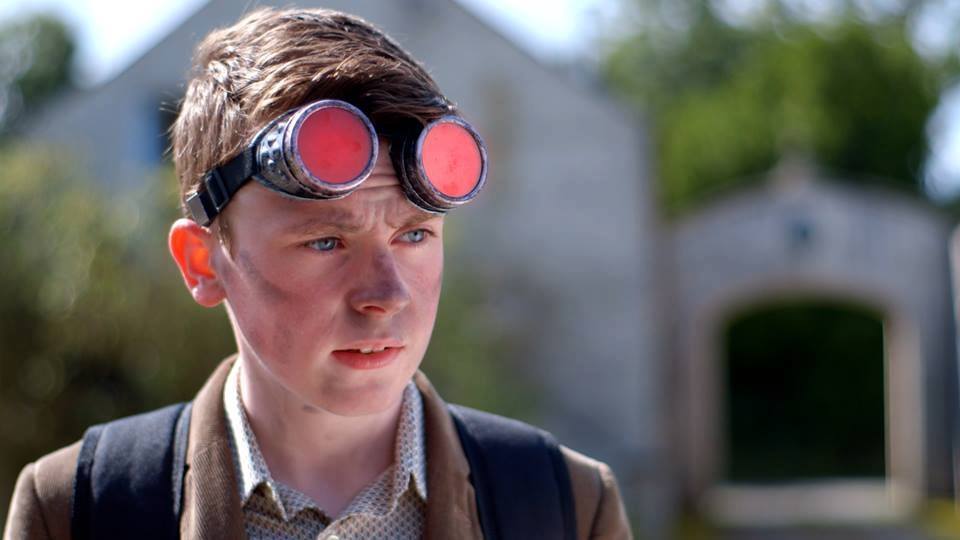 The sun's out (sort of?), so it's shorts day at the festival. The short film programme will be running all day at QFT, from 10am until dinnertime, batched into four sessions. If you don't mind camping out in the same spot, it's a great chance to see a wide range of work from film-makers coming into their own. On these film-makers is Aidan Largey, who has directed a number of well-received shorts and worked on short programming for RTE. I asked him to provide a bit of context for his film Time And Again, showing this afternoon:
"Time And Again was always sort of intended to be a bit of a love letter to 80s Spielberg and Amblin movies, very widescreen anamorphic lens flare in its look that would really pop visually. But more do than the really distinctive Americana look that the DOP Aidan Gault and I wanted aesthetically (we got the ONE DAY of good weather that summer) was to try and find the emotional heart in our tale of a really quite emotionally troubled boy searching for friendship and really a connection to the mother he never really knew. It was always intended to be Back To The Future meets Stand By Me in how it glamourised and was still hopefully quite honest in the fun and pain of adolescence.
The producers Margaret McGoldrick and Leo McGuigan were really integral in helping find that balance in the script and the funding from NI Screen but I think the real key there was our casting two lead actors who could sell the mismatched friends who spent their summer building a time machine. In that we were incredibly impossibly lucky in finding David Rawle (Moone Boy) and Aaron Lynch (Boogaloo And Graham). Not very they both really experienced given their ages but they both had an innate talent and chemistry you really can't fake. I think they enjoyed the time machine props and sets and the endless takes of doing scenes that required repeated eating of ice cream…
It was lovely to reteam with Ian Beattie, an actor I'd worked with on my previous crime drama Farr. I'd written the part of Lucen's dad with him in mind so it was fantastic to get working with him again. It was a reteam with Shaun Blaney (held at gunpoint in a VO booth) and the editor Helen too but the composer James Everett was new, that said when you can talk vinyl, Indiana Jones and John Williams with someone that incessantly you create a short hand very quickly, his score did so much for the feel and emotion of the film. All in all I feel so so lucky in that film and the few days we spent making it, it was good to be able to show people that I could do more than gritty crime drama and we've been very lucky in our festival run, it's screened at Galway, Cannes and BAFTA so it's cool to finally be able to show it at a home crowd with the Belfast Film Festival. And you can never be bad about a film that allows you a chance for your mate Niall George (Game Of Thrones) to design and build a (sadly non functioning but very cool) time machine."
The local landscape also looms at the Movie House Dublin Road; Kevin McCorry's Gone, about two Belfast politicians and their missing daughters, and Srikant Ganapati's Hello Belfast, about the compromises between Indian and Northern Irish culture. Joining the independents afternoon line-up is Alessandro Negrini's Tides – A History of Lives and Dreams Lost and Found (Some Broken), a visual and oral history of Derry's Foyle border river, and Bounce Afrika, looking at the migration of African hip-hop to these shores.
For today's new cinema, Michael Winterbottom goes On The Road with Wolf Alice, British and German film-makers Hope Dickson Leach and Helene Hegemann both make feature debuts about troubled young women, with the emotionally fraught The Levelling and the rebellious magical realism of Axolotl Overkill. From the early evening on, things get a little off-kilter with Australian-Japanese mockumentary Top Knot Detective, dreamy Spanish animation Psychonauts and twisted slasher satire Dude Bro Party Massacre III.
The big events of the day are the live reading of A Fish Called Wanda (The Black Box) and screenings of two of John Cusack's films, in celebration on the actor's visit to the festival: Max at the Strand Arts Centre and High Fidelity at the QFT (sold out).
Day Two – Friday 31st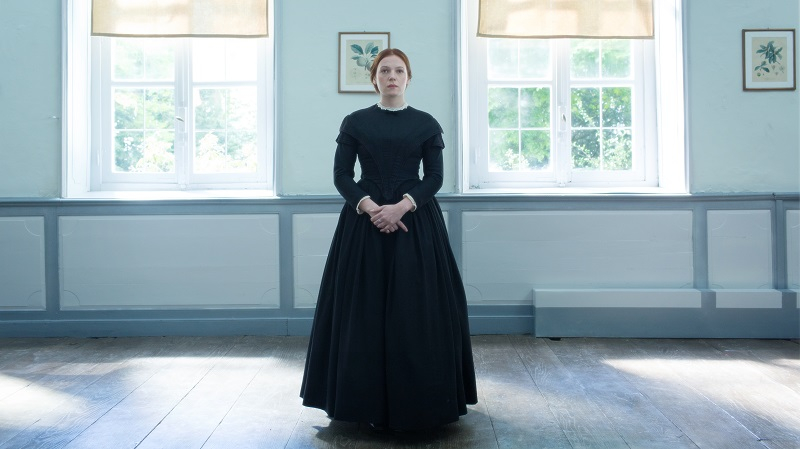 Last night the festival opened with Julian Barratt's mind-bending comedy Mindhorn, and the actor/writer himself visited the Movie House Dublin Road. Our own Kev Lovski will be publishing a review soon, but for now watch some initial reaction from Jim McClean (Banterflix) and Neil Sedgewick (Films & Faith) on their Facebook video here. (Also, tonight the Banterflix Movie Club begins with the Northern Irish debut of Jakob M. Erwa's tense, Polanski-esque Homesick at the Beanbag Cinema.)
With no tickets left for Mindhorn, I was up at the QFT for Jenny Gage's All This Panic, an intimate documentary following a group of teenage girls from Brooklyn as they deal with high school, college and the many, many challenges those years throw at you. It doesn't say much especially new about the trials of adolescence, but it's still absorbing and detailed, with a light, Malick-esque photographic touch. An affectionate, wistful look at the pain and promise of transition.
Tonight John Cusack himself is in town and will be chatting to Brian Henry Martin at the Movie House Dublin Road, that one's sold out. At the QFT we've got Anocha Suwichakornpong's By The Time It Gets Dark, a spinning, provocative treatise on Thai culture, Katell Quillevere's Heal The Living, an ensemble drama based on Maylis de Kerangal's novel, and David Tennant as controversial Scottish psychiatrist R. D. Laing in Mad To Be Normal. If you're reading this before 4pm, get down and see Terence Davies and Cynthia Nixon's take on Emily Dickinson, A Quiet Passion. Further East, the Strand have Kasper Collin's jazz doc I Called Him Morgan, an archival-heavy treatment of trumpeter Lee Morgan and the wife who murdered him.
Beanbag will be screening The Event, which focuses on a Communist-led coup d'etat in Russian's summer of 1991 and The Black Box will be serving up the finest wines available to humanity for Bruce Robinson's all-timer Withnail & I. Get blitzed and shout quotes, because why would you do anything less? Richard E. Grant also makes an appearance in the QFT's Their Finest, a comedy-drama about WW2 propaganda starring Gemma Arterton.