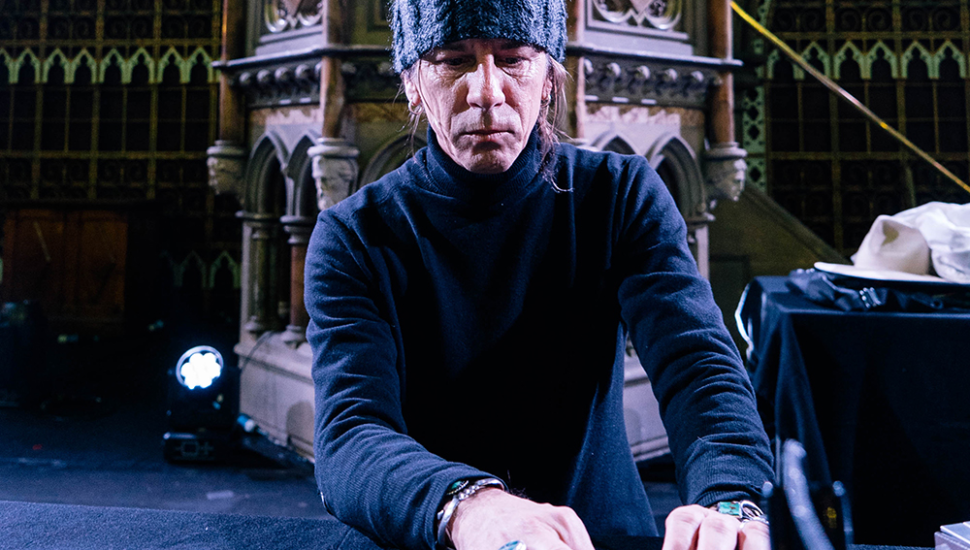 William Basinski has just gotten back from running an errand. Sitting on the sunlit porch outside his home in Los Angeles, the setting, along with his demeanour, could not betray anything further from the melancholic, introspective shades of the music he has been composing for over 30 years. In fact, far from being the naval gazing artiste that one may naively expect a composer of such poignantly abstract music to be, Basinski radiates nothing but disarming warmth and good humour.
Utterly forthcoming, he jokes about the dread of needing to move home within the year for fear of the effort: "I have too much shit!" He lets out a feigned scream of agony followed by a dramatic quoting of Salvador Dali when suggesting friends mistakenly "plagiarised his thoughts" in releasing an album eerily similar to something of his.
It is interesting to note that in conversation, he does not deal in broad concepts or in abstract ideas but rather relates every notion to a story, to a moment or a meeting of friends – of which he has many – and fellow artists.
Through his defining use of momentary feedback loops, Basinski's music has similarly taken the smallest of instances and captured their significance, allowing their lingering presence to be understood and accepted, either embraced or let go. To see the power in this, one most notably looks to 2002's The Disintegration Loops, a collection that has become inextricably linked with thoughts of loss, mourning and memoriam for the 9/11 attacks on New York.
It becomes increasingly clear that he is someone for whom a story or a moment holds more than its immediate facets and that both in composition and in conversation, Basinski takes those instances and builds understanding around them.
Ahead of his first ever performance in Ireland on Friday 5 May in Belfast's Black Box as part of The Cathedral Quarter Arts Festival, Eoin Murray caught up with Basinski to discuss his latest album A Shadow in Time, Bowie, the global ambient scene and the power of memory.
Hi William. Now that the album has been out a few months, how is it sitting with you? Are you pleased?  
I'm very happy. I'm just so thrilled with how it all turned out and with the response it's gotten. It's all been really positive.
How was the process of making the album? What inspired the dedication of the second half – 'For David Robert Jones' – to Bowie?
I'd been working on A Shadow In Time for about a year after finishing Cascade and it was just taking a while to finish. A week after Bowie died some friends of mine who run a small sound art and multimedia non-profit in LA called Volume invited me to be involved in this show they had going on.  I started looking for a tape loop that was just going to sit on a deck and play but I couldn't find anything I liked so I started digging deeper and deeper into my collection. I found this canister of old loops and I hung them off a stand in the studio to try out later. My cat got in there though and started playing with them or whatever and probably peed on them and left and they got pretty damaged.
But then I cut up few parts of the damaged loops and spliced them together and it actually sounded great! My assistant engineer was here and we started running it into the computer.  While that was going on I tried another one out and it was that dirty old saxophone sound you hear on the record… I started getting really excited! There was going to be so much wrong with it when we combined them but it was all the right kind of wrong. It all started to make me think of 'Subterraneans' on Low and so I just thought "This one's for Bowie". It was as simple as that; I finally had a way of finishing the album.
How did Bowie's death impact on you when you heard the news?
I was in Texas at my boyfriend Jamie's farm the day the news broke. I couldn't believe it. It sunk in really heavily on me really instantly and, you know, that farm is out in the middle nowhere on the Bible belt… No one was playing any of his music! It was terrible. So yeah, it hit me hard. When I was younger I had just wanted to be him.
Did you know him personally?
I didn't know him personally no. But I did meet once in 1983 on the Serious Moonlight Tour. I was 25 and the band I played saxophone in supported him at the show in Hershey, Pennsylvania. I didn't have the nerve just to breeze into his dressing room while he was putting on his make-up or whatever but I really wanted to give him this tape of Shortwavemusic that I had just finished. So I gave it to his manager.
But then I met him! Walking toward the stage in his yellow suit. He just said: "Hello Billy! Great saxophone solo, that was fantastic! Well, the boss is waiting, better get to the office, would you like to watch from the wings?"
He was just as charming and as wonderful as everyone always says he was. I don't think I said a word.
Time and transience have always stood out as central elements in your music, maybe even more so on this record given its title and the elegy for Bowie. Is it something you spend a lot of time thinking about?
It's always been something I've thought a lot about. How could it not be something you think about?
What is "a shadow in time" then?
Well, 'A Shadow in Time' is also an elegy. It's for a young friend of mine called Deng Tai. He was an artist in China who'd been an assistant of Jamie's for a while. He'd had very deep depression and possibly bi-polar disorder and well . . . One day he just couldn't take it anymore and the only way he thought he could deal with it was to fly out of his window. It was such a horrible tragedy.
That's him on the cover. He used to do these performances at night in the streets and get someone to take pictures and they just produced these beautiful images of motion.  What's so sad is that Jamie is a curator of contemporary and emerging Chinese art and Tai-Tai had never even showed him any of his work. Ever. He left a bunch of hard-drives with his work along with his suicide note. He became a shadow in time.
A Shadow In Time is an album for dead friends and heroes, a way of remembering them.
Your music has always felt like the sonic capturing of some memory. Something about the loops, how cyclical it is, even the disintegrative nature of it … it's like a way of understanding memory differently. 
It's something I've always been fascinated by: The looped nature of memory. I certainly grew up with some troublesome "feedback loops" from my childhood that tortured me but luckily I was able to find a way to write them out of my body and into ink and sound. I managed to find this melancholic sound that I liked and that I could create. That sound captured those feelings and with loops I was able to let all of it go.
What's your take on how the audience for ambient music has grown in the past number of years and how more and more artists are experimenting and broadening the genre's scope? 
I wouldn't be here if someone didn't finally get it! I can pay my bills now! It's terrific. I'm not a music collector really, and I'm not someone who spends a lot of time listening to and searching for other people's music. I never was. Other people in my life have always just shown me things.
I've always been more into working and creating the things that I wanted to hear. But it is great that there's a growing audience and I do love hearing it when I do. I'm good friends with Grouper and Lawrence English and their stuff is amazing.
Is collaboration something you're interested in exploring further?
I did something with Jlin that's going to be on her new album Black Origami. She is just amazing, a magician with rhythm. We met at the Broad Museum in LA last summer and really hit it off.  We stayed in touch and a few months ago she asked if I would send her something. So I sent her a special little potion and she worked her black magic on it! It's called 'Holy Child' and it's very cool.
In the work most people know from me there's little or no percussion, all the rhythms are all cyclic and natural. But lately I've also been working my young assistant Preston who makes beats and we've started this project called Sparkle Division.  We've made like a crazy lounge record! I'm pretty nervous about it. But we'll see where it goes. We might drop it on Bandcamp or it might just not go anywhere. It's way out there, like a big hybrid hot mess, fun and sassy. I really like it!
Are you excited to get back on tour?
It'll be good to get away. I actually take better care of myself on the road than I do when I'm here by myself all the time, I don't smoke or drink half as much. My manager goes with me too so that's nice. I just walk and eat a lot.
That's not very rock and roll of you! 
Well it's not all it's cracked up to be. The first two weeks is just horrible jetlag. You get to soundcheck and you just want to go to bed so badly but you have a beer and you do it and it's fine. Then you've to wait around again for hours before the show. Then you feel all high after the show and you want a drink but you've to get up at the crack of dawn to get on a fucking plane to go somewhere else so you can't. But you know, [assumes a posh accent] it's very hard work but someone has to do it.
So what makes it worth it for you?
Doing the shows and meeting the people that come makes it all worthwhile. The crowd and I go on a trip together every night and it's always exciting. You never know what you're going to be working with until you get to the venue. Sometimes it can be tricky but it can be amazing.
People write to me and approach after shows and say the nicest things, about how the music got them through a tough time or something like that. And that's why I do it. It's service. It's my job.
Go here to buy tickets to William Basinski at the Black Box