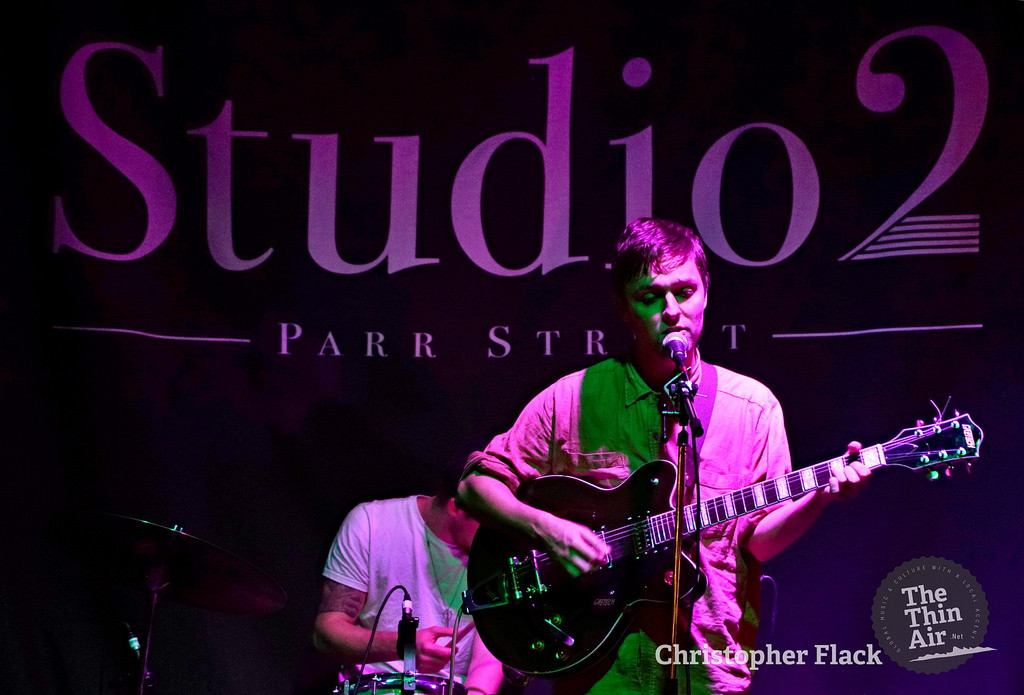 Liverpool's Studio2 is an odd sort of a place. It's on the backstreet of a backstreet, far away from Concert Square, the main strip and the horror of the bottled Beatles, 80s bars and fake paddywhackery of Matthew St. For the non-scousers among you, don't Google Concert Square – it's not what you think it is. In fact, if you ever get to Liverpool avoid the place like the bloody plague. And yet here we are, among the carparks, mechanics and those kinds of places that can just afford the rent around here. This little oasis in the middle of the madness manages to attract an often strange collection of touring and local acts, some filling it successfully and others not so much. Studio2 started life as a recording studio, playing host to artists like Bjork, Moby, the Lightning Seeds and Snow Patrol. It's attached to a hotel, bar, offices and a new recording studio. We spotted one Ian Prowse of Amsterdam fame whwhio looked like he'd been hanging around all day; if I didn't know any better I'd say he was at the gig to take a break. A quick search tells me that Prowse recently completed a Masters on the place of Christy Moore in traditional Irish music. So there's that.
Tonight is a local affair, if your local, like ours, happens to be the Duke of York in Belfast. Joshua Burnside, Ports and Little Rivers are playing a gig within staggering distance of 'home' and being some 168 miles away (on foot, according to Google) from our local there isn't another place in this city would do tonight. There are smiles, hugs and welcome faces, and that was just for the bands. This evenings crowd seemed to be made up of locals a little farther away from the Duke than they might be comfortable with. While the place isn't overflowing this is a respectable crowd for a Tuesday the staff do their best to set the tone, sofas, candles, fairy lights and a perfect soundtrack club together to make the place inviting – hats off to them.
Callum Cairns (below) is Little Rivers, a native of Belfast who has made Liverpool his home. On our last outing to see Mr Rivers he had steered a marked change of course from the time previous. Tonight, he has taken another side-swipe and a decidedly more electronic turn, barring the odd glitch with new tech he seems to have found a place to call his own. We've always enjoyed his work; this new direction is fascinating to watch. He seems as nervous as he is comfortable, the songs soar and swoop, there are tinkles and tangents and you could hear every nervous inhale among the high notes. Hell, there are even upbeat tunes which is new. Up with this.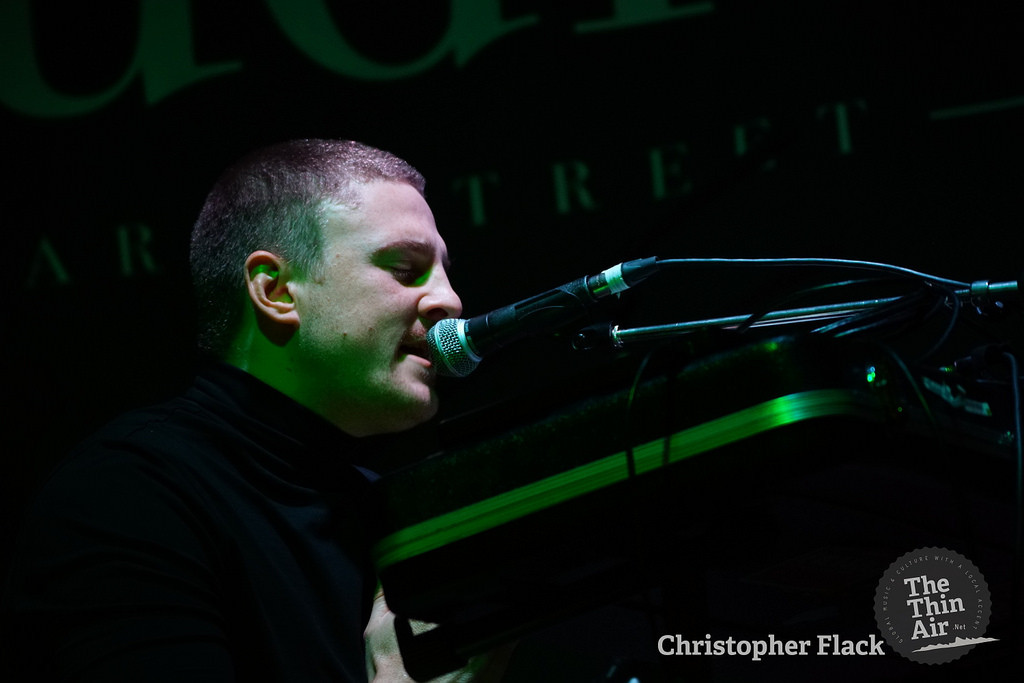 There's a certain lilt to the Derry accent that warms the soul, and Steven McCool, the lead vocal of Ports is not afraid to chat. The last time we saw Ports was at Atlantic Sessions on the North Coast of Ireland, they played a rousing set in Portstewart Town Hall where the gales rattled through the eaves, it was beautiful.  Atlantic Sessions is back in November, you can catch Ports & Joshua Burnside somewhere around the 16th to the 19th. Travel is cheap, gigs are free, there's Guinness on tap, a food festival and roaring fires. It was stunning last year. Bring a big coat.
We learn through the course of the evening that Ports seem to have a fan burrowed away somewhere in MTV, from breakups, romantic interludes and possible cannibalism, it seems their melancholic, soul-drenched sound has played backing track to more than one drama, and they bring it all tonight.  There is a simplicity to Ports sound that is stunning, and that is not a slight on their talent. There is an honesty layered in tales of travel, beer and the occasional cardigan. We've rated gigs on our desire to wear earplugs. When you do this nonsense as often as we do, ear plugs become a necessity rather than a caution, its nights like this where the plugs stay firmly in the pocket. You'd miss the stories and most of the depth of 'Killer', a favourite of the Liverpudlian crowd. 'The Few and Far Between' rattles the room, their final song, 'The Devil is a Songbird', played acoustically with the help of two phones and some whistling, throws the room for six. They say whistling is dead in modern music, I beg to differ.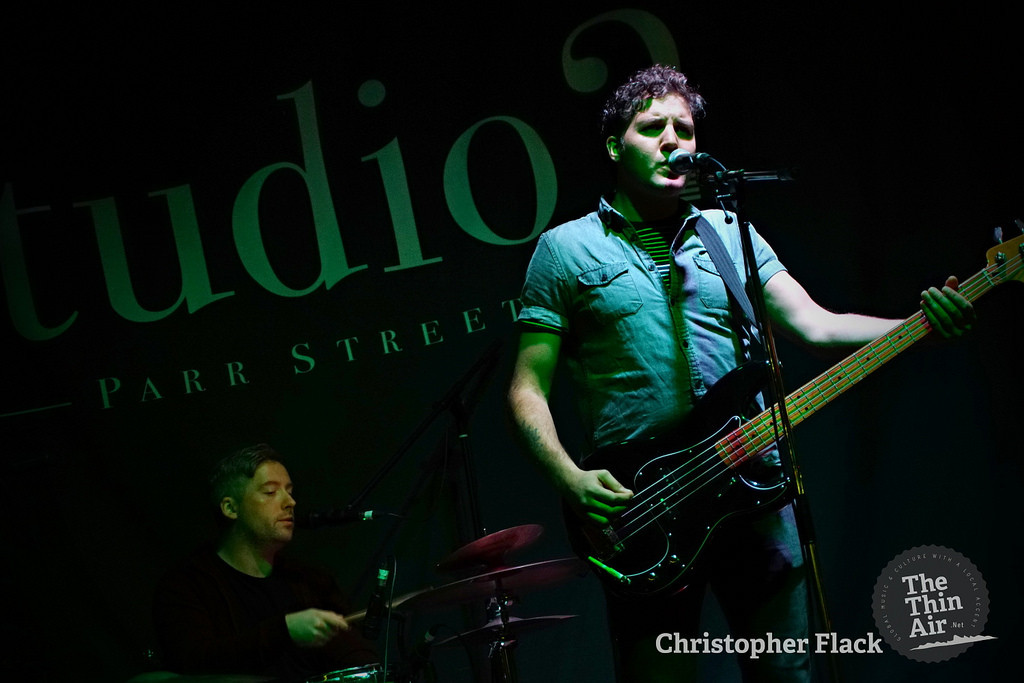 Joshua Burnside has the kind of voice that would be at home in a dozen places, you hear tones that would be at home with a bodhrán and a fiddle beside a fire in deepest Kerry, snippets of Scotland, time spent in church, hours poring over blues records at home. There are hints of rock and more than a dash of balladry.
He seems to drag it from somewhere deep inside, the same place that a dodgy takeaway in Manchester may still lay in wait to interrupt proceedings. He sings of love, of faith, politics, depression; throw in some comedy loops, snippets of films, some punishing bass and trumpet and the whole thing sings, sways and soothes. It can also shake you to the core. One imagines that most Irish artists avoid politics at all costs, even while there is an inherent politics to everything in Ireland. If it isn't there intentionally we are almost pre-programmed to read in between the lines, find it and judge you on it. Burnside does not shy away from politics, it holds no truck with him. Red and White Blues is a song of redemption, it drips with anger and determination, its demand for change seethes from every guttural scream, it's a message not lost on this crowd, 168 miles from home.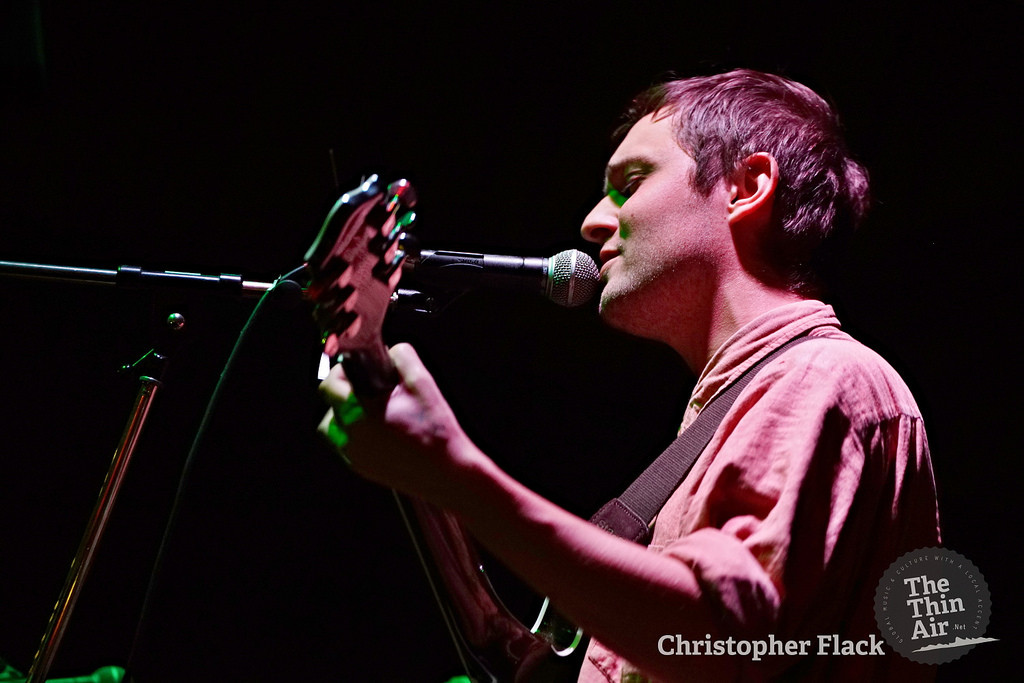 His set is all too short, the audience still and rapturous in equal measure, his first stop in Liverpool seems to have been a roaring success. I'm always reluctant to fill a review with positivity, it makes for a boring read and there's a certain part of me that enjoys eviscerating some element of a performance. If I was to pull at a strand it's that Liverpool could have gotten its collective finger out in slightly greater numbers, but that's small fry tonight as everyone played their A game. That said our relationship with Liverpool would probably make a great storyline for one of those angsty teenage MTV shows.
Words and photos by Christopher Flack