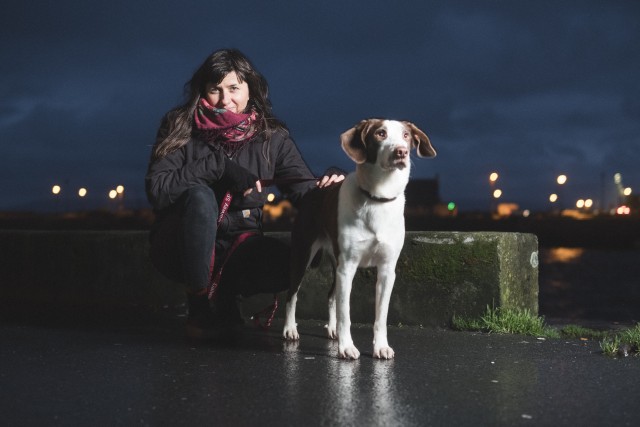 19 for '19 rolls on, featuring nineteen Irish acts we're convinced are going places in 2019. Throughout January we'll be previewing each of those acts, accompanied by words from our writers and an original photograph from one of our photographers.
Third in our series marks a leftfield turn in the form of one of Ireland's most evocative sonic artists, Natalia Beylis.
Photo by Sean McCormack
___
As a member of Leitrim experimental/psych outfit Woven Skull, Natalia Beylis' mandola offers an earthiness and melodic weight to the clamorous percussion and howling guitars that surround it. The band – who featured two years ago in our 17 for '17 artists round-up – released their new self-titled LP toward the end of 2018 and we loved it so much that we named it our seventh favourite Irish album of the year.
Outside of the band however, Beylis' work is much more meditive; less rooted in the expanse of her rural surroundings or the cities her and her band have spent time in, but embedded in houses, pubs, gardens, yards and river banks. Previous releases, The Sunken Hum Vol 1: Field Rhythms & Drones and Scchh​.​.​.​phh, are testament to the engrossing potential of field recordings and sound art. Rich, drawn out collages captured in two minute chunks by Beylis – but also featuring old and new contributions from her dad and fellow Woven Skuller, Willie Stewart – are sparse and organic, minimal and musical.
Where many projects based on field recordings struggle to maintain lasting appeal in the face of their abstraction, Beylis' recordings feel intimate and welcoming. You want to spend 30 minutes basking in their simplicity as the sounds jaunt from revving cars, chainsaws and hefty rain to birdsong, parties and an old recording of herself as a child, learning to speak.
When not playing with Woven Skull or showcasing the most curious and experimental Irish music alongside Stewart in Leitrim with their Hunters Moon events, Beylis builds these fascinating and inviting worlds with little more than simple recording equipment. You'd be doing yourself a favour to dig in, and hope there is more soon to come. Eoin Murray