Articles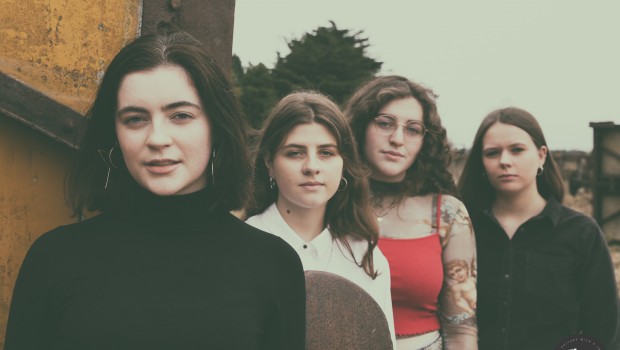 Published on January 16th, 2019 | by Jack Rudden
0
19 For '19: PowPig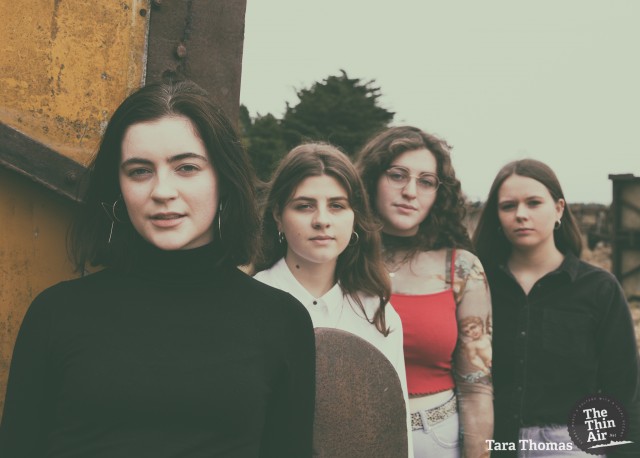 It's that time again; back to earth, grounding those Great Hopes and the potential of our best selves in reality once more. We do have a few great hopes for 2019, however. As always, over the remainder of January, our wonderful and talented team of photographers have paired with our writing team to deliver some previews of some artists to keep an eye on in the year ahead.
Third out of the traps, we have one of the most exciting emergent acts from Limerick, a city whose 2018 solidified its status as Ireland's current musical incubator. They featured prominently on our end of year singles and releases lists, and are astonishingly still all in their teens.
Photo by Tara Thomas
____
PowPig, a self-declared "14 piece boy band from Sligo"/"All male trad band from Roscommon" are, in fact, a four piece all female lo-fi punk band composed of Anna Marie Rooney, Andrea Mocanu, Laura Drennan and Leah O'Donnell.
Hailing from Limerick, the group have proven themselves to be one of the countries most prolific and quirky bands, having released two EPs in 2018 alone (Denture Adventure and Buzz Buzz) and numerous music videos in under two years. It's hard to pinpoint their exact sound, they seem to circumnavigate the worlds of rock and jazz. Tracks like 'Weed' offer gang vocals and grooves akin to punk icons The Slits, while 'Eye For An Eye' lies somewhere closer to Nick Cave territory.
It's clear from listening to any of the band's tracks that they are seriously gifted musicians, but it should be noted that they aren't afraid to let their guard down and display a degree of quirkiness or goofiness. A prime example of this being 'Ode To Wiseau', composed entirely of lines from cult cinema classic The Room.
2018 saw the band play a string of widely acclaimed live shows, such as supporting Irish acts Ham Sandwich and Pillow Queens, as well as sets at Body & Soul and Other Voices. If their previous trajectory is anything to go by, 2019 should see numerous gigs and perhaps some new material from Powpig. To quote the band themselves: "We'll see y'all in January with maybe a surprise or two".
So, keep your ears peeled for more to come from one of Ireland's finest up and coming punk acts. Jack Rudden