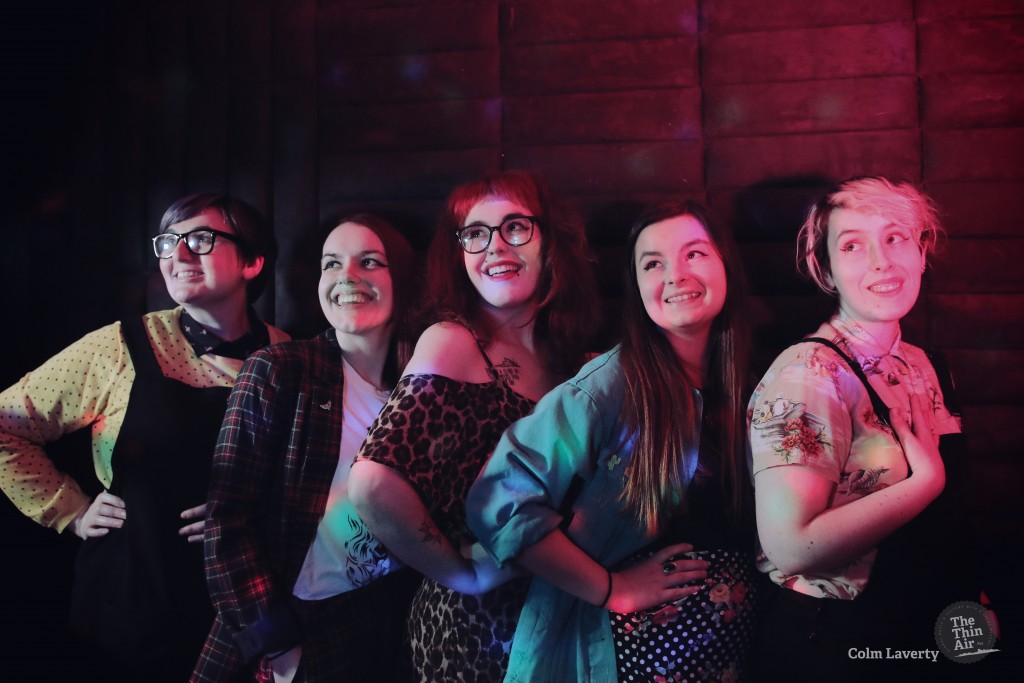 Happy new year! We're pleased to present 19 for '19, a handpicked selection of Irish acts we're absolutely convinced are going places in 2019. Over the next couple of weeks, we're going to be previewing each of those acts, accompanied by words from our writers and an original photograph by our wonderful team of photographers. First up is Belfast-based feminist punks Problem Patterns.
___
Jokingly describing themselves as "A bunch of women screaming in a room", Belfast's Problem Patterns wasted little time getting under our skin with the raucous and politically charged bombast of their debut track 'Allegedly'.

Released in December 2018, the track delivers a powerful message of solidarity to survivors of sexual assault while simultaneously acting as a scathing rebuke of our own complacent and complicit society. The track's pummelling drums and zigzagging guitar riffs grab the listener firmly by the scruff of the neck while impassioned vocals veer wildly from calm spokenword to frenzied group choruses, instantly marking Problem Patterns out as a group to watch in the coming months.
Named for the group's penchant for employing powerclashing motifs in their often 'creative' outfit choices, Problem Patterns Initially came together while Beverly, Bethany, Shannon, Ciara and Alanah were playing with one another in their karaoke covers band Cover Grrrls. Bonding over a shared vision of freedom and inclusivity as well as a common goal of addressing important social issues through music, the quintet tentatively began working on original material in late 2018. Quickly realising that they had something important to say, their chemistry as a band provided them with the perfect platform from which to scream it.
Synthesising a common interest in politics, punk music and their love of strong pop divas like Lady Gaga, Whitney Houston and the grand dame of divadom herself, Cher, Problem Patterns are planning to release their debut EP in 2019 and aim to play as many live shows as possible in the coming year.  Take our advice and keep your ears to the ground. James Cox
Photo by Colm Laverty
Problem Patterns make their live debut at Belfast's Empire Music Hall on Friday, January 11th.