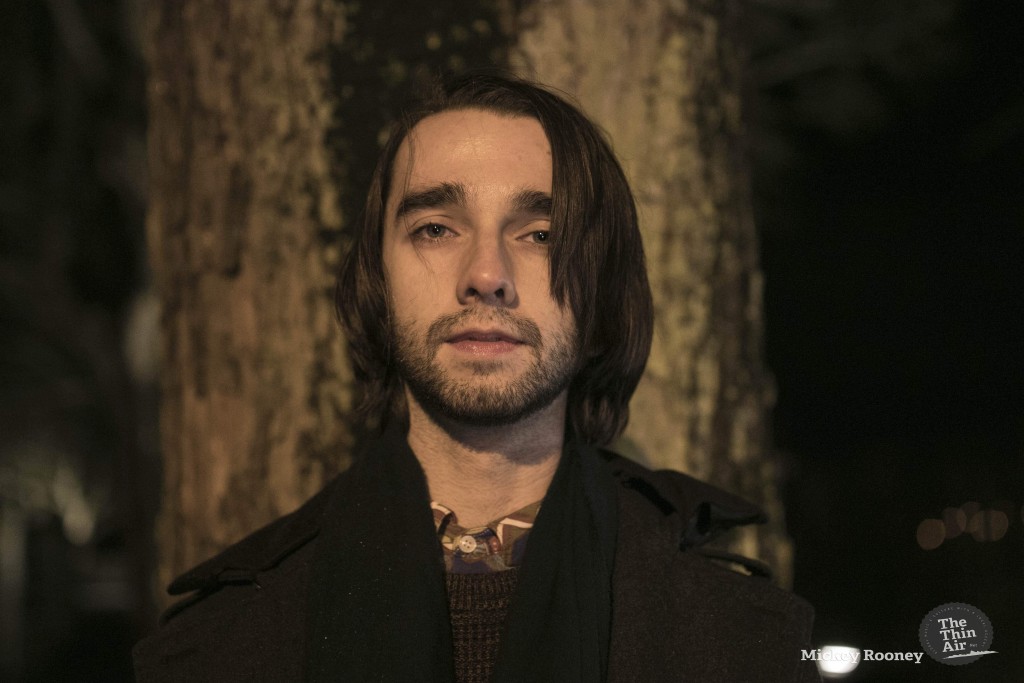 We continue 19 for '19 – our feature looking at nineteen Irish acts that we're convinced are going places in 2019 – with Derry artist Daryl Martin AKA Porphyry.
Photo by Mickey Rooney
"To explore the relevance of old philosophies and the art of the past in modern music, with layers of meaning created through leitmotif, musical allegory and literary references".
It's no stretch to call Daryl Martin a genuine polymath. Based in Derry, Porphyry – named after the Roman Neoplatonic philosopher – is a fully-formed artistic vision, executed unlike anything else in Ireland. When we first 2017 debut EP Ursa Minor/Coming Home, we said it managed "the unenviable job of being boldly unpigeonholeable as art, and deeply personal, without approaching any level of bloated grandiosity". That statement also held true for 2018's Wounded, White Light – a more implicit, minimalist exploration of his maxim.
Each release moves ever closer to its best approximation, as organic, seemingly breathing compositions weave baroque synthesizer runs upon intuitive, dynamically-arranged traditional acoustic instrumentation in something that we've reductively compared to "an outsider Villagers", all recorded in the solitude of his home studio. As with many great artists, mysticism seeps through Porphyry and there's a lingering sense that Daryl Martin is revealing less than his full hand. Despite the latent technical ability, his work is deeply intuitive, its peaks more emotional than grandiose, bringing an outsider's uniqueness of perspective to these classically and folk-rooted pieces, that at times – most notably on Wounded…'s title track – can prove nothing short of revelatory.
Despite Porphyry's singular nature, though, Martin remains one of Derry's most prolific collaborators across more traditional and contemporary disciplines. He's performed on and produced releases from leftfield jazz-leaning artists like Maya Goldblum and Great White Lies set for release later this year, and will collaborate with the Henry Girls' Jolene McLaughlin for a live recording of a few songs.
2018 saw his first interdisciplinary collaboration, alongside artist Alex Checcetti. "Working with him and translating his paintings into music was a really enjoyable creative process, and performing those pieces inside the lovely ambience of The Void art gallery was really fun." However, existing in relative solitude in a place bereft of infrastructure, a project like this could be in danger of plateauing before reaching its full potential – fortunately, the news of his induction into this year's Moving On Music mentorship programme alongside TTA favourites Fears and James Joys puts those fears to rest. With the resources that have led to alumni like Robocobra Quartet regularly touring Europe, Porphyry hopes to sidestep those pitfalls.
Porphyry itself has had a sporadic-at-best live presence up until now, but we've been reassured: "I'm going to tour a lot more this year: I'm planning a mini tour to coincide with the summer festivals this year. I'm talking to lots of different people about audiovisual collaborations at the minute, but nothing is set in stone; I know however that I will be engaging in interdisciplinary work throughout the year – I'm painting a lot of my music at the minute. I'll be recording my first full length record, which should be released in Autumn 2019." Stevie Lennox