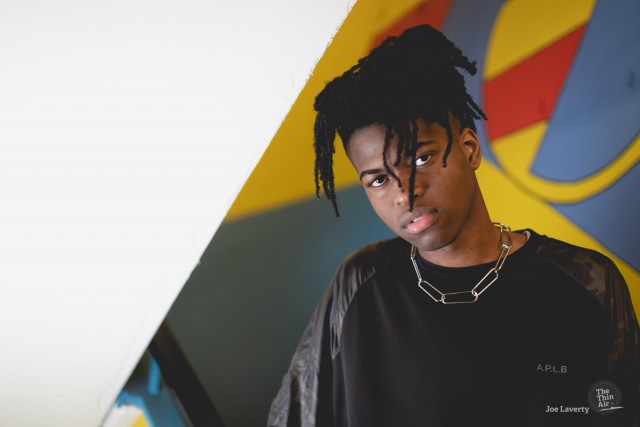 We continue 19 for '19 – our feature looking at nineteen Irish acts that we're convinced are going places in 2019 – with young Belfast-based hip-hop RnB artist Jordan Adetunji.
Photo by Joe Laverty
Still only in his teens, Jordan Adetunji has already shown a chameleonic, self-reliant instinct to a Prince-esque degree, highlighting the kind of restless creative spirit destined for the bright lights – successful modelling career notwithstanding – despite little precedent for his brand of hip-hop in Northern Ireland.
Thankfully, the once-barren RnB scene in the North is taking shape, thanks to the support of Belfast artist group NxGen and prolific Ireland-based Word Up Collective – home to the likes of TTA favourites Super Silly, JYellowL, and 19 For '19 peers Tebi Rex.
Since earned an Urban Music Awards 'One To Watch' nomination and appeared at Indiependence & Electric Picnic, the London-born, Belfast-based artist has been evolving at breakneck pace. Adetunji is graduating from club-ready, trap-influenced certified bangers into someone with a natural desire & panache for subtle genre experimentation. Drawing from neo-soul, afrobeat, g-funk and even rock without losing any of that accessibility, he partly pinned it down to a revelatory moment watching that Anderson Paak performance. Marked by tight grasp on verbal triplets and flow, and a live show that sees Adetunji accompanied by a young band adept at adding dimension to his compositions, his is a hook-laden, ambitious vision whose grasp matches its reach.
Self-determination is an edifying lyrical motif that he's very much carried over into his trajectory thus far, and with undeniable charisma, the promise of numerous singles, more cinematic videos than the substantial few he's already released, and more extensive touring, Jordan Adetunji's name blowing up all but feels like an inevitability.
Catch him at Outsiders Festival at Cyprus Avenue, Cork, this Saturday, March 2.